Rediff India Abroad Managing Editor (Features) Arthur J Pais is in Toronto to cover the Toronto International Film Festival.
Don't miss his exclusives dispatches from the biggest film festival in North America.

Why would hundreds of desis line up to buy the tickets for Never Say Goodbye (Kabhi Alvida Naa Kehna) in Toronto even though most of them have already seen it? And why is Ayesha Dharkar getting more attention than Rani Mukerji in this city?
First about KANK: "I have seen it thrice, and I have laughed and cried again and again. But now I am going to see it for a special reason," says Pavi Shah, a college student, adding that she is taking some of her Canadian friends to see the film. "People say Bollywood films are nothing but songs and dance, but now we see them shown at a prestigious film festival."
Pavi and others have a special reason for watching KANK again: Amitabh Bachchan, Shah Rukh Khan and Rani are expected to be on the red carpet at its gala showing on Sunday, September 10, at the Toronto International Film Festival.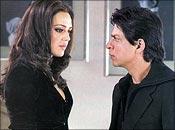 The stars will join director Karan Johar at a seminar on the making of a Bollywood blockbuster, conducted by Suketu Mehta, author of the award-winning book, Maximum City. There are persistent rumours that Rani may be unable to make it to the festival as she is shooting for Tara Rum Pum in New York.
No surprise then that the local media is trying to give Ayesha Dharkar, who is lively in the film Outsourced, some heft.
A pleasant culture-clash comedy set in India, the film, directed by first-timer John Jeffcoat, is expected to
be a surprise hit at the festival. 'Dharkar has a smile that could light up Bombay,' wrote the popular weekly
Now
, giving the film three stars, out of four.
Though KANK gets high profile treatment at the festival, don't expect too many critics to show up at its press and industry screening. "I am not going to see a film that is three hours," fumed a German critic, "unless it is about the Iraq war."
The morning press and industry screening for KANK conflicts with the screenings of films that are just about 100 minute long.
The fact that the KANK press screening will be held in a 200-seat theatre gives an indication that it is not going to be a big draw with critics. On the other hand, the Spanish hit Volver -- directed by Pedro Almodovar and which has grossed some $30 million in just about four countries in Europe -- has three press and industry screenings. This film about family secrets and the attempts to set the past right, has created a lot of Oscar buzz, especially for Penelope Cruz's magical performance. It is being shown to the press and industry in theatres with at least 1,500 seats.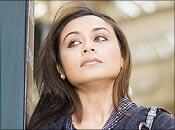 Mira Nair's finely-etched The Namesake is also generating a lot of buzz at Toronto but not many know that it won't be in the Oscar race. Its distributor Fox Searchlight has decided to release the film in America only next March, hoping to benefit from the buzz it could create at film festivals.
Last year, Searchlight purchased the American rights to Deepa Mehta's Water on the eve of the Toronto festival and saw it gross a strong $3.2 million in America. The film was released in America five months after its Toronto debut and had a very successful run across Canada.