'I am enjoying being a mother.'
Rani Mukerji's birthday is going to be very special!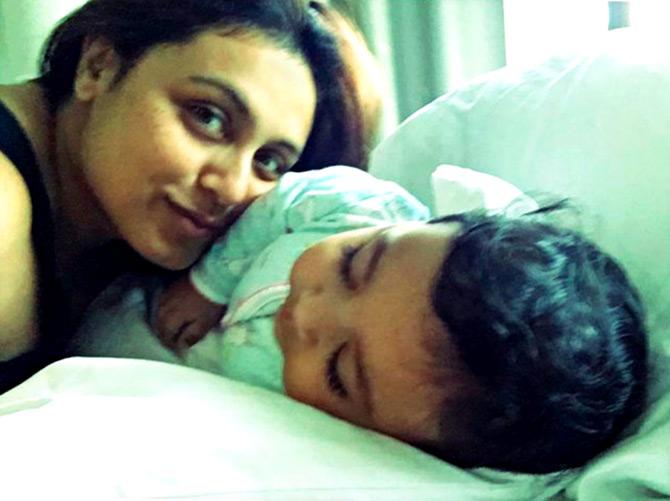 Rani Mukerji celebrates her 39th birthday today, and plans to spend her special day with her little girl, husband Aditya Chopra and parents.
In a Facebook chat, the actress reveals that this is her second birthday after becoming a mom. 'Last year, Adira was three months old. She's like a pudding pie!'
Rani is loving her new role as a mother. 'These have been the happiest two and a half years of my life -- nine months of pregnancy and one year five months of my baby,' she says. 'Enjoying her, seeing all her milestones one after the other for a woman... there's nothing more important than fulfilling them being a mother. I am enjoying being a mother.
'When you give birth to a baby, they actually say that 'a child gives birth to a mother' and that's exactly what Adira has done with me,' she adds. 'You change overnight because there are certain things which they kind of teach you on a day-to-day basis.'
Rani says she has become stronger and has mellowed down as well.
'That Rani, before my daughter's birth, was a different Rani -- 20 years of work, 22 years of being who I was. Now, my next phase is starting with Hitchki,' she says.
It has been 20 years since her debut film Raja Ki Aayegi Baraat released; she had started shooting for it in 1995.
Rani will start shooting for her comeback film Hitchki next month. 'It is a very special and inspiration role. The film should hopefully release this year,' she says.
Rani also took the opportunity to explain why she's not on social media yet. 'The only problem is my husband is a very private person. I would love to share everything of my life with you guys, would love to share Adira's photos as well but I like to give my husband respect because he respects his privacy and till the time he doesn't want Adira's picture out, I wouldn't like to go on social media because it would make me unhappy if I had to say a no to guys,' she says.
Happy birthday, Rani!