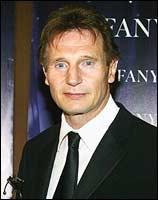 In Spielberg We Trust' used to be a Hollywood mantra, but had lost footing as the director's recent projects did not match up to box-office expectations. His last film was the disappointing Tom Hanks-starrer, The Terminal.
But now, the director seems inspired, possibly by fellow helmer Martin Scorsese, and is preparing for a series of epic ventures.
Tom Cruise will star in and co-produce the HG Wells novel adaptation, The War Of The Worlds, for release in 2005, but the director has already drawn up his following project.
The just-announced film will follow the life of Abraham Lincolm as he guides the Northern Union to victory over the Southern Confederates during the course of the American Civil War.
To end the tiresome casting speculation, Spielberg has dramatically announced that Liam Neeson will play Abe in his film. The Irish actor, currently on a high after critical raves for his performance in the controversial Kinsey, was nominated for an Oscar for his marvellous performance in the director's Holocaust film, Schindler's List.
Photograph: Getty Images