He entered the film industry as a song writer. He wrote the lyrics for the forgotten Tere Liye. It was followed by three films: Dil Pe Mat Le Yaar, Love Ke Liye Kuch Bhi Karega, and Paanch. He also worked on a non-film album, Mayanagri. "It was about a man who comes to Mumbai and how the city makes him a hardened, bitter soul," he says.
Was he ever an angry young man? "I wanted to be angry," he admits, "but I was too busy being happy. Of course, there was this whole Ayn Rand phase where I wanted to take on the world."
He quotes a few lines from one of his poems written in college: Zindagi se iss kadar pyaar na kar Raashid. Maut ko jalan hui to mushqil ho jaayegi [Do not love life too much. If death gets jealous, it would be bad].
"I wasn't good with romance then," he says casually. "I have always been more sorted out in the affairs of the head than of the heart. I was hurting most of the time due to various infatuations. I impressed all the girls in college except the ones I was trying to. That was the story of my life. There has been a whole series of caring for someone and not being able to tell them. Or they being with someone else. Standard college romantic issues."
Tyrewala has preserved all his poems and notes in a "silly little book, which I sometimes show people".
Despite his poor fortunes at romance, Tyrewala considers himself lucky because "I never had to approach anyone. I have never gone to anyone and say, 'This is what I do.' People have somehow always found me."
Who found him first? Although Santosh Sivan's Asoka was his first movie to be released, it wasn't the first film he worked on. Tyrewala had earlier written a screenplay called Mehman in 1999-2000. "I worked on it in my own time. It's got a very intricate structure. It's a good script. Vishal [Bharadwaj] and I are still trying to make it happen. Then I worked on Barf with Vishal." Barf [ice in Hindi] was a film that almost happened, but was shelved 20 days before its shoot.
Enter Asoka. Tyrewala says, "Asoka took some thinking about the language. Normally, my dialogues are effortless. But in Asoka, because I wanted to avoid Urdu words, it took more effort. Looking back, I don't think I managed to get the kind of dramatic high in the dialogues that the film deserved. I wonder if it was because of the dialogue writing or the approach."
During his lyrics-writing phase, Tyrewala bumped into filmmaker Ram Gopal Varma. Ramu was among the four filmmakers Tyrewala craved to work with, the others being Vidhu Vinod Chopra, Shekhar Kapur, and Mani Ratnam. "I have had the opportunity of working with three of them; I am still waiting to work with Mani Ratnam. I hope he reads this!"
But Tyrewala found collaborating with Varma 'difficult' because the factory filmmaker works to 'timelines and deadlines'.
Tyrewala explains: "His goal and motive is clear. We get along, but we are very individualistic.
"Very few people are as excited about cinema as Ramu: the amount of things he observes, his affection for cinema and shot-taking. Ramu is excited by the technique of cinema. The script is just an excuse to tell a story [for him].
"The thing with Ramu is, with him, how you tell a story, what shot you choose to communicate emotions and what you want to evoke in the audience is exciting. I like to do that at the script level. Both of us are chauvinistic about which is more important. We have a healthy regard for each other, but working together — I don't think he has the patience for me."
Has Tyrewala come to this conclusion without working with Ramu? "No, we have tried [working together]. I have submitted various scripts to him. He has given me various ideas to work on, which I tried to work on. I recognise that he is one of the most exciting filmmakers. Ramu recognises the fact that I am a half-decent writer, which is never a bad thing to have on your side. Given that, we are often tempted to work together."
Now, the two will work on Ramu's biggie, Ek. "We are working together on a major project, which has been on hold for a while because he was caught up with other things. Because it is so big and important, we are trying to save the other's face. Ramu is putting in more effort on the script. And I am going out of my way to try and see what he's trying to say in terms of the shot-taking aspect.
"Normally, my scripts are content driven. Ek is becoming the most visual-driven script I have written because he is clear on what he wants."
So what is this two-lettered film all about? "I don't know how Ek fits today," says the writer, "because the idea is that somebody has hidden a nuke in Mumbai. An Indian agent, an ISI agent, and a CIA agent are searching for it together. So the dynamics of three people, who are not attuned to trusting each other, learning to work together towards something to stop a disaster from happening is what Ek is about. It's very intense."
Many filmmakers tend to push a writer into adjusting the script according to the actors' images. But that doesn't happen with the people Tyrewala works with because 'they are a lot more committed'. "At the same time," he adds, "if you know who is doing it [the role], then naturally... See, you are creating a character in your head, you tend to write instinctively. Once you have created a character, then you are seeing a person. Then you are writing the thing that person would say in your head. If that person is also given a face — like if you know this will be played by a Shah Rukh Khan, a Sanjay Dutt, an Arshad Warsi, or a Sushmita Sen — then that character will obviously take on some characteristics of that person. But it's always subconscious."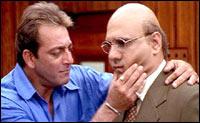 The only time Tyrewala consciously fleshed out a scene specially for an actor was when Sunil Dutt was signed on to play son Sanjay's reel father in Munnabhai MBBS. "We were like, he hasn't done a film in years, how do we make it worth his while? How do we justify taking such a respected senior personality for this role? So we actually designed a scene for him — the one in the beginning where he talks to the public about the thieves. The scene was designed to justify his strong personality in the film."
Tyrewala usually works on other people's ideas. "The stories I come up with instinctively are not seen as Indian viewer-friendly. People are not sure if my characters fit into the Indian psyche."
So what kind of stories does his imagination weave? "There is a script I have written," he says, "which is designed around two hustlers. People don't know if it works for an Indian viewer. Can the Indian man relate to the whole idea of pool and an entire film based on that backdrop?
"In another film, I have a hero who, for one-third of the film, is in coma. For me, the story is more important than the character. Indian films are so character-driven that there is conflict over there."
Tyrewala also does not subscribe "to the whole Indian thing of love being obvious". The idea of conflicted love excites him more. "I feel a lot more for the weak characters who find strength, rather than the Indian version of characters who are strong which is why they are heroes," he explains. "Anybody who has their questions answered before they are asked is a boring character. To me, a character is only exciting when it is turned by questions and conflicts. Most Indian heroes prefer to do roles in which they are in command. They don't like losers."
His favourite scriptwriters are Salim-Javed, Abrar Alvi, Anurag Kashyap, William Goldman, Billy Wilder, Martin Scorsese, Quentin Tarantino, and Francis Ford Coppola. To him, writing for MTV Bakra, a practical jokes programme on the youth channel, and short stories in Darna Mana Hai were 'fun assignments'.
To write, Tyrewala needs a computer and silence. He likes to scribble notes in a little notebook. He used to write columns for the website sulekha.com He unwinds by drinking black coffee, playing bridge online, and spending time with family.
Currently he is going through what he calls an extended writer's block. "I am drained out," he says. "I need healthy breaks between writing scripts."
But he says he had no doubt when he entered the profession that he would get some degree of recognition. "Like I used to tell Ramu, by March 2004, if I do not become a fairly regarded writer, I will go to New York and make sandwiches for a living. [It helps, of course, that he holds a green card.] I am not sure if I was joking.
"There is a sense of completion, which is never healthy. I have Main Hoon Na coming up next, which I am confident about. I am supposed to be working on Shekhar Kapur's Mantra. But I spoke to him yesterday and said I am brain fraggled. My mind is on screensaver mode right now."
I cheer him up a little by reminding him that the makers of Munnabhai MBBS have released a dialogue tape. Ultimate compliment or what? "I had no idea," he says. "I just read it in the newspaper. It was hugely flattering. We just popularised a few words like mamu. It is commonly used in Pune. The whole point about Bambaiyya is a lot of words are meant to offend without being offensive in any manner."
Predictably, Tyrewala has received several offers from 'various kinds of filmmakers' to do a Munnabhai again. "I have already done that. Don't make me do it again," he pleads.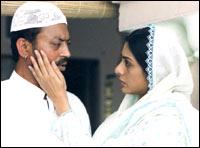 "Scriptwriting," he says, "is a craft. People ask me how can you do a Munnabhai MBBS and a Maqbool. The point is that it is the craft of telling a story. If you are listening to the story, it has its own tone. If you are listening to the characters, they will guide their own dialogues. You just need to be sensitive and imaginative."
He doesn't feel 'accountable' while adapting an idea either. "Should I feel responsible to Shakespeare [Maqbool is adapted from Macbeth]? Or should I feel responsible to myself? I feel responsible to myself and my script — to maximise and optimise the impact of my work," he says.
We veer to his next release, Main Hoon Na. It is expected to be the biggest hit of 2004. "It is a classic Hindi film entertainer that we haven't seen in a long time," he says. "It's got every emotion."
Writing a regular potboiler was difficult for Tyrewala. "A film that has so many moods wasn't natural to my sensibility," he admits. "Luckily, [director] Farah [Khan] was very clear. It took me a little time to get in sync with her vision. When she read my first few drafts, she didn't know whether to laugh or be angry. She thought I was taking the script too seriously and turning it into an art film. She told me to have fun with the piece."
Once Tyrewala got into sync with the director, it was fun.
Unlike some writers who want to be involved even during filming, Tyrewala begs to stay out of the picture. "I never go on the sets," he says. "I don't believe in rewriting on the sets. You have to understand that every writer who is truly committed has a film in his own head. And the most irritating thing for a director is a writer who is there [at the shooting] trying to remind him of how he actually saw it."
Ask him what his strengths are and he replies, "My strength as a writer is that I put in a lot of work in the structural aspect of a script. How to tell a story is my strength. Also, I have a fairly good instinct for drama driven by conflict. I can work on humour quite effortlessly. Even in a serious film, you'll see unintentional flashes of humour. I diffuse scenes that are too intense with humour. That's what we do in life!"
He is forthcoming about his weaknesses as well. "I don't know much about India besides Mumbai, so I cannot be convincing for characters that aren't from Mumbai. I have a tendency to get carried away sometimes. I need a few rewrites — to edit my script, write a draft, get away from it, develop objectivity, and to come back and see what doesn't work."
Besides Main Hoon Na featuring Shah Rukh Khan, Sushmita Sen, Zayed Khan, Suniel Shetty, and Amrita Rao, Tyrewala is working with Vishal on Timbuctoo (Vivek Oberoi, Aishwarya Rai), Shekhar Kapur's Mantra (Preity Zinta) and Sandeep Chowta's supernatural flick, Jasmine.
The ultimate goal for most writers is to don the director's cap. Will Tyrewala make the big leap? "Scriptwriting has been ignored too long, largely because it is a long and difficult process," he replies. "And the results don't keep up. Most people are in a hurry to jump to direction because that's where the money and power is. I just want to play with the craft [writing] a little more. See if I can play a small part in getting it back to where it used to be. I know it sounds ambitious. But that's the idea.
"Besides, I am very lazy [to get into direction]!" he smiles.
On a more serious note, he says, "I am an individual player. I like to do my work my way. For direction, you have to depend on other people's competence. Trusting other people's competence doesn't come naturally to me. I am not a good team player. A good director has to know how to keep the team together. The very idea of teams unnerves me. I prefer to be a one-man show."