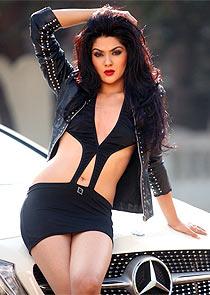 Neha Dhupia created a stir in in 2004, when she played a prostitute in Deepak Shivdasani's Julie.

Now, the director is back with a sequel and it stars newcomer Sakshi Chaudhary.

A Gladrags model, Sakshi recently signed a three-film deal with producer Feroz Nadiadwala, which includes a lead role in Hera Pheri 3 opposite John Abraham.

Julie 2 will be the story of an actress, not a prostitute.

Says a source close to the newcomer, "Considering how controversial and steamy Neha Dhupia's role was in Julie, Sakshi was apprehensive about the role. But then she heard more about her character in Julie 2, and flipped."

It's a role apparently inspired by Rekha.

Sakshi says, "Yes, I was apprehensive but when I heard the script, I agreed at once. It is a performance-oriented film, not the kind of character a newcomer gets to play."

When quizzed about the skin show in the film, Sakshi says, "It is a glamorous role but there's nothing vulgar."
A source lets out that Sakshi would be required to do many bold scenes, including riding a motorcycle in a bikini.