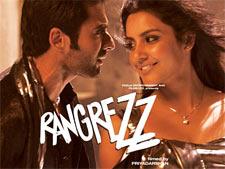 Priyadarshan, who has directed 87 films in several Indian languages, including Malayalam, Hindi, Tamil and Telugu, will try his hand at acting after being a director, producer and screenwriter.

He is best known for his comedy movies, but has also tried his hand at action and thriller films.

His latest film, Rangrezz -- starring Jackky Bhagnani and Priya Anand -- releases today, March 22.

Priyadarshan talks to Rajul Hegde about directing Rangrezz, the star system, and future films.

What can we expect from a Priyadarshan film?

People expect too much comedy from my films. My last two films Tezz and Aakrosh were serious films. They didn't do well may be because there was no humour in them.
A lot of people wrote to me saying that they didn't want to see serious films from me, which others are also doing.
But if it becomes repetitive, people will get fed up with comedy too, so I have to try out different things.
This time, with Rangrezz, I have made a serious film with an element of humour.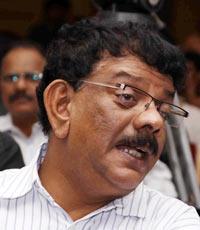 What is the inspiration for your comedies?
Since childhood, I have loved comics. My dad was a librarian so I got a lot of opportunity to read, which helped me write.
Even today, my favourite time pass is watching cartoons. I can watch Tom & Jerry any time!
What made you work with relative newcomers Jackky Bhagnani and Priya Anand?
It was a conscious decision to rope them in. It's a big relief to work with newcomers because I can mould them the way I want, since they don't have an 'image'. You should be able to do films without the interference of the stars.
It's not the same with the stars because they have already learnt the craft and one can't correct them too much. But most of the time, producers are not willing to take a risk without the stars.
Of course we do have advantages with the stars also. But as a director, we have advantage with newcomers. It's the best thing when the producers are ready for it.
There are reports that the producer (Vashu Bhagnani) was not so keen to cast his son Jackky in the film but you convinced him.
Yes, because I felt that his age was right and the character suited him. The movie is about him and his three friends.
What's your take on producers being star-driven?
It's not only in India; it's there all over the world. Stars have always ruled the business so you cannot survive in a commercial film without stars because they are crowd pullers.
You have to accept the tantrums of the stars. If you want the film to get into the 100 crore club you need them.
So how did you mould Jackky Bhagnani?
I just told him not to act but to behave (smiles).
Rangrezz is a remake of the Tamil hit film Nadodigal. What changes have you made to suit the Hindi audience?
Forty per cent of the script had to be rewritten because the culture here is different from the South. The Tamil film was set in a small town and the Hindi film is set in Mumbai.
Are you planning to direct the third instalment of Hera Pheri?
I don't want to do any more of Hera Pheri because I feel I can't make it better than the first one (which he directed).
Your next films are with Akshay Kumar and Emran Hashmi.
Yes. Akshay's film has humour in it and there's a thriller film with Emraan Hashmi.
I can't talk much about the films because they are at the scripting stage. I am off to the South for a Malayalam film. I will start Hindi films only at the end of the year.
There are reports that you are acting in a Malayalam film. Do you think it is easier or more difficult to be in front of the camera rather than behind it?
Yes. It's an arty film and not a commercial one. I am playing a director's role and it's a cameo.
I will be able to answer your second question only next month after the shooting. I feel I will find it difficult in front of the camera. It is easy for actors to do it, but not for me (smiles).