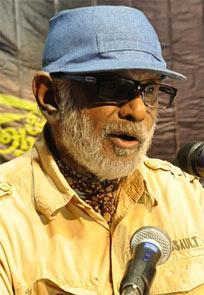 'I remember during the '80s people would see a film just because the cameraman was Balu Mahendra or it was a film by Balu Mahendra.'
Director Suresh Krissna talks to Radhika Rajamani about his encounters with the legendary director who passed away on February 13.
As I stood before the glass casket in Balu Mahendra's own studio, it looked as if he was just sleeping. He was just like he used to be – in his favourite dark green jeans, light green shirt, his specs on his face and the famous hat on his head…
It all looked like a scene for a film shooting...
I had worked as Balu Mahendr'a assistant during the Hindi remake of his classic Moondram Pirai (Sadma). I had seen the discipline and the silent atmosphere in which he worked.
Today it was just the same. The same silence, the same discipline, only this time he was in lying in the casket, silent once and for all.
But his work will speak, his films will speak, each and every frame in all his films will speak.
What a cameraman! What a director! What an editor! What a writer! A complete film-maker.
I remember during the '80s people would see a film just because the cameraman was Balu Mahendra or it was a film by Balu Mahendra.
There was a scene in Sadma that we had shot in Ooty with Silk Smita and now it had to be matched in Chennai.
I was in disbelief. How could someone match the hill station's greenery and soft back light with the harsh light of Chennai?
We were in Vijaya garden. As usual he took his camera at least 25 feet away from the actors, zoomed in, and then just canned the shot.
There were no monitors then and nobody knew what the frame was. Only he knew.
When I saw it in the editing room, I was amazed. It was awesome matching. Nobody can find out which is the Chennai shot.
That was his mastery of photography.
Ooty became popular simply because he showcased it as never before. The back light photography, the perfect source lighting indoors, all made his films look so natural but visually stunning.
His protégés, Urvashi Archana, the late Shobha and many more actors have given stunning performances and are still known because of their work in his movies.
I hope that film organisations, film schools and film archives store all his classic works for posterity.
His films such as Moondram Pirai, Kokila, Azhiyada Kolangal, Moodu Pani, Shankarabharanam, Yathra, Veedu, Mullum Malarum and many more, for some of which he was cameraman and some, writer and director, are all timeless classics.
They must be shown to the next generation of film-makers and should be part of film appreciation courses. The works of a master filmmaker!
It's not just the film industry that is coming to pay its last respects to this legendry film maker, I saw a huge group of students who have passed out from his Cinema pattrai (work shop) film school, weeping.

In his last years he had decided to give back all that he had learnt.
One of his students, Jagan, who is working as my assistant, told me that he was an amazing teacher.
He would be there every day, morning to evening, interacting with every student, seeing all the films shown in the work shop, meticulously interacting with every student. Making them understand the joy of cinema.
His last film, which was released two months ago, was Thalamurai. He acted in it for the first time and also directed the film which has his stamp all over.
He showed that he still had the fire in him. He was still a film-maker par excellence.
Balu sir, we will miss you.