September 30, 2011
Contestants get ready for Bigg Boss 5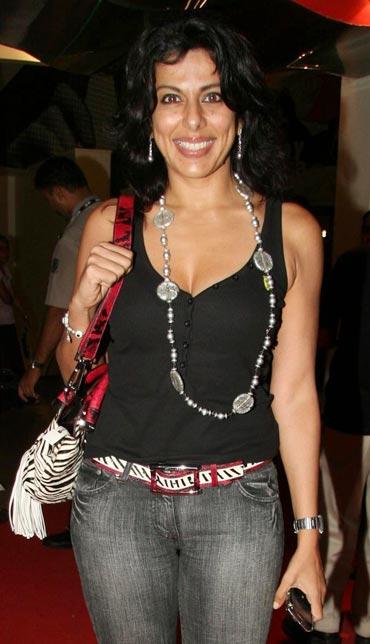 Here's what your faviorite celebrities are tweeting.
Upendra, P Vasu come together for Aarakshaka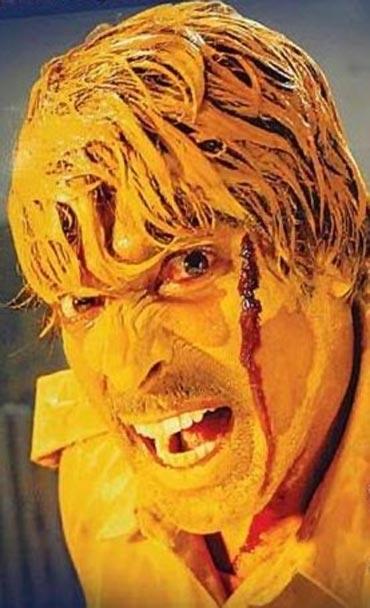 This is the first time that the actor and the filmmaker have come together for a film.
Sathyan on Snehaveedu, Mohanlal's 300th film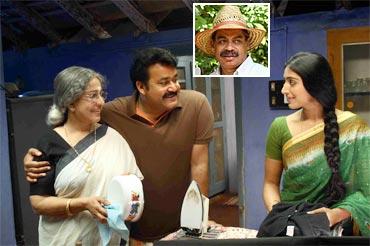 The filmmaker talks about the landmark film.
Who Sanjay-Salman want in Bigg Boss 5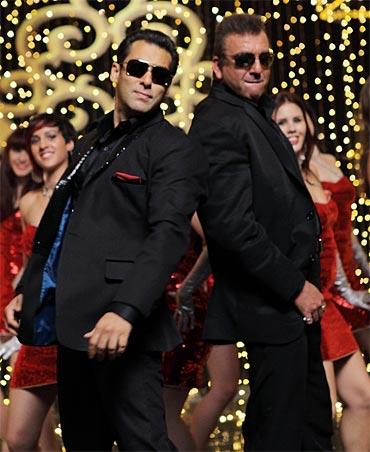 The two stars are set to host the upcoming season of Bigg Boss.
The Catchiest Songs of All Time
Here's a look at the top 10.
What the Bigg Boss house is going to be like this season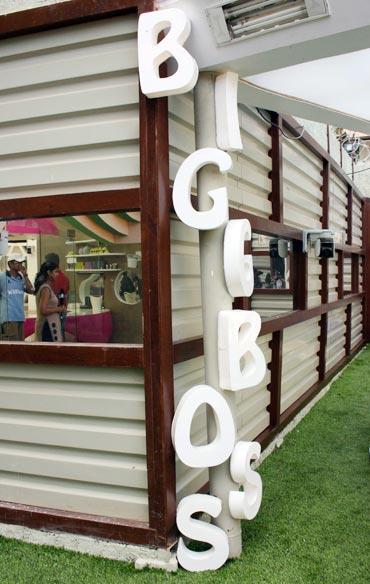 The fifth season of the reality show is just about to commence.
September 29, 2011
Sameera: People in Tamil industry have accepted me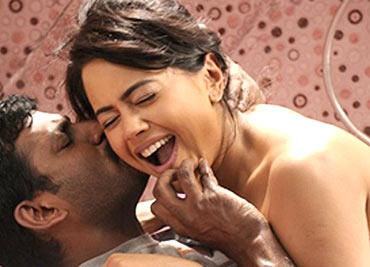 Sameera Reddy talks about Vedi and being directed by Prabhu Deva.
Meet The Highest Paid TV Actresses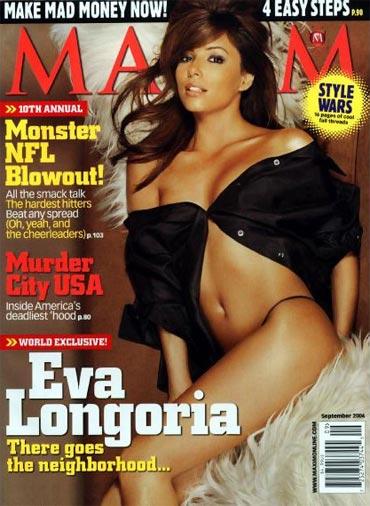 Eva Longoria tops the list.
Meet the Bigg Boss 5 contestants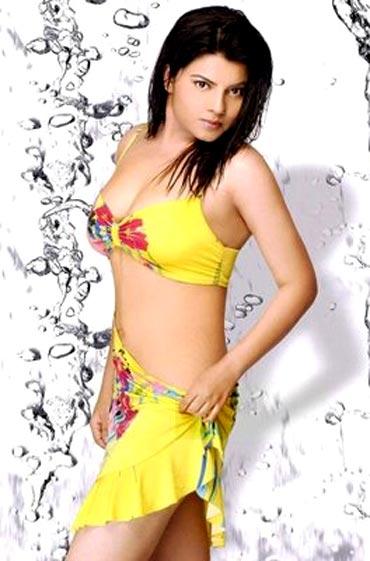 Seven of the participants for this season have been revealed.
John: I am not in touch with Bipasha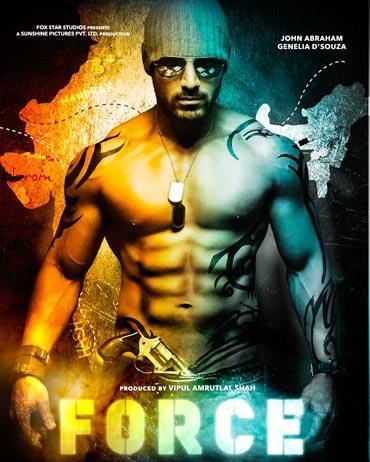 The actor tells us how his life has changed after his relationship came to an end, and his new film, Force.
Pix: The most amazing Hollywood makeovers!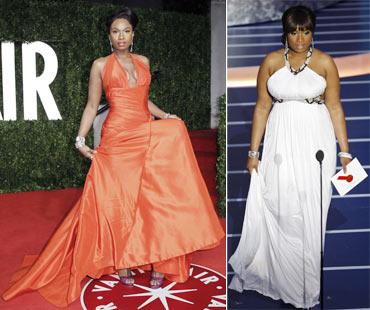 Looking at stars who traded flab for fab new avatars.
Vote: Bollywood's best onscreen male jodi!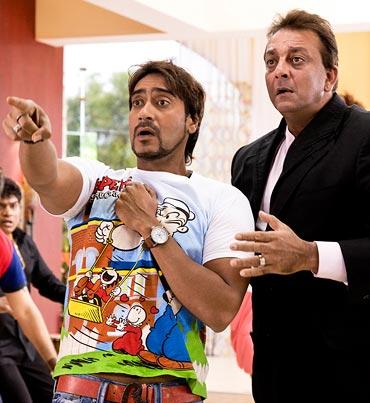 Take this fun poll now!
September 28, 2011
'I won't take up just any item song that I am offered'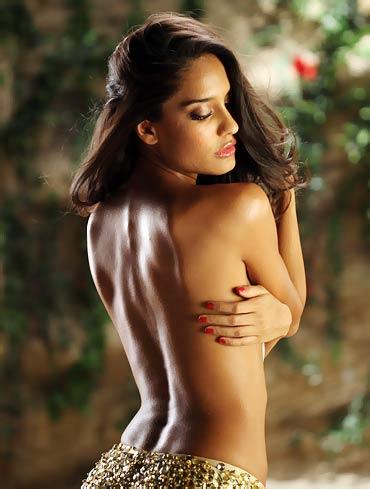 Actress Lisa Haydon tells us what it's like working with Sanjay Dutt and Ajay Devgn in Rascals.
Dandiya queen Falguni Pathak is back!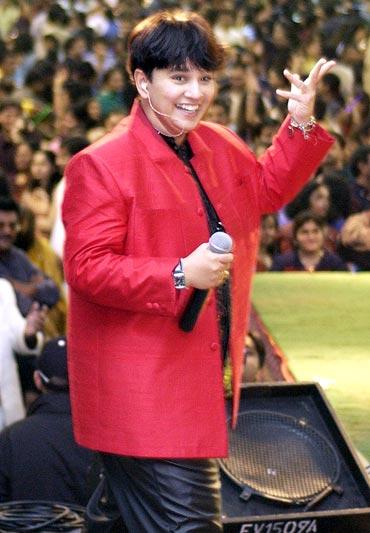 Dandiya queen, Falguni Pathak speaks about her Navratri preparations this year.
Pix: Salman Khan returns to Mumbai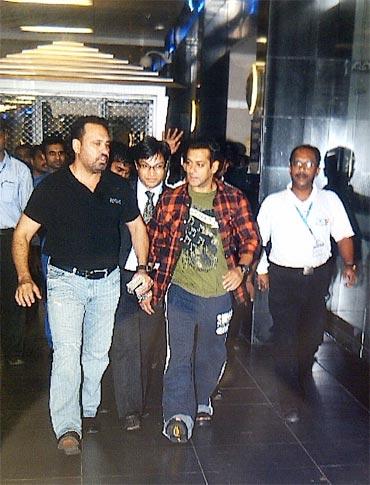 The actor had flown to the US in August for surgery and then to UK and Dublin to shoot for Ek Tha Tiger.
'I felt Muran was like my own production'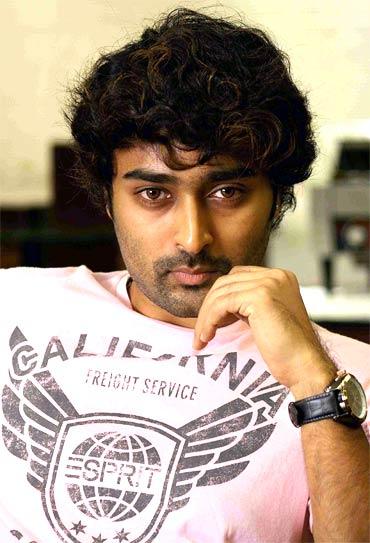 Actor Prasanna shares his experience of working in Muran.
Bollywood wishes Lataji on her birthday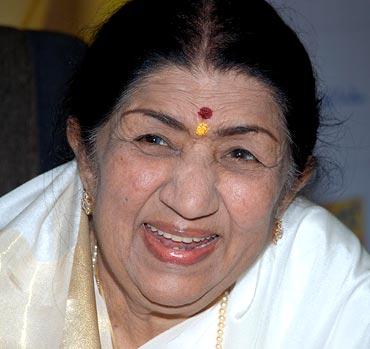 Here's what your favourite celebrities are tweeting.
PIX: Ranbir celebrates birthday with Nargis, Deepika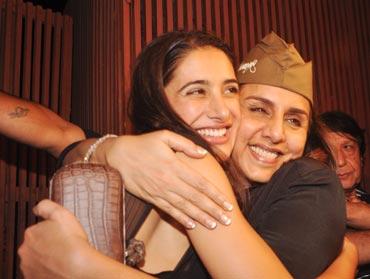 Ex-girlfriends Deepika and Rockstar costar Nargis Fakhri were among the guests.
Genelia: John's body is so amazing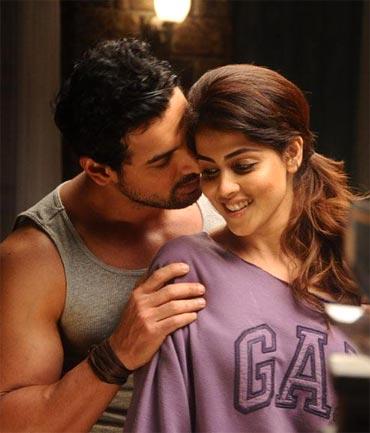 The bubbly actress talks about her new film, Force.
'I did sing well,' Lata Mangeshkar reflects at 82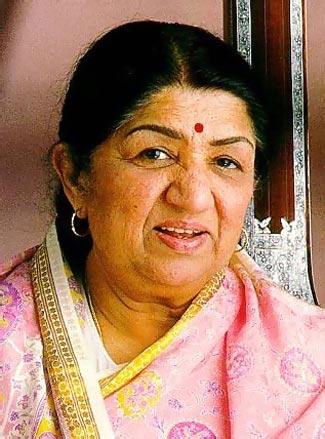 The film industry doyenne turns 82 today!
Vote! Paris Hilton's hottest India appearance!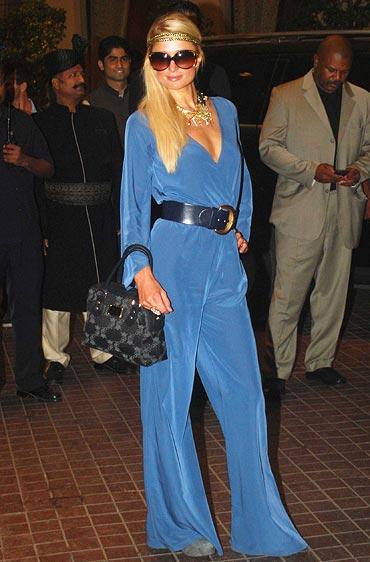 Pick your favourite look!
September 27, 2011
The Highest Paid Item Girls of Bollywood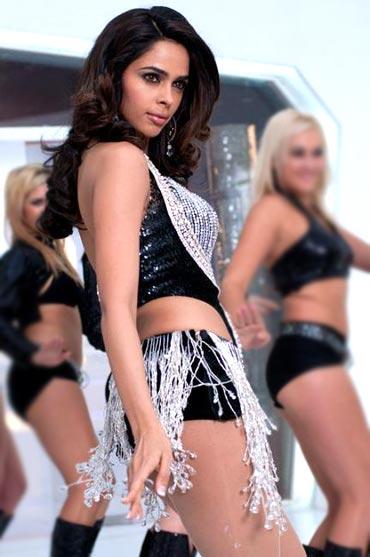 Katrina Kaif may be one of the top stars of Bollywood but she doesn't top this list.
Shahid Kapoor ko gussa kyun aata hai?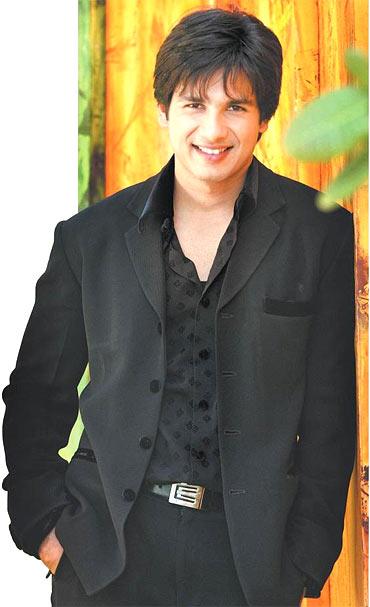 Here's what your favourite celebrities are tweeting.
Pix: Paris Hilton bids goodbye to India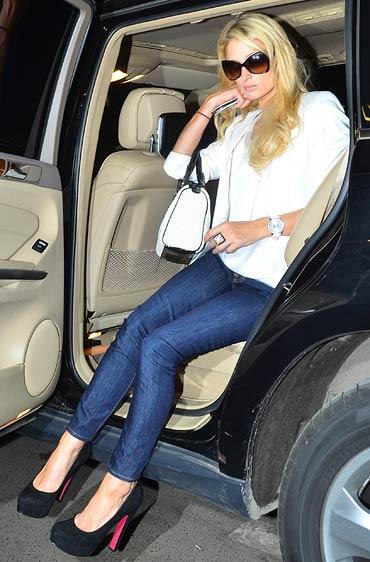 We caught a glimpse of the international socialite at the airport.
'I am really inspired by Hitchcock'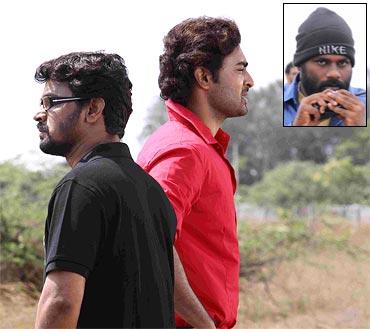 The director talks about his much anticipated debut film Muran
Shah Rukh: I'm not scared, I'm worried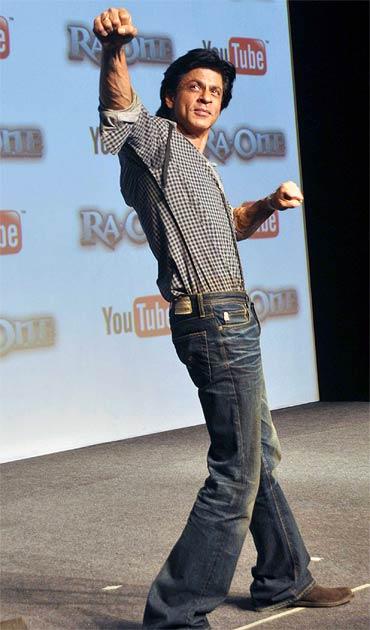 Shah Rukh's growing anxious about how the audience will react to RA.One when it releases.
The rise and fall of Kannada star Darshan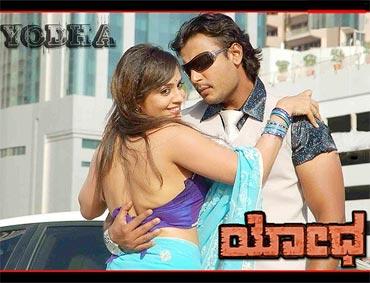 A look at the actor's life so far.
PIX: Minissha Lamba's stunning avatars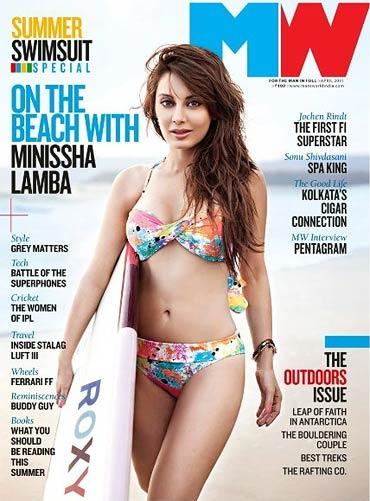 The petite actress, whose film Hum Tum Shabana releases this week, reveals her stunning outfits.
September 26, 2011
There's no business like show business, says Dev Saab at 88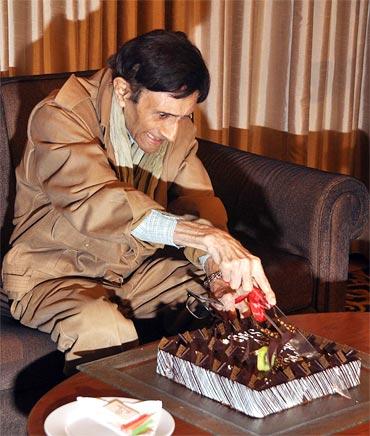 The evergreen Anand, who commands an enviable fan following, talks with great pride about his life and his long innings in filmdom.
Meet the Most Annoying Celebrities in Hollywood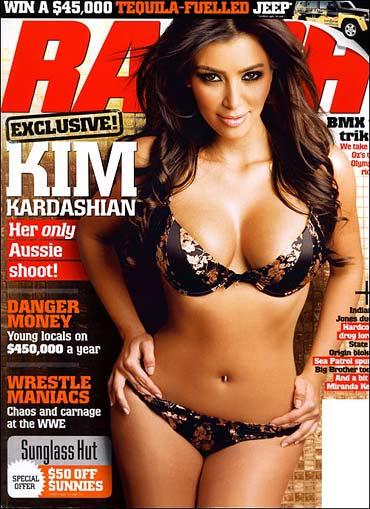 Kim Kardashian tops the list!
Mohanlal hits 300 with Snehaveedu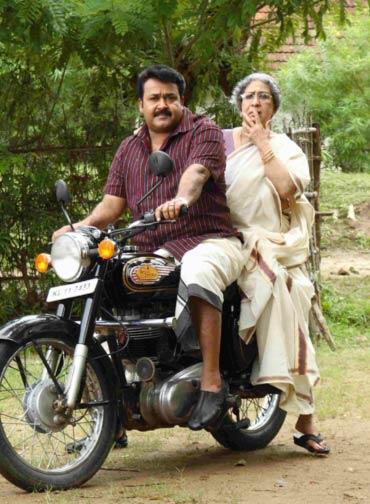 The landmark film is directed by Sathyan Anthikkad.
'My swimsuit gave way in the middle of the shot!'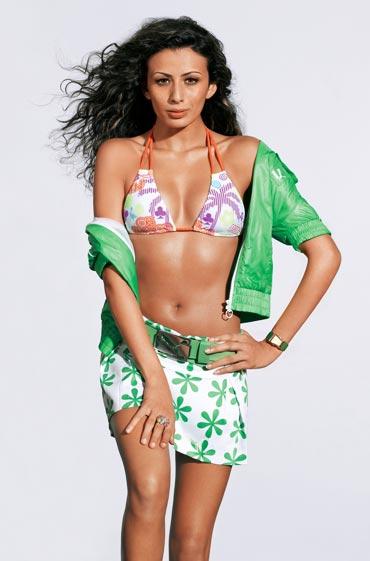 Pia Trivedi talks about her debut film Hum Tum Shabana and a lot more.
Bollywood snubs Paris Hilton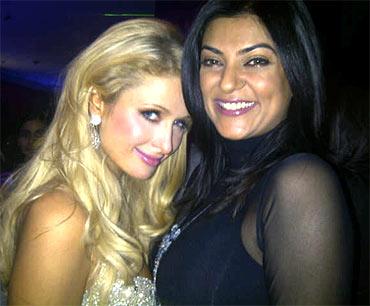 Here's what your favourite celebrities are tweeting.
It will take time, but I am not giving up: Nikitha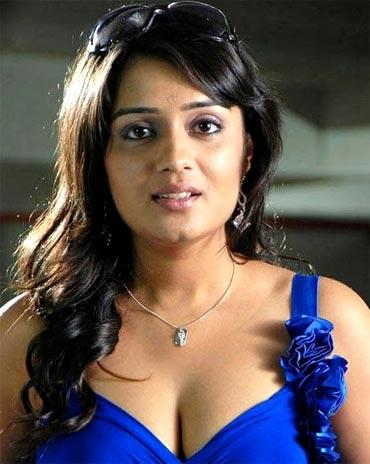 Kannada actress Nikitha clears the air about her link-up with actor Darshan.
PIX: Stars party with Paris Hilton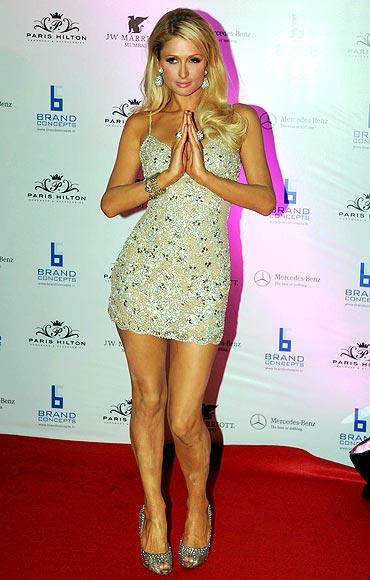 The American heiress sported a shiny Rocky S number and hobnobbed with her Indian counterparts.
Pix: Dharmendra, Big B, Shotgun bond at tele awards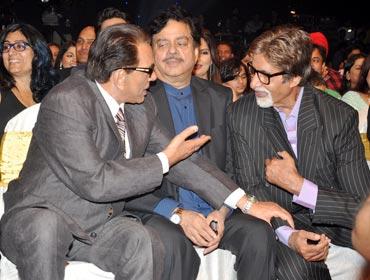 The Bollywood veterans were spotted catching up along with Dharmendra.
Rate Ameesha, Sonakshi's style quotient!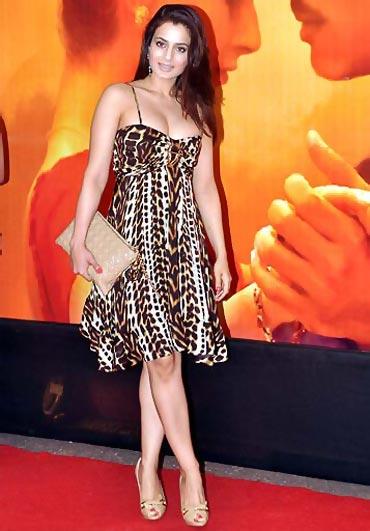 Here's how these B-town celebs fared last week, fashion wise.
Pix: Bollywood at Surinder Kapoor's funeral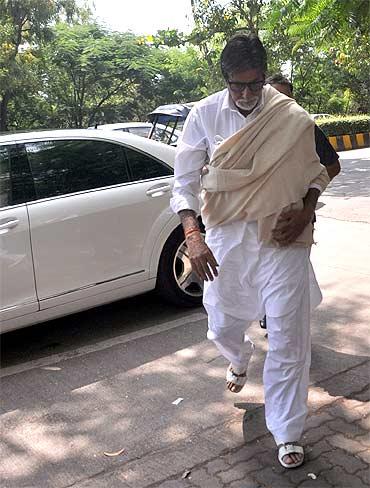 Film producer Surinder Kapoor, Boney and Anil Kapoor's father passed away last Saturday at 84.
September 24, 2011
Paris Hilton: I would love to do a Bollywood film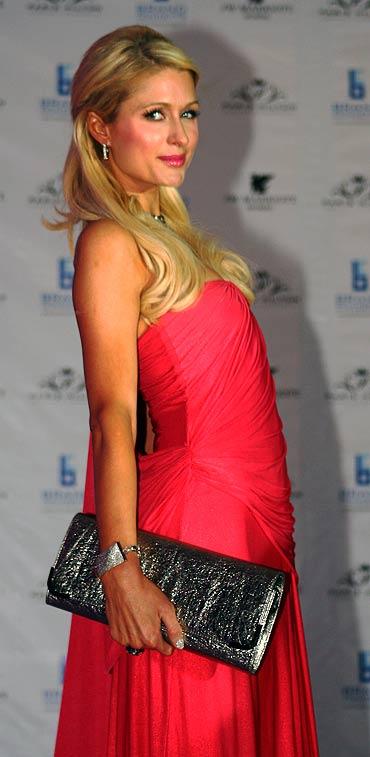 International celebrity is India to launch and promote her new range of handbags and accessories
September 23, 2011
First Look: Johnny Depp plays a vampire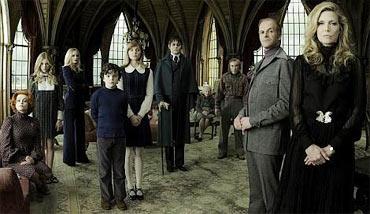 The film Dark Shadows also stars Helena Bonham Carter and Michelle Pfeiffer.
Juhi: Badmash Company is a sunshine kinda show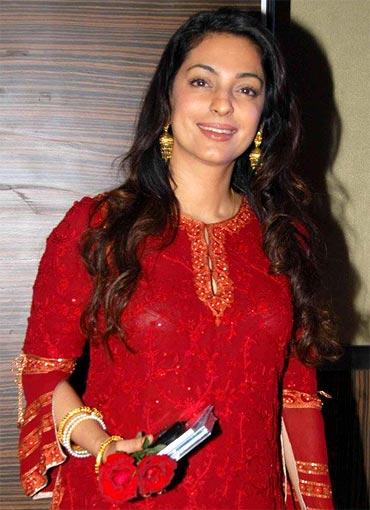 The actress will now play host on a kids' talk show for Colors.
Looking forward to Jonty Rhodes in Bigg Boss 5?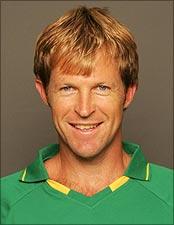 The former cricketer is the latest celebrity to be roped in for the reality show's fifth season.
Bollywood pays tribute to Pataudi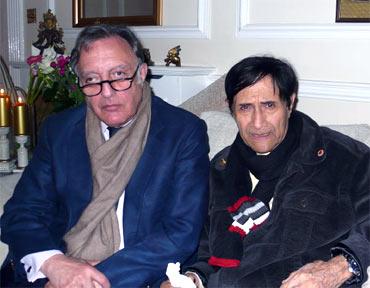 Here's what your favourite celebrities are tweeting.
Will Katrina look good opposite Aamir in Dhoom 3? Vote!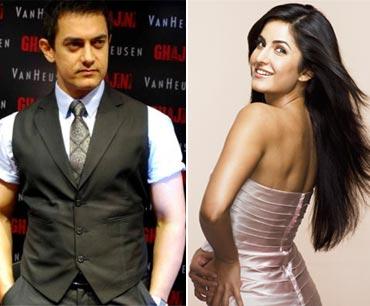 Tell us what you think of the pair.
From Playboy to Azaan, Candice Boucher's long journey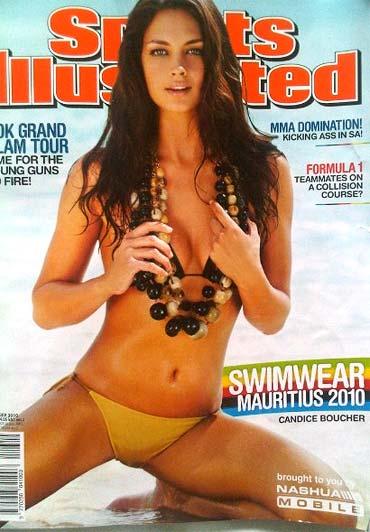 South African model Candice Boucher speaks about her film Azaan, speaking Hindi and, of course, her Playboy shoot.
Vote! The Sexiest Men in Uniform!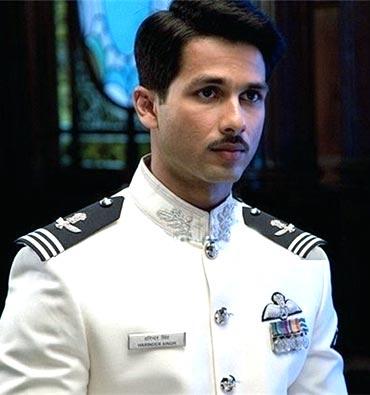 As Shahid Kapoor becomes the latest to suit up, we ask you readers to judge which of these actors looks best in fighting gear.
Pix: Bollywood attends Mausam premiere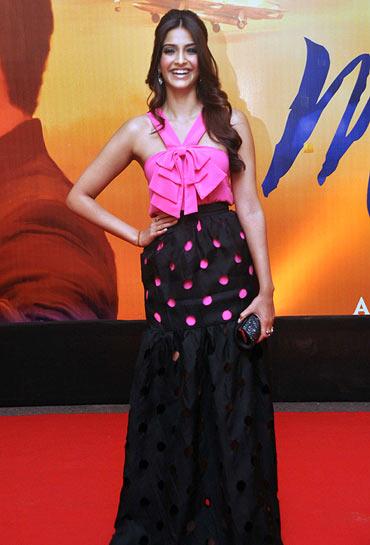 The film opened in theatres today.
September 22, 2011
'Aishwarya looks good but is a horrible actress'
The stand-up comedian stars in Akshay Kumar's Speedy Singhs, releasing tomorrow.
'I've been critical about my father David Dhawan's work'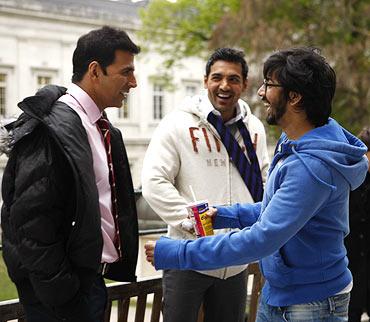 Debutant director Rohit Dhawan discusses his debut film Desi Boyz and his father David Dhawan.
Madhur Bhandarkar: Heroine's back on track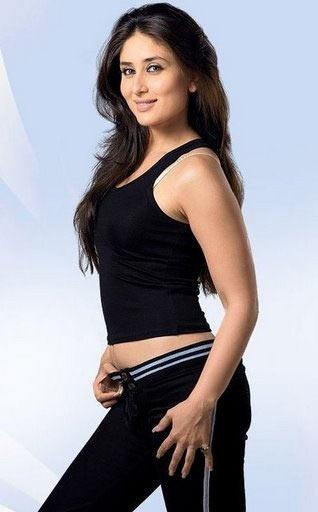 Here's what your favourite celebrities are tweeting.
Will these be the new Bigg Boss inmates?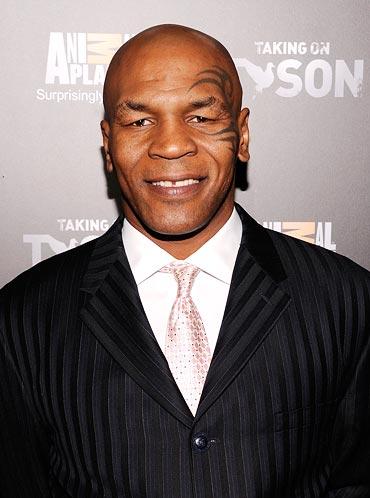 The reality show's fifth season starts this October.
Bollywood's 10 Most Iconic Love Stories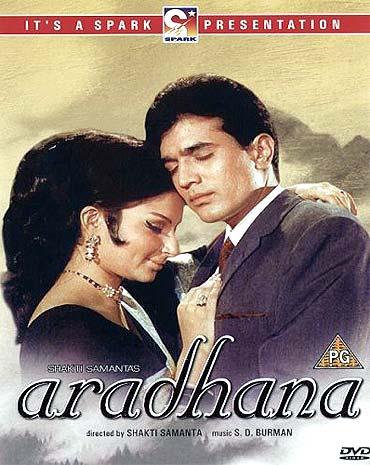 Pankaj Kapoor's Mausam reminds us of the good old romantic dramas.
Two Kannada films fight it out this weekend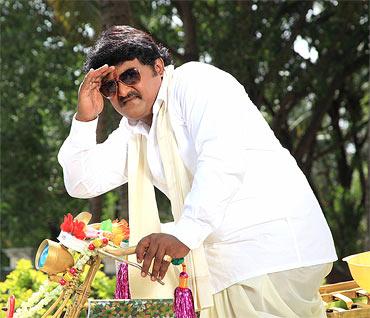 Comedy or romance, take your pick this weekend.
Pix: Stars attend Akshay Kumar's Speedy Singhs party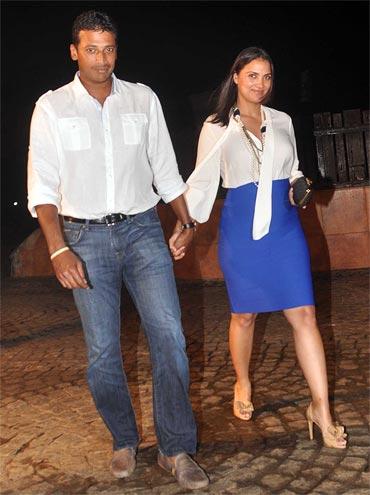 Lara Dutta, Sonam Kapoor and Sonakshi were among the invited guests.
Nikitha: I'm against infidelity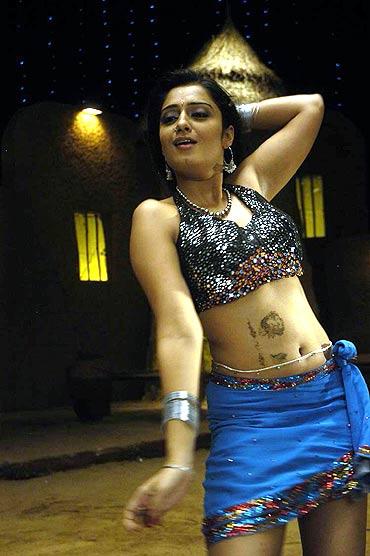 Kannada actress Nikitha talks to her fans about her films and the Darshan controversy.
September 21, 2011
Ex-flames Ranbir and Deepika to star in KJo's next!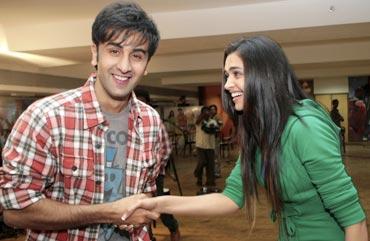 Here's what your favourite celebrities are tweeting.
Here's who's replacing Akshay Kumar on Masterchef India!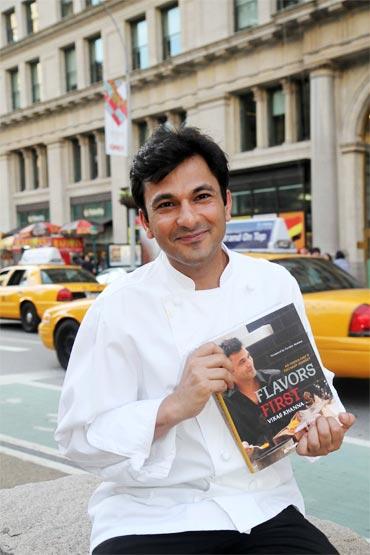 US-based author and restaurateur Vikas Khanna talks about judging the new season of Masterchef India.
How mom Sunanda came to Shilpa Shetty's rescue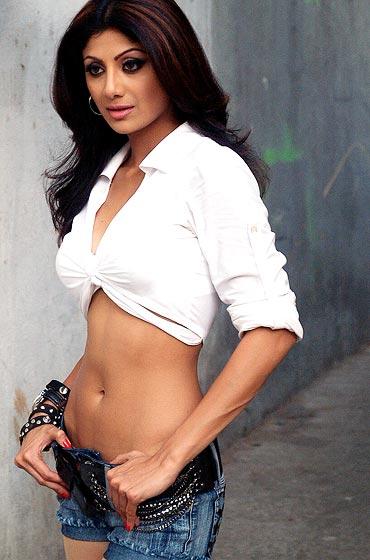 The actress talks about her new film The Desire, along with producer mom Sunanda Shetty.
Making waves with Engeyum Eppothum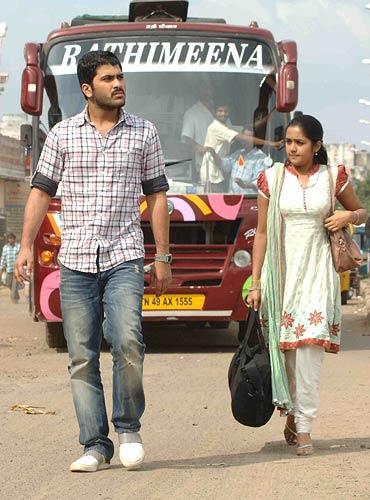 Filmmaker M Saravanan's film is garnering quite a response.
Ramya: From acting to politics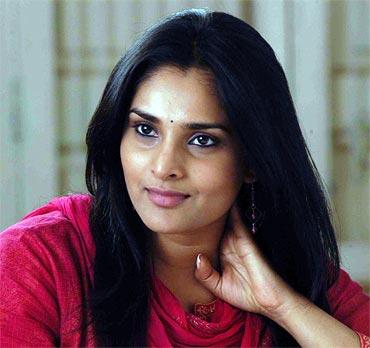 The actress won the Youth Congress booth-level elections two days ago.
Pix: Check out Hollywood's hottest young stunners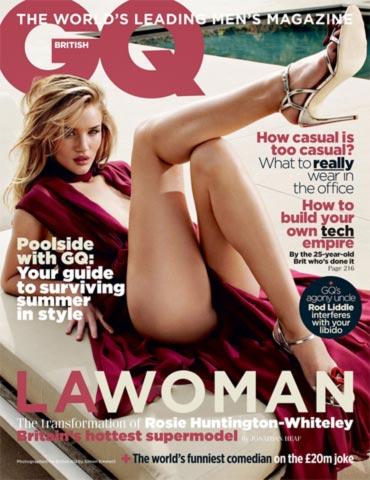 Say hello to a fresh bunch of hotties, who we hope to see a lot mor ein the coming years.
September 20, 2011
Talking Mausam with father-son, Pankaj-Shahid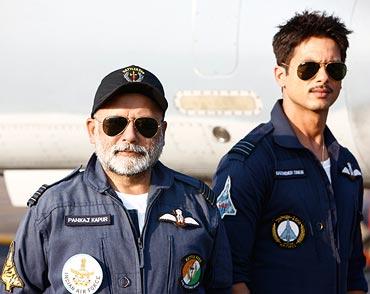 The father-son duo talk about their filmi journey.
Charlie Sheen pockets over 100 mn dollars with settlement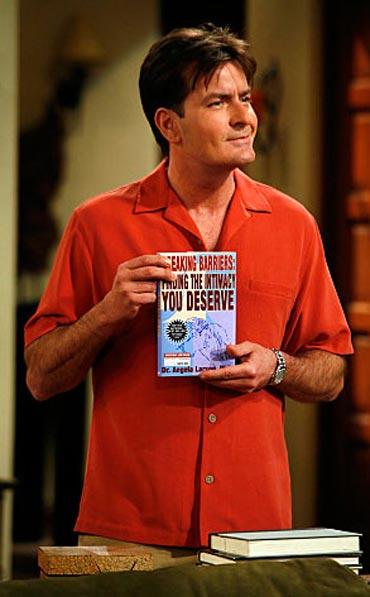 The actor, who was fired from the hit show in March this year has been replaced by Ashton Kutcher.
Did Kareena turn down film with Tusshar?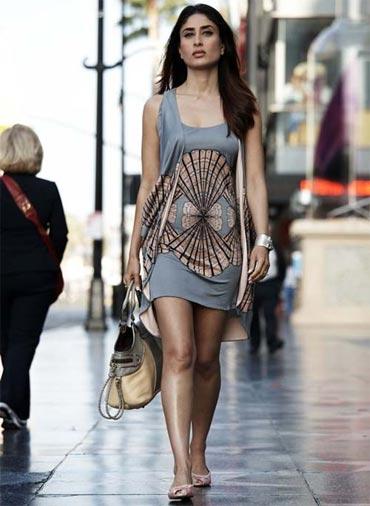 Here's what your favourite celebrities are tweeting.
Why Madhuri Dixit will return to India for good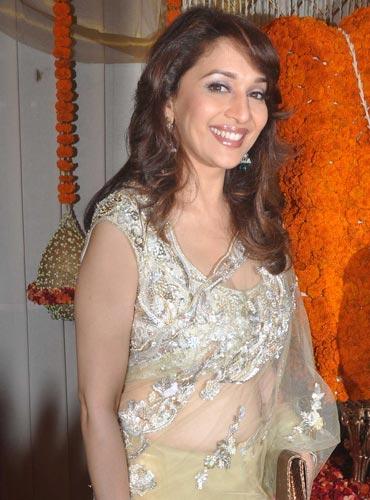 The actress talks about her decision to return to India.
Pix: Ranbir visits Hazrat Nizamuddin Dargah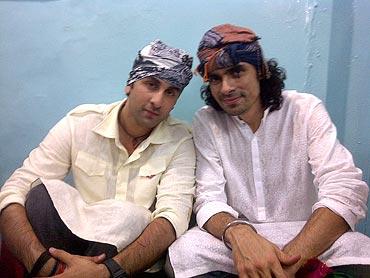 The actor sought blessings for his upcoming film Rockstar with director Imtiaz Ali and singer Mohit Chauhan.
Pix: Meet the hot Samantha in Dookudu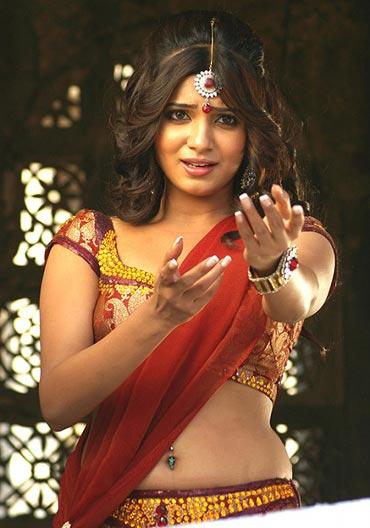 The young actress will be seen in in Telugu film, Dookudu.
Quiz: How well do you know Kaun Banega Crorepati?
Take this fun quiz!
Vote! Who's hotter: Kangna Ranaut or Lisa Haydon in Rascals?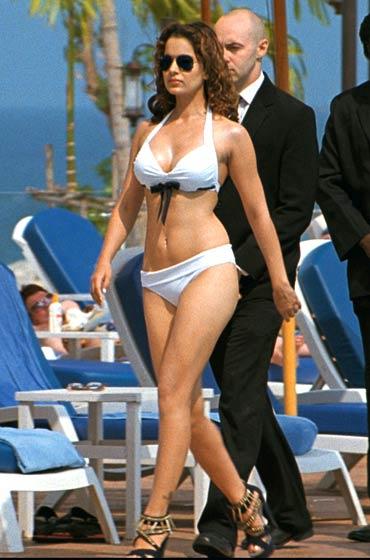 The leading ladies will vie for maximum attention in their new film together.
September 19, 2011
Revealed: Dadamoni's paintings for the first time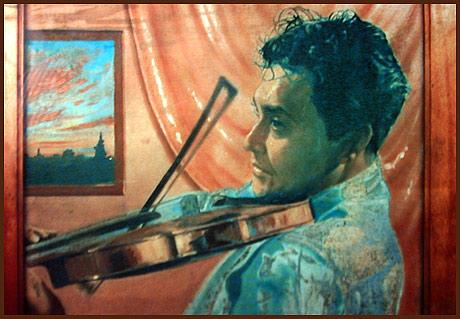 As his birth centenary approaches, we take a look at a different aspect of Ashok Kumar's talent -- his paintings.
Modern Family sweeps Emmy Awards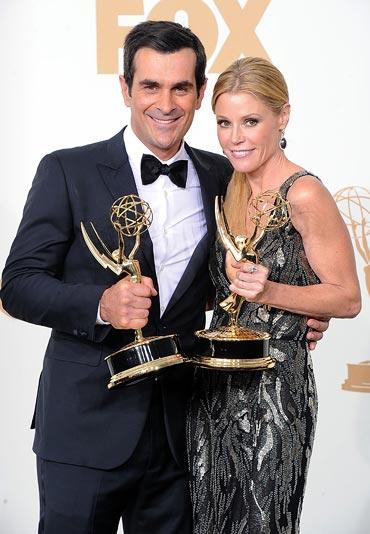 A look at the winners.
'Narendra Modi will pay like Hitler'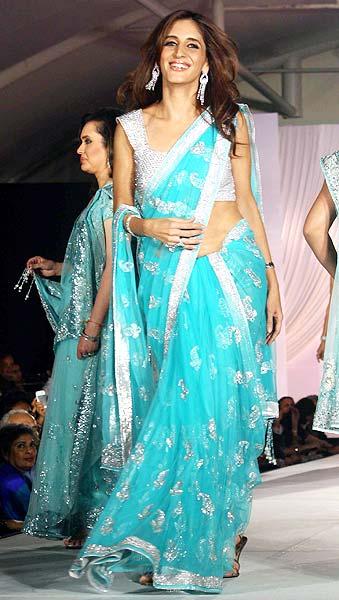 Here's what your favourite celebrities are tweeting.
Puneet-Yograj Bhat, a winning combination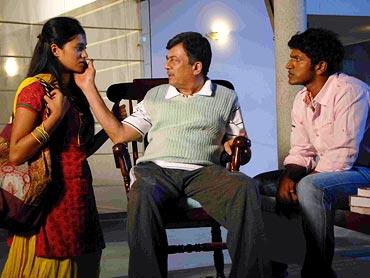 The duo team up for the first time in Kannada film Paramathma.
Rate Kareena, Priyanka's Style Quotient!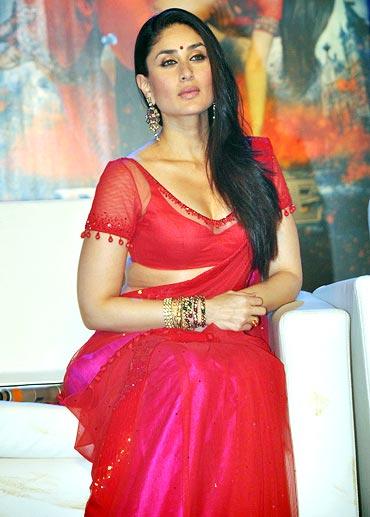 Here's how these B-town celebs fared last week, fashion wise.
Is Sonam missing the Kapoor charm?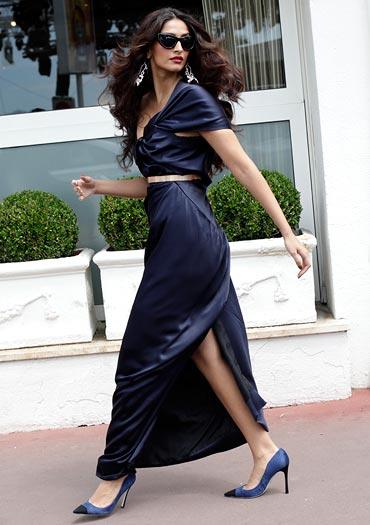 The young actress is not as endearing as her father, grandfather.
Has Ra.One been inspired from this?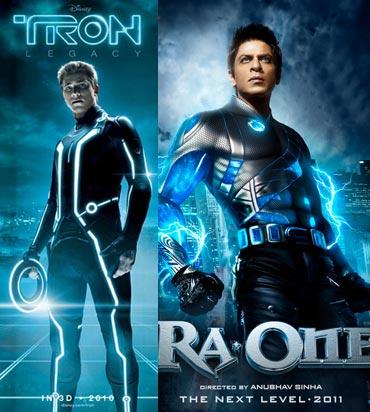 We've seen bits of Shah Rukh's latest venture in quite a few films before.
Katrina: I never dated Ranbir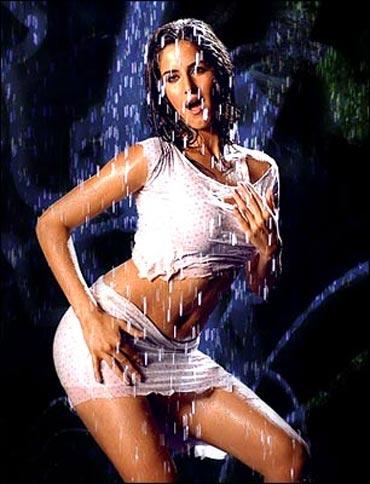 Katrina Kaif, in a revealing interview.
September 16, 2011
The 10 Most 'Dangerous' Cyberspace Celebrities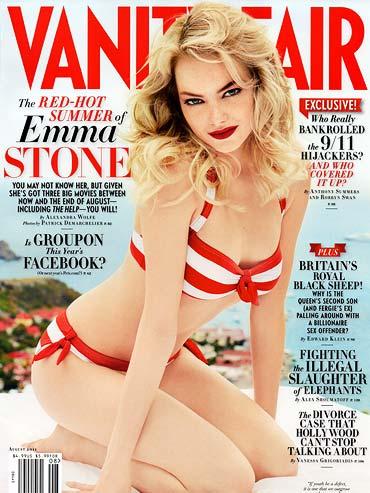 Emma Stone features at Number 10. Check out who make it to the top spot.
Pix: Imran throws Delhi Belly success party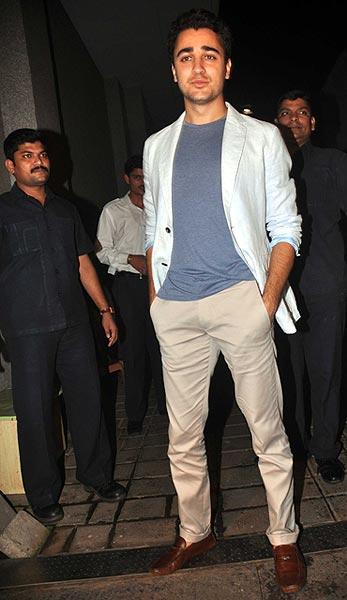 The party hearties included Deepika, Sonam, Shahid and uncle Aamir Khan among many others.
'The story of Pranayam was in my mind right from my college days'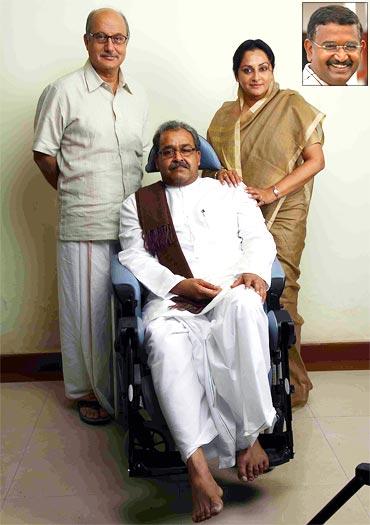 Director Blessey talks about his latest film Pranayam.
'I am nervous about Pankaj Ka Zayka'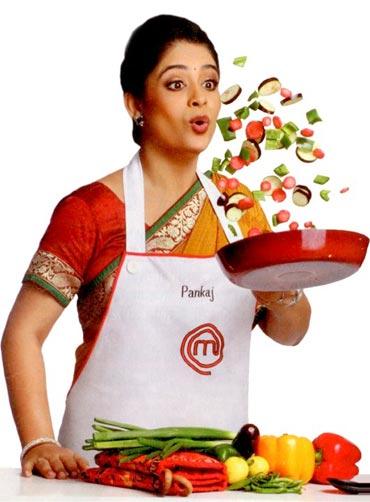 Lucknow resident Pankaj Bhadouria talks about her new show.
Stars mourn Azhar's son's demise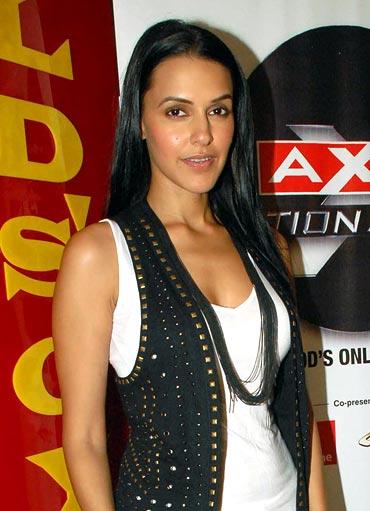 Here's what your favourite celebrities are tweeting.
'I've got good offers after Mere Brother Ki Dulhan'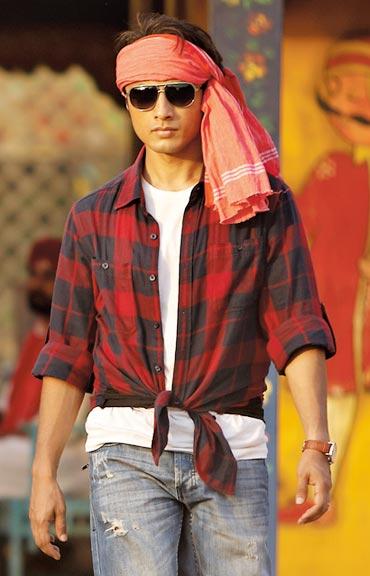 Actor-musician Ali Zafar talks about his movie career.
Photo: Shriya looks wow in Midnight's Children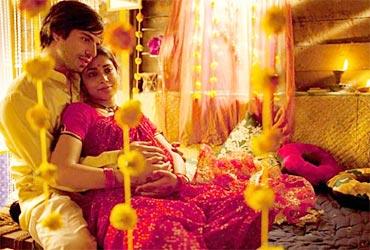 Deepa Mehta offers a sneak peek of her new film.
September 15, 2011
Does Beyonce's husband Jay Z have a secret love-child?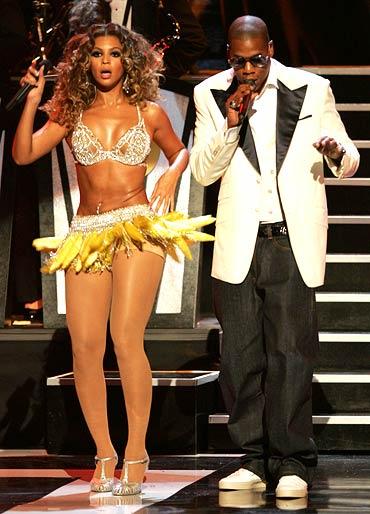 The rapper apparently had a son with a Trinidad model nine years ago.
When Shahid Kapoor praised Imran Khan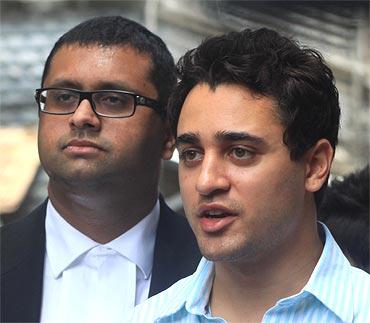 Here's what your favourite celebrities are tweeting.
'I want people to say there's no one like me'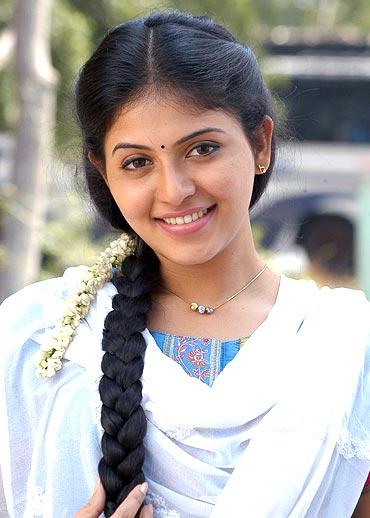 Actress Anjali talks about her new film Engeyum Eppothum.
'My sexy avatar is more out of necessity than choice'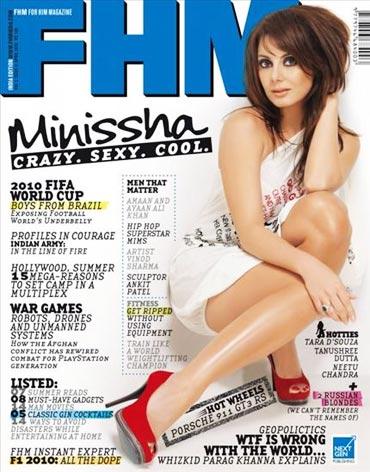 Actress Minissha Lamba takes questions from rediff readers on her new film Hum Tum Shabana, among other things.
Pix: Red hot bikini shoot for a Lethal film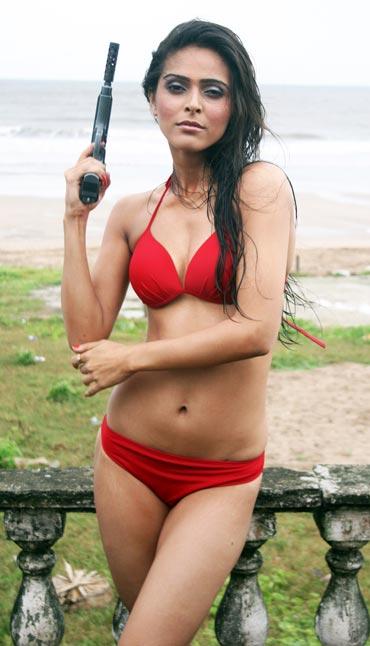 We go on the sets of the film, Lethal Commission.
How Kareena Kapoor became the No 1 actress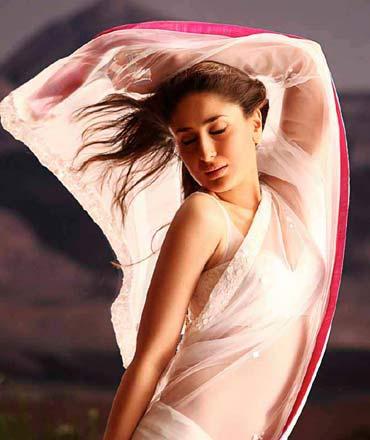 From gaining a reputation as a brash debutante to becoming a top actress with the most lady-like disposition, she sure has come a long way.
When daddies directed their sons on screen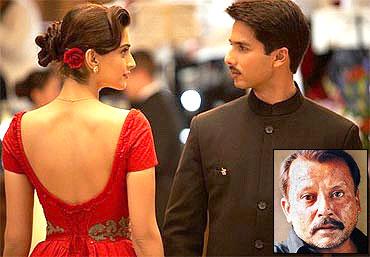 Pankaj Kapur directs his son Shahid for the first time in Mausam.
September 14, 2011
Meet the richest men in showbiz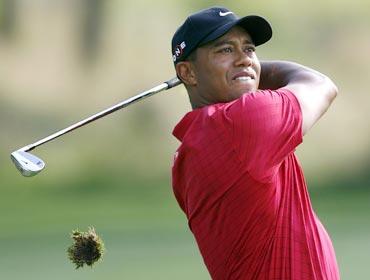 Tiger Woods just about manages to make it to the list will $ 77 million in earnings in the last one year.
'I am super excited about Engeyum Eppodum'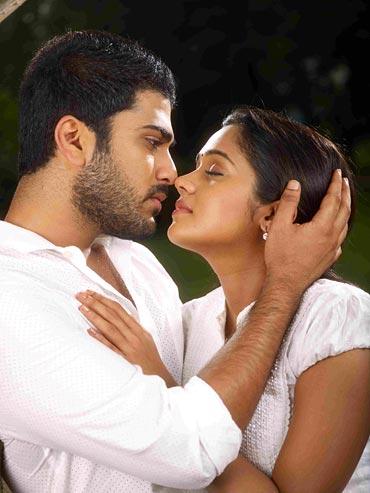 Telugu actor Sharwanand talks about his new film.
Vandhaan Vendraan is all set to conquer hearts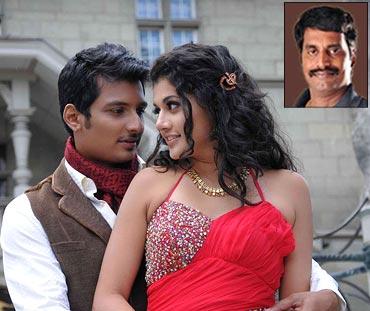 Filmmaker R Kannan talks about his new directorial venture.
Ra.One takes a toll on Shah Rukh's health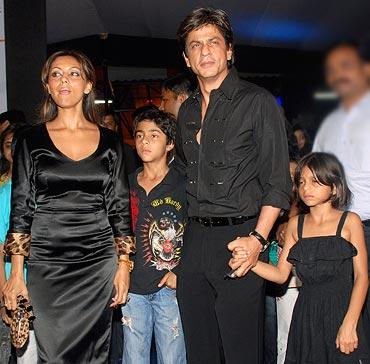 Here's what your favourite celebrities are tweeting.
Spotted! Salman with Aishwarya in New Jersey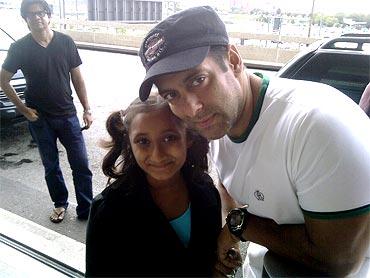 Check out this photograph.
Pix: Bollywood attends Gautam Rajadhyaksha's funeral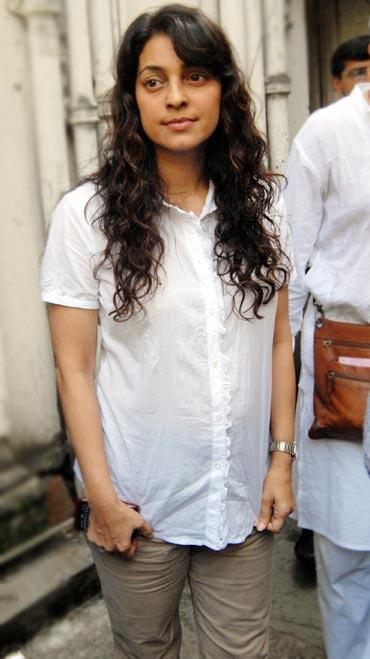 The celebrity photographer died yesterday due to a heart attack.
Pix: When Southern actresses rocked their bikinis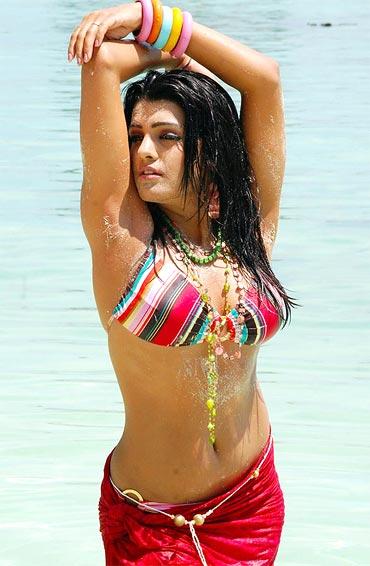 The heroines jazz things up down south.
September 13, 2011
Shah Rukh: Always wanted to play a superhero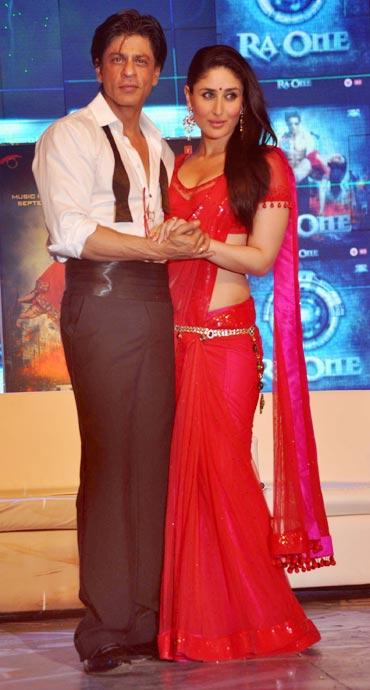 Shah Rukh Khan, Kareena Kapoor and Arjun Rampal released the music launch of Ra.One in Mumbai.
Pix: It's raining Hollywood stars in Toronto film fest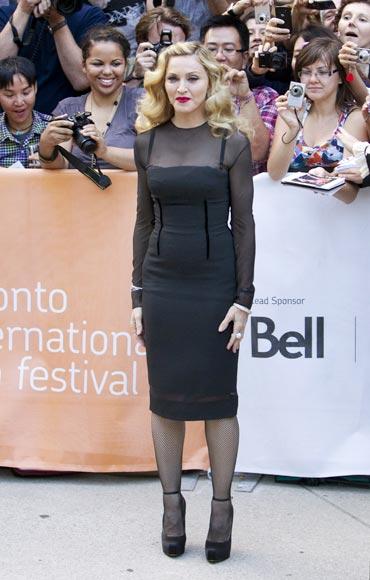 Singer Madonna was also spotted at the ongoing festival.
Ace photographers pick Gautam Rajadhyaksha's best pictures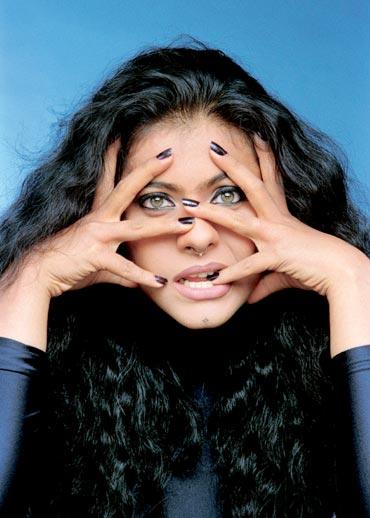 Ace photographer Gautam Rajadhyaksha passed away in Mumbai today following a heart attack. He was 62.
Pix: Rakhi Sawant's sexy new item number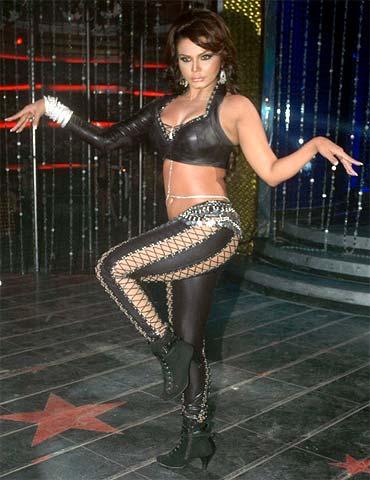 The item girl is shooting for a new film titled Loot along with Govinda and others.
Bollywood pays a tribute to Gautam Rajadhyaksha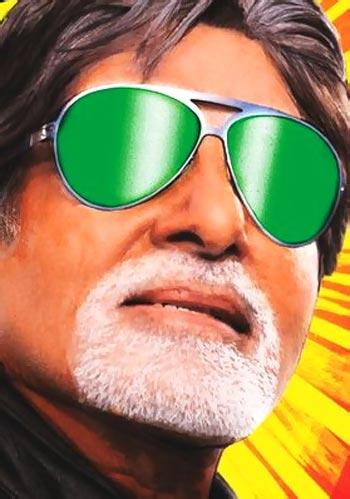 Here's what your favourite celebrities are tweeting.
Bollywood's Air Force Connection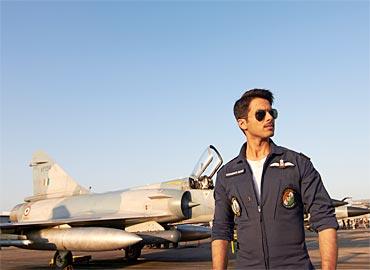 Check out the Air Force connection before Mausam happened.
'I haven't thought about directing my father, Rajnikanth'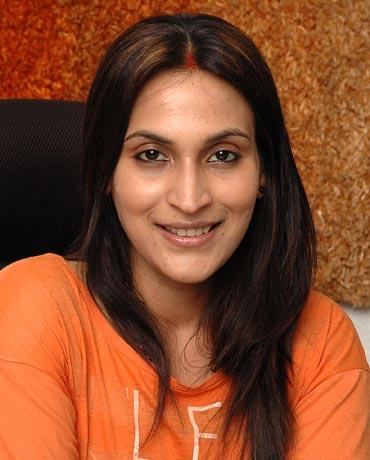 Rajnikanth's daughter Aishwarya talks about her directorial debut, and directing her husband, Darshan.
Pix: Check out Shah Rukh Khan, Kareena in Ra.One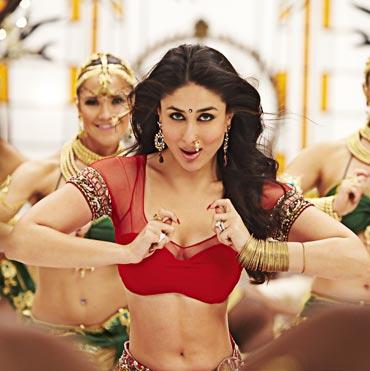 SRK's seriously slick superhero film means business!
Gautam Rajadhyaksha and Bollywood's timeless beauty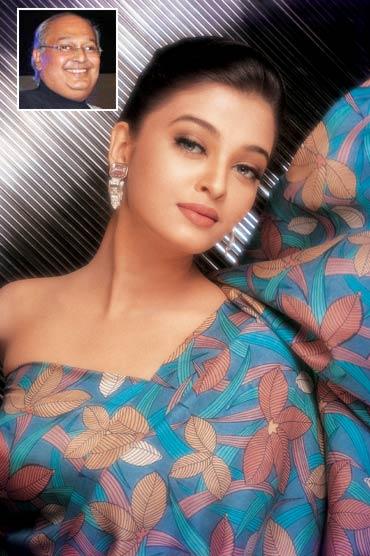 Star photographer Gautam Rajadhyaksha shows off his best star pictures.
September 12, 2011
John Abraham: A Force to be reckoned with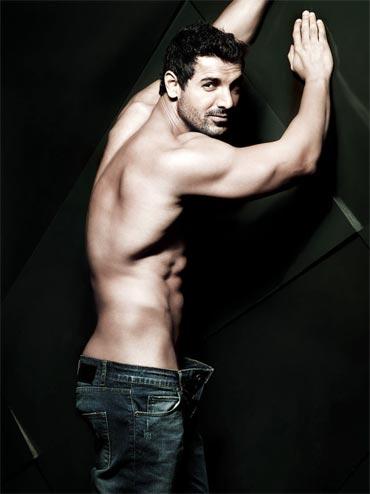 The actor talks about his chiselled body in his upcoming film Force.
Gwyneth Paltrow wins Emmy for Glee guest role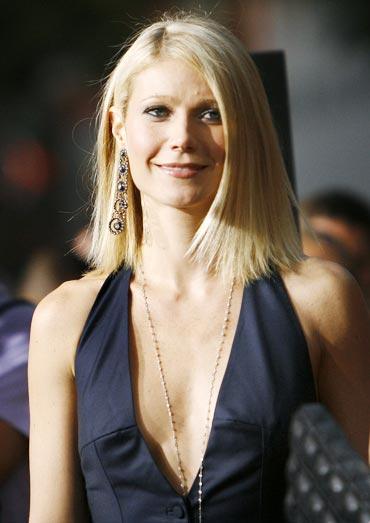 Get your lowdown on what's going on in the world of Hollywood, right here!
Pix: Pregnant Ash visits Siddhivinayak temple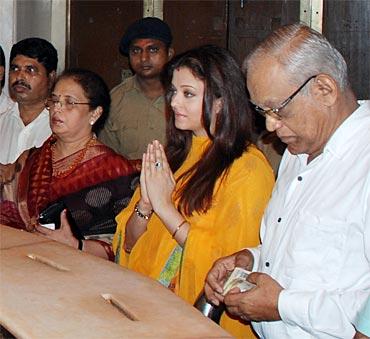 The actress prayed to the Gods with her parents.
Pix: Post surgery, Salman shoots for Ek Tha Tiger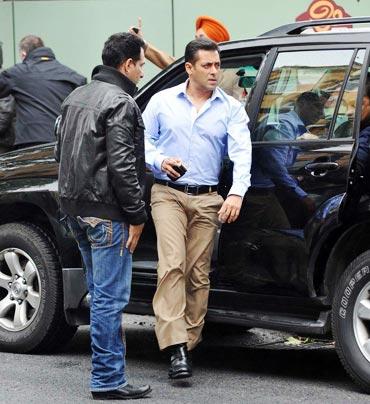 Salman sets the ball rolling after undergoing the nerve surgery.
Pix: Ranbir, Shreyas seek Ganpati's blessings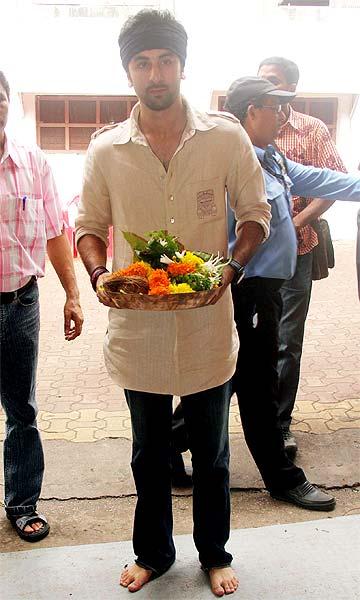 Ranbir joined filmmaker Imtiaz Ali as they prayed for good luck and their upcoming film Rockstar.
What upsets Shah Rukh Khan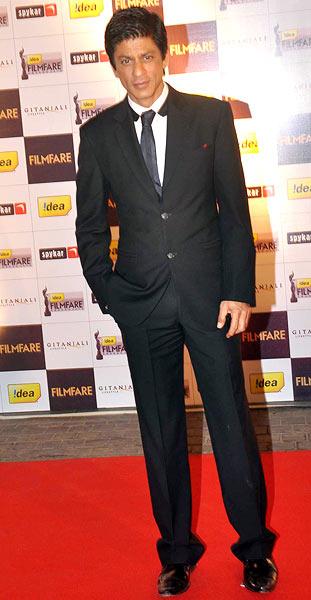 Here's what your favourite celebrities are tweeting.
Pix: Freida Pinto wins over Toronto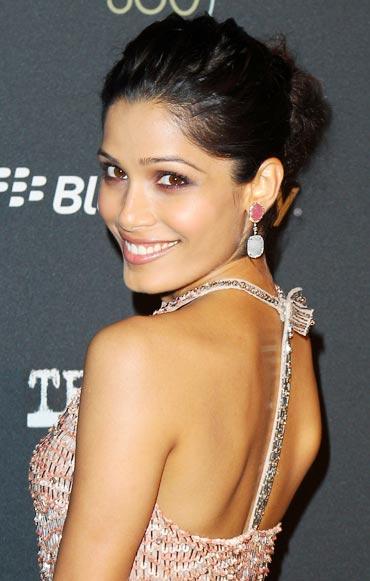 The actress gets rave reviews for her new film, Trishna, at the Toronto International Film Festival.
Reader's Choice: Bollywood's greatest comic actor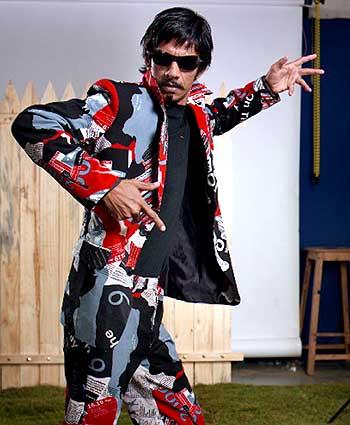 Here are your hand-picked favourites.
Kalki: I want to surprise people constantly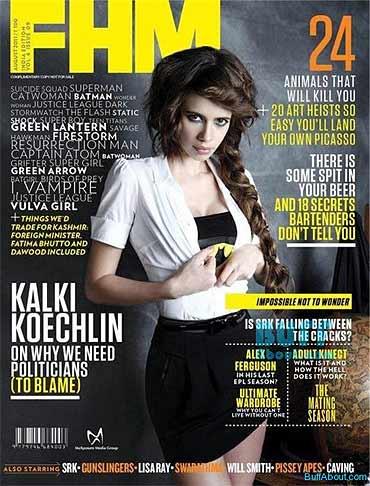 The actress fields questions about her new projects, hubby Anurag Kashyap and much more.
September 09, 2011
Abhay Deol's rendezvous with Scarlet Johansson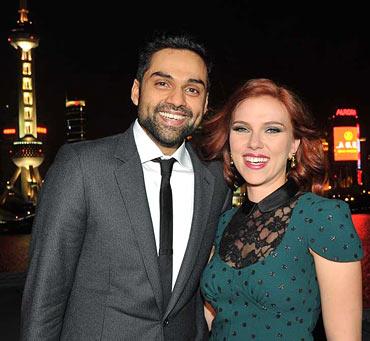 Here's what your favourite stars have been up to.
Do you like the new Ra.One poster?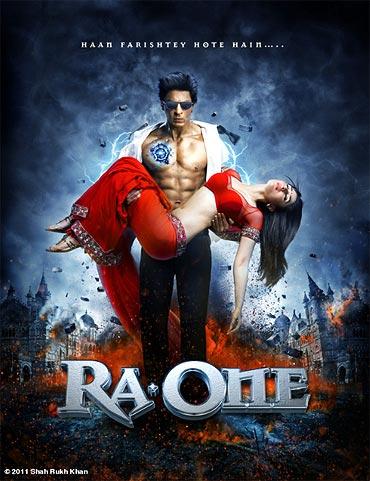 Here's what your favourite celebrities are tweeting.
Celebrate Akki Kumar's birthday with his hit songs
The Khiladi turns 44 today.
PIX: Shriya Saran's Hottest Covers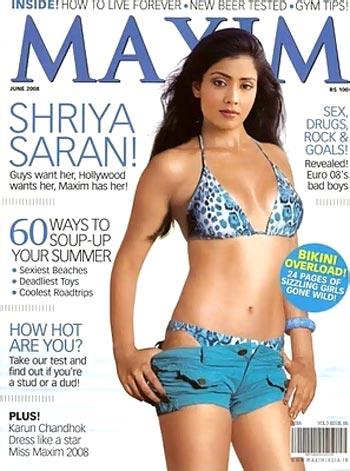 Here's celebrating the actress, whose birthday falls over the weekend.
The Best of Mr Bean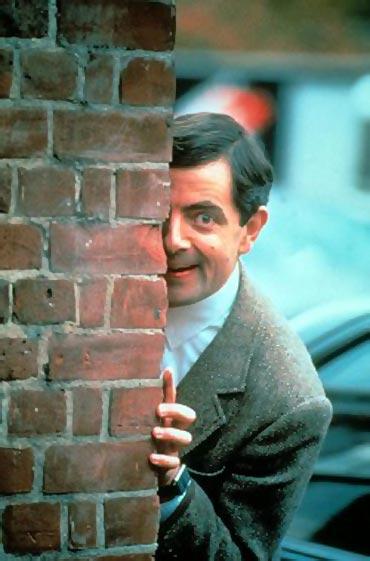 Here's looking at the best moments of the character's hilarious shows.
Vote! Bollywood's Best Shaadi Film!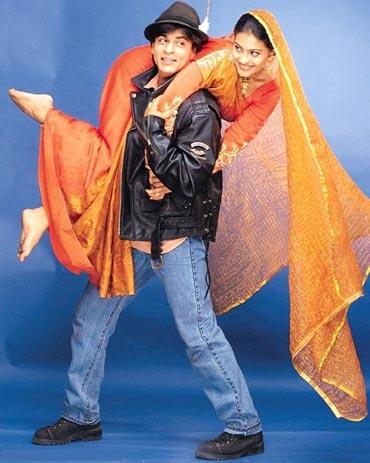 Is Dilwale Dulhania Le Jayenge your favourite shaadi film?
Films to watch out for this Onam!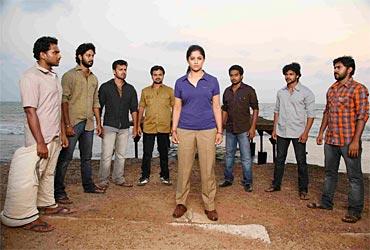 The festive weekend will see the release of three films.
September 08, 2011
Did Shah Rukh copy this scene in Ra.One?
A portion of the Dildara video looks shocking similar to this German ad.
Gautham Menon's new love story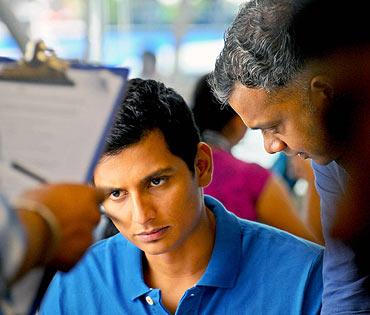 The filmmaker gets ready with a new project.
Pawan Kumar says 'move on' with Lifeu Ishtene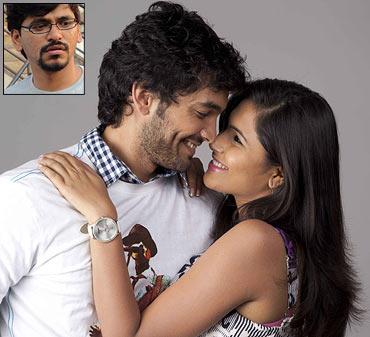 Debutante director Pawan Lumar talks about his film that releases tomorrow.
Fasting competitions next? Stars ask Anna Hazare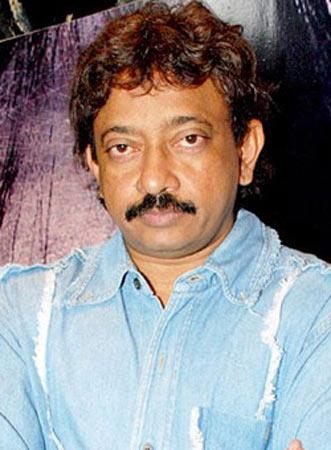 Here's what your favourite celebrities are tweeting.
Films to watch out for at the Toronto film fest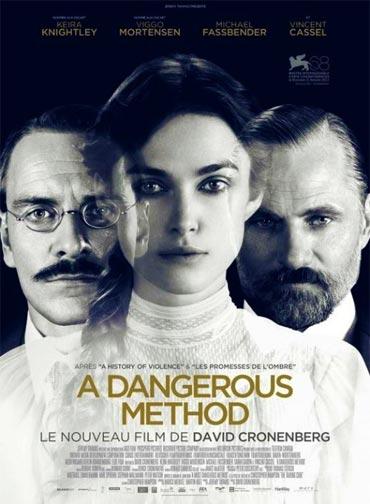 The festival starts today, and has a mouth-watering line-up.
'I had no expectations from Bodyguard'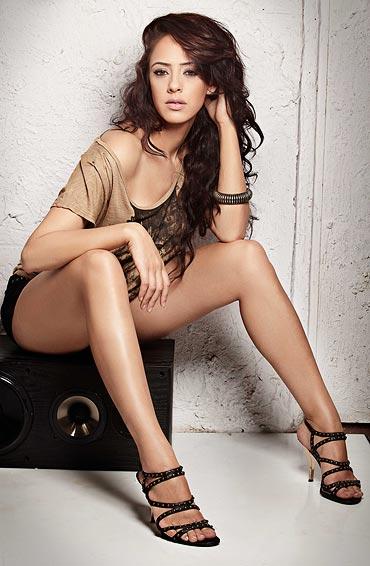 Actress Hazel Keech talks about her crush on Salman Khan, and much more.
Asha Bhosle turns 78. Wish her!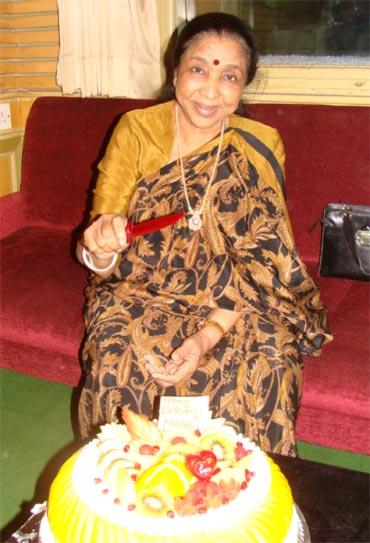 The legendary singer celebrated her birthday by dubbing for her acting debut Maaee.
Partying with George Clooney!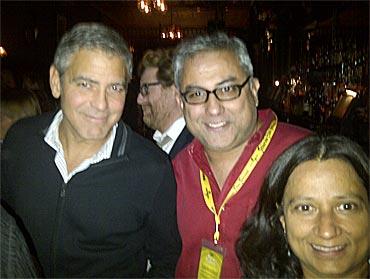 recounts his encounter with the heartthrob at a Telluride Film Festival afterparty.
The Most Dangerous Filmi Train Stunts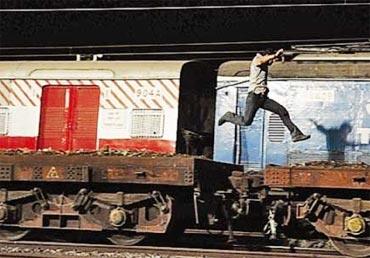 Here's a look at some of the train-themed daredevilry of Bollywood.
Check out Bollywood's highest paid actors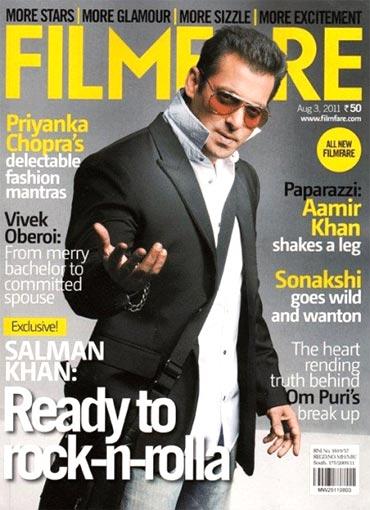 Read on to know if your favourite actor makes the cut.
September 07, 2011
When Bollywood aced retro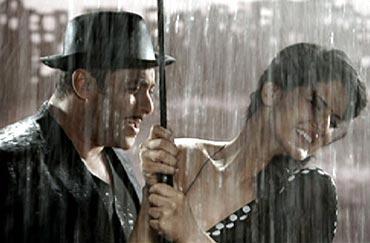 We love the retro age and Bollywood loves recreating it! The latest is the Mere Brother Ki Dulhan title track.
What's Sexting? Keira Knightley Is Stumped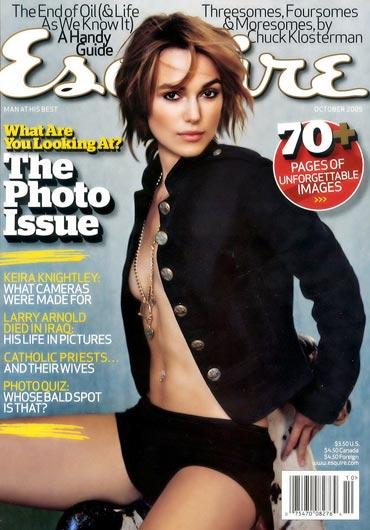 The Brit actress discusses her new films and fashion sensibilites with Marie Claire magazine.
Delhi blast angers Bollywood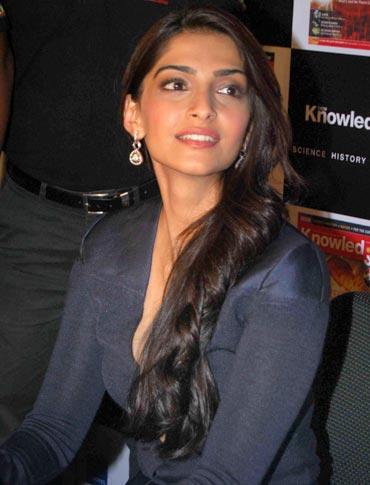 Here's what your favourite celebrities are tweeting.
Pix: Katrina pays a visit to Fatehpur Sikri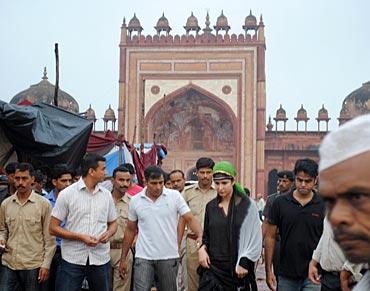 Is the actress asking for blessings for her new release Mere Brother Ki Dulhan, this Friday.
'My debut in Kannada films was well received'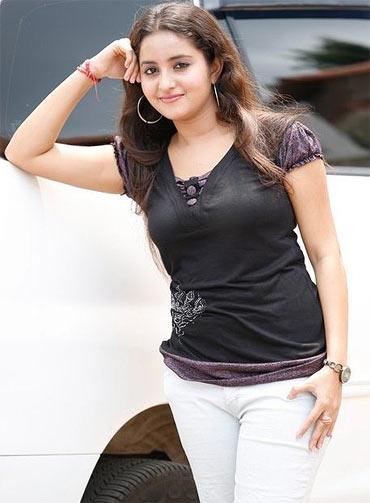 Bhamaa, who is shooting for her upcoming film Shyloo, shares her acting experience.
Karisma starts shooting for Dangerous Ishq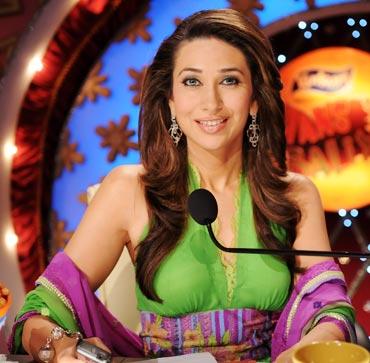 Vikram Bhatt canned the actress' first comeback shot on Tuesday.
At 56, it's goodbye from Mr Bean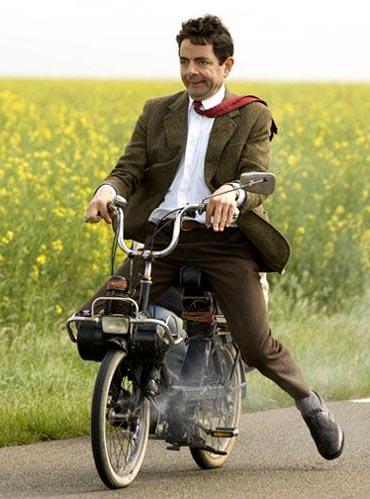 The TV series has enjoyed huge popularity over the years.
Fan pays unique tribute to Bhupen Hazarika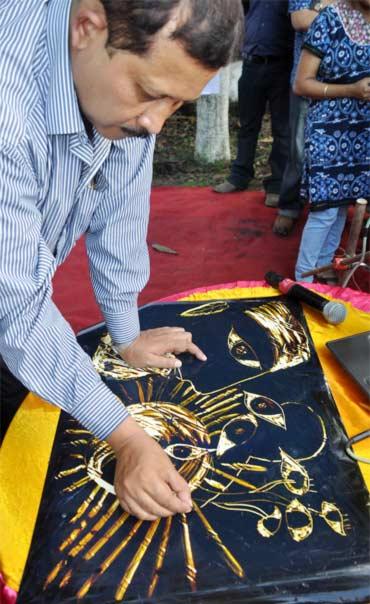 The noted singer will turn 86 on September 8.
September 06, 2011
Pix: Hollywood stars dazzle Venice film fest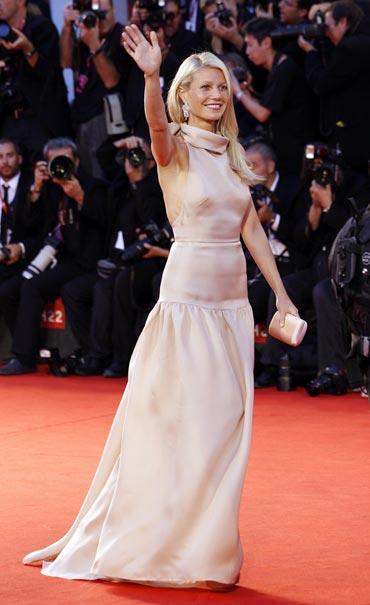 A-listers Gwyneth Paltrow and Colin Firth join others for their respective films' premieres.
Abhishek, Riteish want Karan Johar on Bigg Boss 5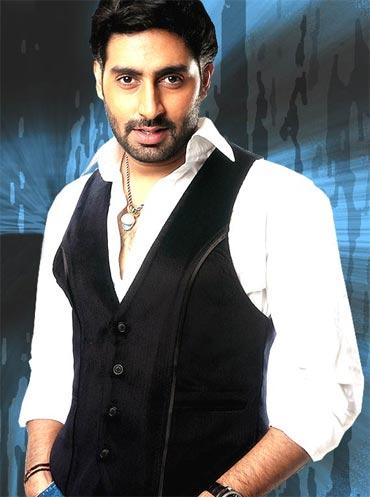 Here's what your favourite celebrities are tweeting.
The filmmakers who fizzled with age
Looking at the track record of some of Bollywood's maverick directors.
'I knew Singham would click with the audience'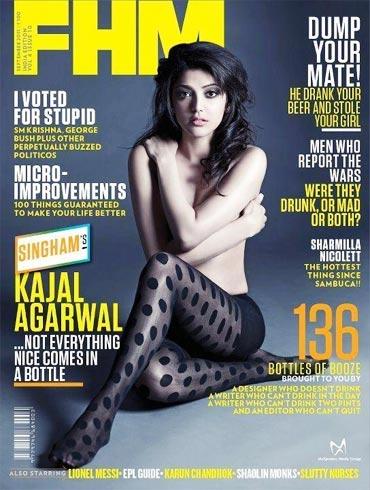 Kajal Agarwal talks about her films and venturing into Bollywood.
Newbie Ameesha Yadav goes nude for Corruption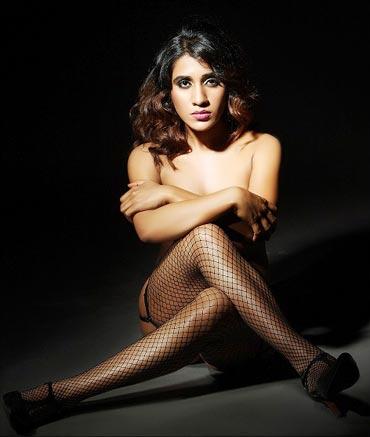 The actress stars in a film called Corruption, that's inspired from Anna Hazare's movement.
Katrina: I'm terrified of working with SRK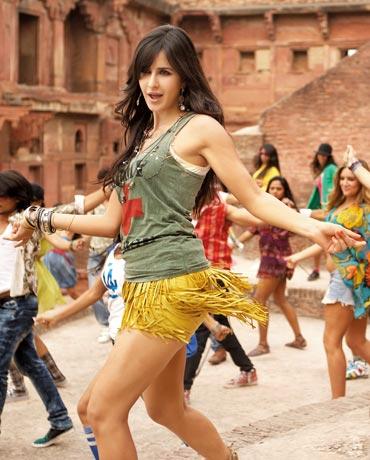 Katrina Kaif talks about her new film Mere Brother Ki Dulhan, and working with Salman and Shah Rukh Khan.
Check out Bollywood's Highest Paid Actresses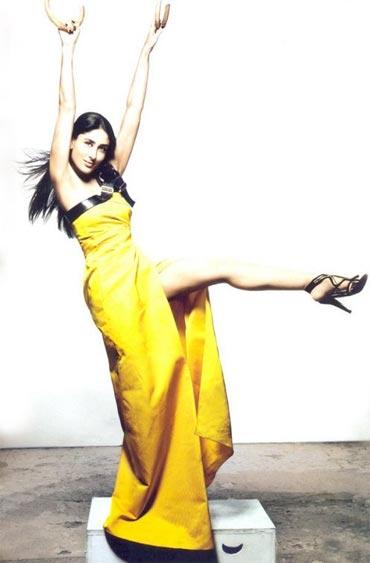 These girls earn the big bucks.
Pix: Lipstick secrets of Katrina, Sonam!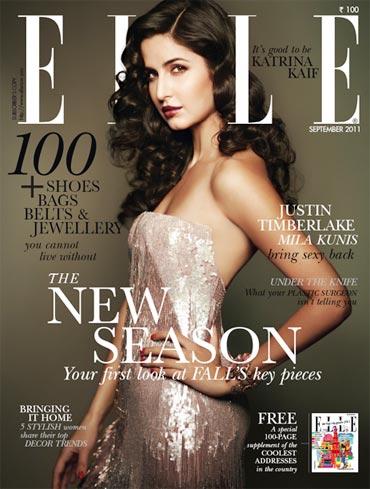 Bollywood's sexiest covergirls pucker up with the latest hues.
September 05, 2011
The Saddest Hollywood Movies of all time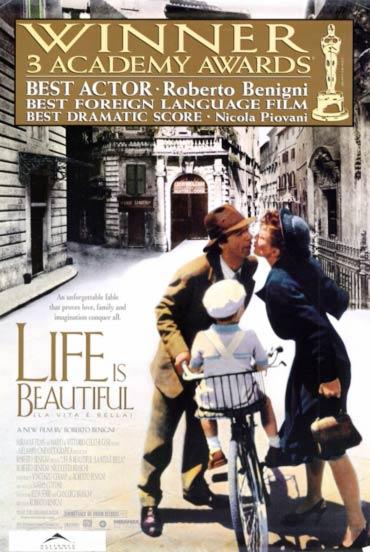 Life Is Beautiful lands at fifth spot.
Special Series: Bollywood's hottest seniors!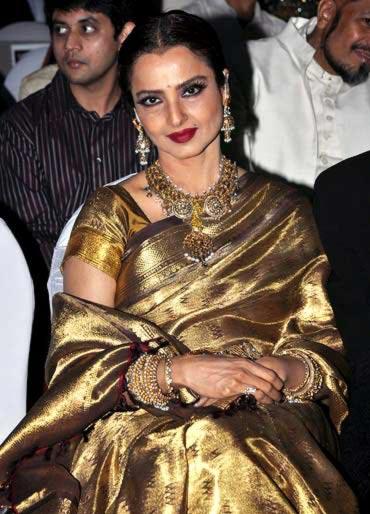 These veteran heroines are all about grace and beauty.
Jaya Prada: There is no life without Pranayam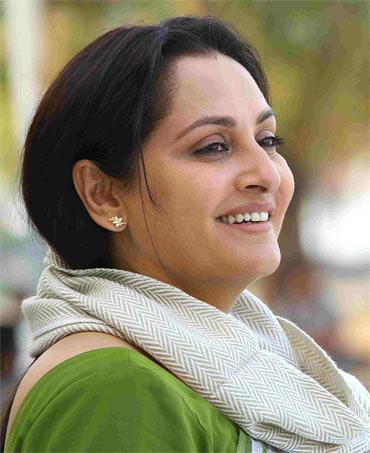 The actress talks abot her Malayalam film and her political career.
Singham's Kajal goes topless on magazine cover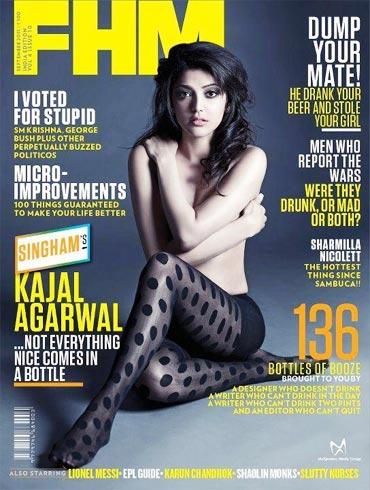 The new FHM cover looks smashing.
Shah Rukh, Amitabh celebrate Ganpati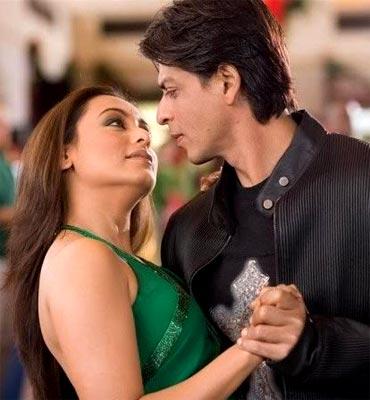 SRK visited a friend's house for the first time to celebrate the festival. This, and more Bollywood news.
Vote! The best teachers in Bollywood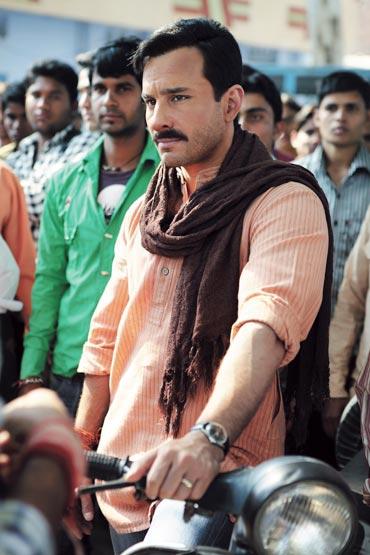 Looking at some of the best teachers in films over the years.
Anurag Kashyap: I loved No Smoking the most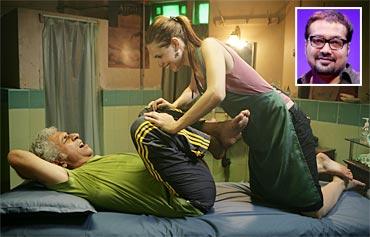 Anurag Kashyap talks about his issues with film distribution, the Hindi film industry in general and his gripe with film critics.
Fashion Police: Which star got it right?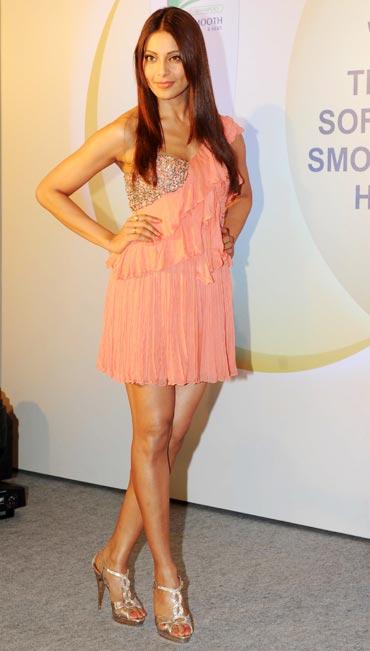 Here's how these B-town celebs fared last week, fashion wise.
Readers' Choice: Who should be in Bigg Boss 5?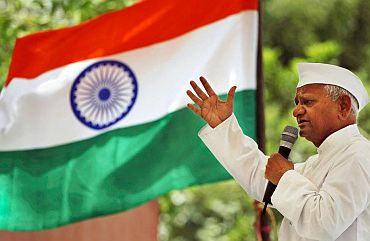 Here's your top ten contenders!
September 02, 2011
Pix: Who rocked the Venice festival red carpet?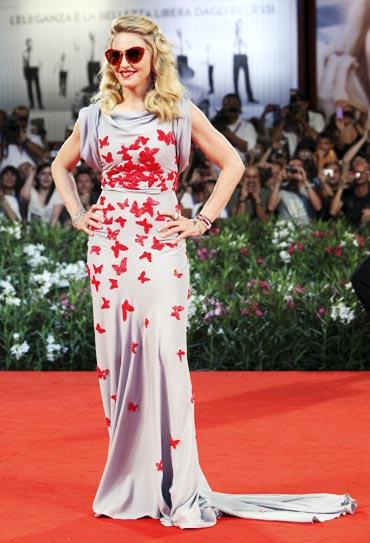 Hollywood celebs dazzle at the ongoing Venice Film Festival.
Pix: Bollywood stars bring Ganpati home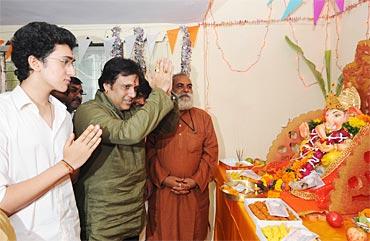 A look at how stars welcomed lord Ganesha.
Why Bodyguard is a big hit already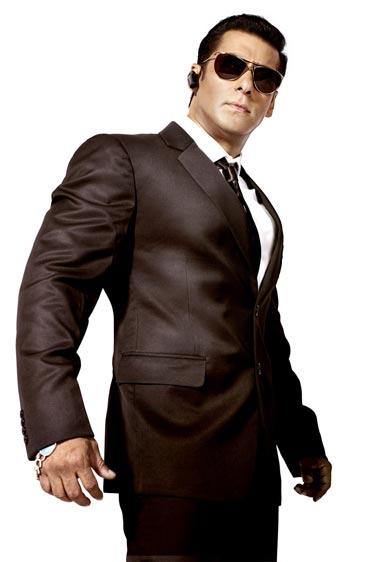 The film has already raked in about Rs 39 crores.
Former Spice Mel B delivers baby girl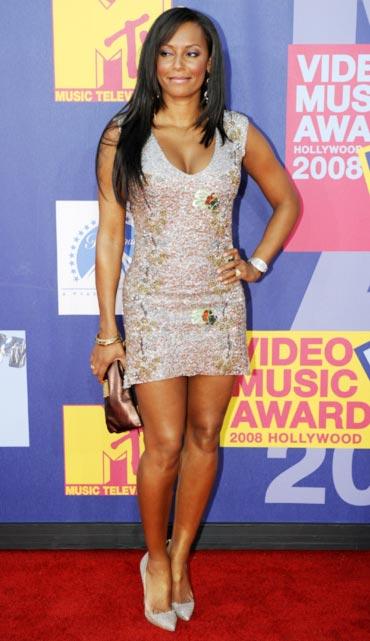 The singer was rushed to a Los Angeles hospital last night.
Bollywood's Ganpati celebrations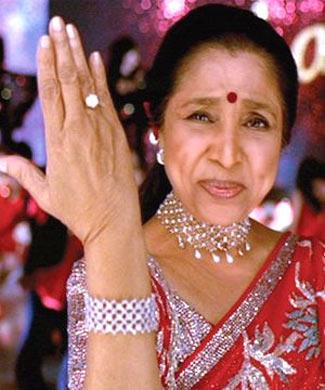 Here's what your favourite stars are tweeting.
'Yellow Boots is my last film with Kalki'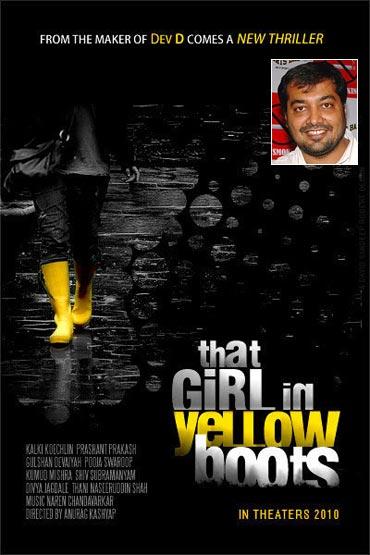 Anurag Kashyap talks about his films and his working relationship with actress wife Kalki.
Birthday wishes for our own Audrey Hepburn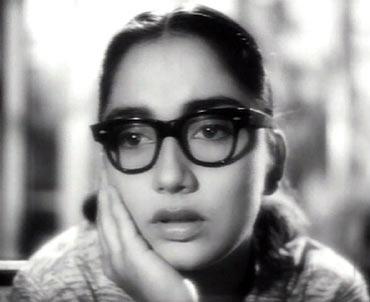 The yesteryear actress turns 70 today.
'Only Kamal Haasan interferes with work'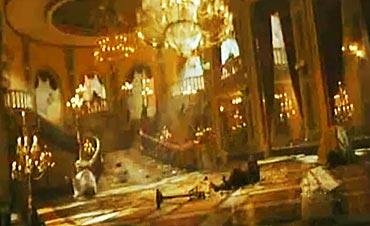 Art director Sabu Cyril talks about his movies, and the people he works with.
Special Series: Bollywood's sexiest 40-somethings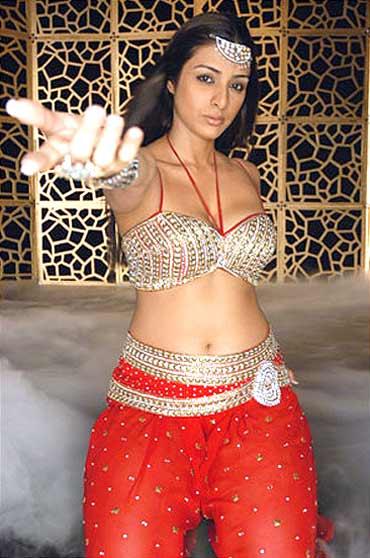 These beauties give new meaning to aging with grace.
September 01, 2011
What does Shah Rukh wish for Salman this Eid?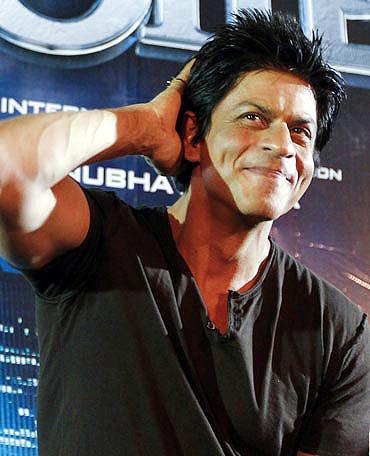 In the festive spirit, the actor sends out his wishes for Salman, who's recuperating from surgery in the US.
Review: This Rockstar is promising
A R Rahman has us hooked with Sadda Haq and Tum Ho.
Pix: Shah Rukh, Aamir celebrate Eid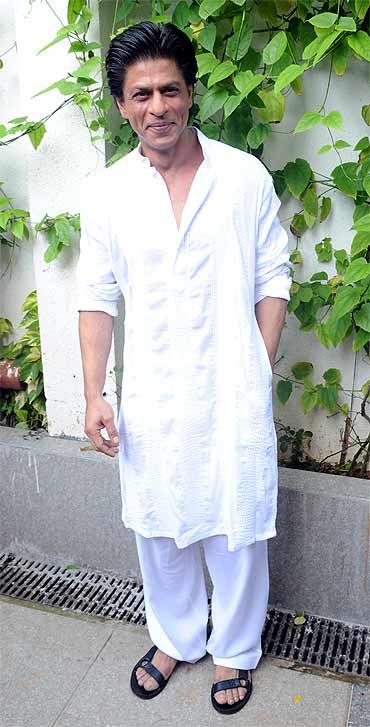 Shah Rukh threw an Eid bash at his residence for his B-Town friends.
Bollywood's obsessed with Dulhans!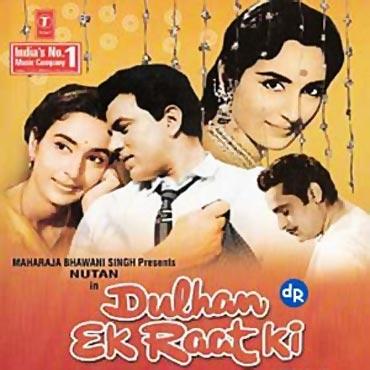 Here's looking at Bollywood films that had a demure 'Dulhan' gracing their title.
Archives
August 2011
|
July 2011
|
May 2011
|
April 2011
|
March 2011
|
February 2011
|
January 2011
|
December 2010
|
November 2010
|
October 2010
|
September 2010
|
August 2010
|
July 2010
|
June 2010
|
May 2010
|
April 2010
|
March 2010
|
February 2010