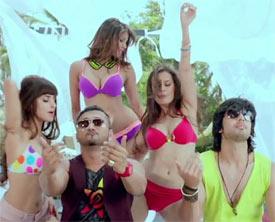 Always thought there was something off about how our teen romance films represent youngsters but could never put a finger on what it was?

Nineteen-year-old Paloma Sharma busts some Bollywood myths.

Of all the releases on all the Fridays, only a few go on to become (financially) successful, and typically, though not always, there are three reasons for this:
* An easy to understand concept
* A gullible audience
* Purchasing power
The demographic we are talking about is young movie goers.
That Purani Jeans ran in theatres for more than a week is proof of this.
Purani Jeans is an aptly named film -- as long as the stress remains on the first word of the title.
It is one in a string of recent films that have chosen to focus on the age bracket of 16 to 25.
Much like its predecessors, it makes no attempt to break away from constantly perpetrated stereotypes.
For quite a while now, there has been a great divide between grownup filmmakers and the young characters they portray in said films.

This makes it difficult for a 19-year-old like me to relate to a character that's supposed to be my age but sees the world through the perspective of someone who is older (or is trying very hard to be young).
Here then, for the benefit of both age groups, let's bust the five myths that continue to prevail on the big screen:
1. Young people only have one thing on their mind
Ah, the original sin.
Adults are still largely squeamish about discussing it.
Everyone assumes that all that this allegedly immoral generation thinks of is jumping into bed with the first living creature in sight.
While a whole lot of us might really, really want it -- and some of us might get it too -- there are larger concerns that occupy our minds.
Like, for example, those strange beings called parents.
These lofty beings insist their children do certain things. We have to bring home good grades, sports/quiz/arts trophies, land a good internship; get a better job than Mishra uncle's son, Bunty etc.
After pleasing the parents and doing well (read: passing) in all our tests, we somehow manage to have something that vaguely resembles a life.
So by the time we swim through the social pond and finally make it out of the friend zone, we have no energy left to even think about carnal pleasure.
The 21st century Indian youth is basically a rat running a race it knows it can neither win nor drop out of because log kya kahengey (what will people say)?
2. Puberty is beautiful
Remember the first time you discovered that your body is changing and how wonderfully magical it felt, like you were turning from a little green caterpillar into a beautiful, vibrantly coloured butterfly?
Yeah, I don't either.
But I'm sure the 25-year-old high school kids from Student of the Year do.
Unfortunately, the rest of us were born with less than perfect genes and more than necessary hormones.
Real young people have pimples that break out in places that you don't even want to know about, and the one precariously wobbling on your chin will burst open just when you find the courage to walk up to that cute guy/girl.
Puberty screws up pretty much everything in your life -- it makes your voice go to unnatural pitches right in the middle of an important speech you're delivering in front of the whole school.
However, I don't blame filmmakers for choosing not to portray it realistically.
After all, they're trying to make a high school/ college romance film and not one that comes under the category of gory horror.
3. The most essential part of a school/college romance is an exotic location
In Yaariyan, Lakshya romanced Saloni in the mountains of Sikkim.

Purani Jeans' Sidharth did aankhein chaar with the overwhelmingly angrez Nayantara in Kasauli.
Shanaya and Abhimanyu unwittingly fall for each other on the beaches of Thailand in Student of the Year.

Meanwhile, 2 States sees Krish and Ananya doing everything but studying on the campus of IIM A (which, if you are a middle class Indian kid, is more exotic than Yash Chopra's Switzerland).
However, actual youngsters seldom have enough resources to even buy dinner at somewhere more amorous than McDonald's.
In real life, first kisses aren't private moments that take place in the rain but very public moments shared with every other couple that has flocked to the sea face at Marine Drive in South Mumbai to indulge in mass snogging as the sun sets into the acidic sea.
Contrary to what the people in the production houses may think, the location is secondary.
The first challenge of love is finding someone other than that anonymous caller who breaths heavily into the phone past midnight.
Say you find him/her.
Next comes the courtship.
It is difficult to comprehend Bollywood's portrayal of courtship. I mean seriously, why would someone run around a tree unless someone else was chasing them with malicious intent?
Why would a girl attempt to break out into some dance moves to impress a guy?
The only time I ever even attempt to dance in front of another human being is when I have to fake an epileptic attack to get out of gym class.
Most importantly, why would anyone declare their love through song and dance, while standing in the snow, wearing nothing but a skimpy little sari coupled with a barely there blouse?
Have you not watched Titanic?!
Do you not know what became of Jack?!
Ironically, the most romantic moments of a young person's life will be experienced while watching a Bollywood film.
4. The 'It Girl' Phenomenon
She's hot. She's rich. She's spoilt. But everybody loves/fears her.
Yeah, no.
That girl is basically non-existent.
The 'It Girl' is a role especially carved out for Kareena Kapoor (Kabhi Khushi Kabhie Gham), and Alia Bhatt (Student of the Year) by some poor script writer who overdosed on one too many Mean Girls/High School Musical reruns.
In real life, most youngsters (although obviously not all) happen to have that tiny little thing within them called self respect.
Every class has its own cliques, sure. But the enmity among them is unnatural and strictly restricted to celluloid.
The 'It Girl' is nothing but smoke and mirrors. It is practically impossible for her to exist, for mainly three reasons:
For starters, most colleges in India don't let you show any skin above your ankles or your elbows. So mini, micro minis and other outfits borrowed from Poonam Pandey are out of the question.
Secondly, in a country of 1.3 billion, there's too much competition -- even in the Pretty Girls Department. The answer to "Mirror, Mirror on the wall" is a continuously changing one.
Finally, and most importantly, people don't care about how polished you look, how much money you have or who your daddy is (unless you're in the Dilli-Nyodda region) -- if you intend to walk into a class room with the 'It Girl' attitude, all you're going to get is a well deserved punch in the face.
5. School/college sweethearts live happily ever after
Ahahahaha.
No.
Just because Nayantara half-heartedly waited for her true love in Purani Jeans and Ashwin was reunited with Tanisha at the end of Sixteen, it doesn't mean that love/lust/confusion always conquers all in real life too.
Let's examine the progression of a 'special friendship' in the life of a youngster.
Here's day one of the relationship:
"Let's go watch that movie."
"Sure. How about dinner afterwards?"
"Sounds good."
Here's day 40 of the relationship:
"Aww baby, you're so sweet."
"No baby, you are the sweet one."
"No you are."
"No, you."
(Kissy sounds heard in the background)
Here's day 97:
"I've had it with you!"
"Oh, so you want me to leave now? Fine!"
"FINE!"
See?
Young people's relationships are usually short lived -- and understandably so -- since hardly anyone knows where life is going to take them.
Not everyone has the comfort of being Shanaya and being born to rich parents, having hardly any direction in life and following the ambitious beau around while he climbs the corporate ladder.
Some of us actually have to study hard and find a good job to survive.
College romances go through various problems that no one warns you against in the movies: You can't sit together in college because teachers will find out, you can't be seen together within a mile of either of your homes because parents will find out.
You can't talk in class and in a lot of public places because people will find out.
You can't even talk on the phone for too long because if your bill increases, your parents will know; and if you plan to pass then forget 'studying together' during exams.
It is more difficult to make it work under such conditions than it is to get Arnab Goswami to stop interrupting people.
More often than not, there's an unwritten rule that almost every young person with a significant other understands -- what happens in college, stays in college.