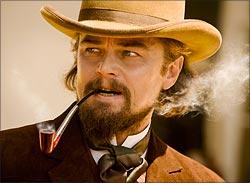 Can an award-worthy film direct itself, some people may wonder looking at the 'snubs' the
Oscar nominations
dealt Kathryn Bigelow (
Zero Dark Thirty
), Ben Affleck (
Argo
), Quentin Tarantino (
Django Unchained
) and Tom Hooper (
Les Miserables
).
Their films were nominated in the best picture and many other important categories, but they were not nominated for best director.
Two crucial things to remember here: Recently the Academy of Motion Picture Arts and Sciences changed its rules, permitting up to 10 films to be nominated for the best film award. In all other categories, including direction, only five nominations are allowed.
And, then, while in the final voting process all the voting members, exceeding 5000, vote on all categories, at the nomination stage each category is voted on by subgroups. Thus, the directors who vote on the directing nominations do not vote for the best film nomination.
As expected, Steven Spielberg's epic historical drama
Lincoln
 produced in collaboration with India's Reliance, led the field with 12 Oscar nominations. But there were quite a few surprises too.
A Tamil language lullaby sung by Bombay Jayashri for
Life of Pi
was one of the five best song nominations.
For years Jayashri has performed across America at small venues with about 500 seats. She could be performing at the Oscars on February 24 with millions across the globe getting a glimpse of this classically trained singer.
Life of Pi
, which received 11 nominations, including for best film and best director (Ang Lee) was a big show at Britain's BAFTA nominations too. But it was beaten there by
Lincoln
in the numbers game.
Pi
, which is expected to fly north of $500 million worldwide, is Lee's most successful film.
More importantly, nine-year-old Quvenzhane Wallis, from the miniscule budget
Beasts of the Southern Wild
, was nominated for the best actress along with the French actress Emmanuelle Riva, who, at 85, became the oldest lead actress nominee for the harrowing Austrian drama
Amour
.
Wallis is the youngest actress to be nominated for an Oscar. She was just five when she was auditioned for the part of a six-year-old in mythical times who has to fight darkness, soaring temperature, icecaps and prehistoric beasts in this survival drama. She was eight when the film was completed.
Beasts of the Southern Wild
, which also got the Oscar nod in the best film category, was made for about $2 million and has grossed about $20 million worldwide. Available
on DVD, it could see a significant bump in its home entertainment sale in the coming weeks.
Its director, first timer Benh Zeitlin was quoted as saying, 'I feel like my house just crashed on the yellow brick road and everything just turned colour... it's a beautiful thing for independent filmmaking and for creative freedom everywhere.'
Amour
in the French language, which has just begun its North America art house run, was nominated for best film in addition to best foreign language movie.
The dark romantic comedy
Silver Linings Playbook
, in which Anupam Kher has a small but good part, received several hefty nominations including best picture and director for David O. Russell.
The movie, in a relatively limited run, has grossed a handsome $35 million in North America. The $25 million film is bound to add hundreds of screens next week and go international.
Oscar commentators pointed out that
Amour
will be the first foreign language film to battle for best picture since Ang Lee's
Crouching Tiger, Hidden Dragon
12 years ago.
And
Silver Linings Playbook
is the first film to get nominations in every major category, including for best adapted screenplay and acting nominations for all four of its stars (Bradley Cooper, Jennifer Lawrence, Robert De Niro and Jacki Weaver) since
Reds
in 1981.
Jackie Weaver, an Australian, got the best supporting actress nomination for
Playbook
in which she plays De Niro's long suffering wife. Weaver's competition: Anne Hathaway (
Les Miserables
), Helen Hunt (
Sessions
), Sally Field (
Lincoln
) and Amy Adams (
The Master
).
This is Weaver's second Oscar nomination following the little seen
Animal Kingdom
a few years ago.
In the best actor category, favourite Daniel Day-Lewis (
Lincoln
), Bradley Cooper (
Playbook
), Hugh Jackman (
Les Miserables
), and Denzel Washington (
Flight
) were nominated as expected.
And so was Joaquin Phoenix (
The Master
) playing a troubled man who joins a cult organisation in the film by Philip Seymour Hoffman who was himself nominated in the supporting actor category.
For best actress, Quvenzhan Wallis and Emmanuelle Riva are joined by Jennifer Lawrence, Jessica Chastain (
Zero Dark Thirty
) and Naomi Watts (the Spanish production with tsunami background,
The Impossible
).
In the contest for best supporting actor are some Hollywood heavies: Robert De Niro (
Playbook
), Alan Arkin (
Argo
), and Tommy Lee Jones (
Lincoln
), not to forget Philip Hoffman (
The Master
). A surprise: Leonardo DiCaprio, who had been considered a top contender for
Django Unchained
, which was nominated in the best film category, was bumped for his cast mate Christoph Waltz.