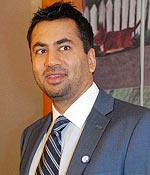 Conventional wisdom states that Washington DC insiders -- White House and congressional staffers, and elected officials, use their positions of power to move to more lucrative options, from cable news commentators, to becoming lobbyists or even launching their own political careers. 
So it should be no surprise that Kalpen Modi aka Kal Penn is moving to a more financially viable career, albeit only nine months after he took up a public office in President Barack Obama's White House. 
Last week Penn's agent confirmed that he would soon join the Korean-American actor John Cho for the third installment of the Harold & Kumar series -- this time with a Christmas theme. According to reports the film is aimed for a 2011 or 2012 holiday season release, and to keep up with the current trend, set by the success of Avatar, it might be shot in 3-D!
Penn -- the actor, turned political campaigner for presidential candidate Obama and until recently the associate director in the Office of Public Engagement in the White House has never led a conventional life. He turns 33 later this month and during his young life he has done everything -- from playing a loveable, pot smoking Indian American underachiever Kumar Patel in the two popular Harold & Kumar movies, to bringing life to Jhumpa Lahiri's angst ridden protagonist -- Gogol in Mira Nair's The Namesake. 
He taught a sociology and cinema class at the University of Pennsylvania, where he focused on Asian American images in cinema -- from the silent era to the current day, and he also attended graduate certificate level course on international security at Stanford University.
Some observers may seem curious that after two years of flirtation with politics, and public policy, Penn will be back doing a stoner comedy -- aimed essentially at the teens (who managed to break the films' R rating code) and college students. And cynics may point to how quickly he is giving up his low paying White House salary (said to be somewhere in the range of $41,000-$91,000) for a more comfortable compensation as a Hollywood actor. 
Penn may not have always played his acting cards correctly. Like anybody else his choices were often motivated by money and a desire to make a decent living. Case in point the critically panned, box office disasters -- Van Wilder 2: The Rise of Taj (2006) and Epic Movie (2007). But the Harold & Kumar franchise is not just low brow cinema and an attempt to make a quick buck. 
There are film critics who took the first two Harold & Kumar films quite seriously. In reviewing the first film, AO Scott of The New York Times wrote: "Harold & Kumar is as delightfully stupid as Friday or Road Trip or Wet Hot American Summer, but it is also one of the few recent comedies that persuasively, and intelligently, engage the social realities of contemporary multicultural America." 
Scott's colleague at the Times, Stephen Holden called the same film "a politically savvy universe where the title characters... puncture ethnic stereotypes."
Two years ago I had the chance to talk to Jon Hurwitz and Hayden Schlossberg (co-writers of the Harold & Kumar films and also directors of the second project). They were promoting the second film -- Escape from Guantanamo Bay. Harold and Kumar they said were similar to the friends they grew up with in suburban New Jersey and Pennsylvania. 
"The generation that we come from, it's not odd to have guys like Harold and Kumar in your high school," Hurwitz said, adding that he and his partner were writing about characters that were similar to them. 
Hurwitz recalled his two close Indian American high school friends. "They were exactly like us; very similar priorities, life experiences, expectations from parents to go to stable fields. And they were really funny guys, no different than we were.  They just looked different."
Penn's education may have been partly impacted by the comedies that graph his acting career, but in doing projects like Harold & Kumar, this son of Gujarati immigrant parents, living in New Jersey (his father is an engineer and his mother a fragrance tester at a perfume company), has become a quiet crusader for bringing Indian American faces and voices into the mainstream conversation of America.
Last year Dr Lawrence Kutner -- Penn's character on the TV show House, suddenly committed suicide (read paved the way for Penn's departure from the show). Soon after that it was announced that Penn was taking up the position in the Obama White House. 
In an interview with Huffington Post Penn described the public engagement office as the "front door to the White House." He expected his job would involve "engaging with constituent communities and making sure they feel that they have a seat at the table."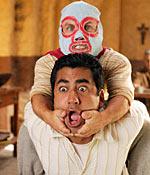 That is exactly what is happening in the Obama White House. Last November Obama hosted the first state dinner in honour of Indian Prime Minister Manmohan Singh. And for the first time, the guest list did not include the tired names of the so-called Indian American leaders -- the older generation of community members who by contributing to Democratic Party causes had found a permanent place in Washington DC's official functions. 
Instead the guest list was peppered with fresh new Indian American faces -- writers, journalists, young community activists and other agents of change. It was important signal from the new administration. Although it was never officially stated, but it was fairly obvious that Penn had played a major role in handpicking the guest list.
While campaigning for Obama, Penn often spoke to college students. Although his name was a big draw, Penn was impressed that he was never asked any question about his films or himself as an actor.
"I was hesitant about going there as a celebrity," Penn told me in the middle of the campaign season. "I didn't want to do it blind. I am an independent and I have never done anything like this before."
But he found it a unique opportunity to reach out to people. "The only reason I have what I have is because they are buying my movies and my DVDs," he said. "If people on minimum wage can afford my DVDs, then they should be able to afford good health care also." 
Last month Obama signed the health care reform bill which should have far reaching consequences to the socio-economic fabric of America. Penn probably did not have much to do with the bill, but his departure from the White House comes at a time when the Obama administration is on a high. 
Of course given the unconventional choices Penn has made since he started his acting career in the late 1990s, we just might see him back in Washington DC some day soon. How does Senator Kalpen Modi sound?