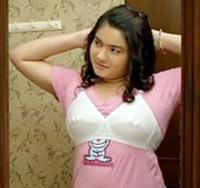 It is enormously heartening to see young people play young people in the movies, writes Raja Sen.

Hindi cinema is growing up to the idea of playing it's age.

One of my favourite performances in 2013 so far has come from Saqib Saleem, a fresh-faced youngster who crackles like a livewire in Mere Daddy Ki Maruti.

Other top performances include Sushant Singh Rajput and Amit Sadh in Kai Po Che (Both of whom nearly matched their co-star, the excellent Raj Kumar Yadav) and it is most gratifying to see Vicky Donor's Ayushmann Khurana continue to dazzle even in a film that doesn't shine, like last week's Nautanki Saala.

It is also enormously heartening to see young people play young people.

This is a ridiculously obvious statement -- the sort of thing that should be too obvious to require stating, in fact -- and yet Hindi cinema has forever seen aging a-list stars take on roles of their children's age.

Now the tide is unmistakably turning. Aamir Khan might miraculously have pulled off a collegian's role in 3 Idiots, but co-stars like Madhavan were nearly washed away by the backlash. That particular blockbuster, in fact, might mark the last film in which the paying public let a 45-year-old play twenty.

It's because the youth doesn't want to be misrepresented; not least by these greying superstars who they'd rather laugh at when the wear cop uniforms and act in increasingly inane South remakes. That is a caricature the youth -- fast emerging as the most important segment of ticket-buyers -- are more than willing to lap up. But to have these men as old as their fathers playing college-going versions of themselves? Nope, that is no youngster's idea of wish-fulfillment anymore.

Therefore Hindi cinema finds itself under siege: which is always a good thing. Younger people are shaping film -- filmmakers, writers, producers -- and even younger ones are acting in them. This is both exciting and a bit alarming since the thrilling Rise Of The Upstarts is coming at a time when we are getting used to new kinds of movies, leading to a general atmosphere of inexperience and, often, incompetence. Still, isn't it far better to see new talent learn (or fail) at the job than to see old-hands continue to make the sane mistakes?

For evidence that things indeed are changing, we need look only towards a filmmaker like Karan Johar, a successful director and producer who happens also to be very representative of Bollywood itself. For Karan's first film, he made Shah Rukh Khan, the biggest star in the country, play a college brat. (Granted that was 15 years ago, but still.)
Last year, Karan made a film about 19-year-olds where he cast 19-year-olds. His next production, Gippi, is set in middle school and features an intriguing young girl, not an itemista in school uniform. And the hero for Karan's last film, one chapter of the four-director compilation called Bombay Talkies? A certain Saqib Saleem.