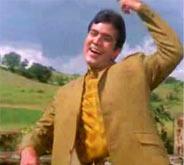 A Ganesh Nadar, who saw the Rajesh Khanna hysteria up close in the 1970s, was delighted to find his popular songs play on Vividh Bharathi, All India Radio, when the Superstar passed away.

Yesterday evening, a friend was kind enough to give me a lift home. As traffic in Mumbai is slow we wanted to listen to music to pass the time. We tried all the new flashy private radio stations on FM but they were all playing the usual mix of the latest music and advertisements.

In sheer frustration I said, "Try Vividh Bharathi, I am sure they will not let us down." I was right.

While it was business as usual on all the other money-making FM stations, good old Vividh Bharathi had scrapped their regular programmes and also their regular ads.

They were paying a tribute to Rajesh Khanna. The original Superstar, who had just passed away. The one for whom the word was coined.
Vividh Bharathi had done their research very well. May be they had prepared it beforehand, I don't know, but they did a great job.
They played his best songs and also told us interesting tit-bits like Kishore Kumar sang 91 songs for him, R D Burman scored the music for 40 of the films in which he acted, and Anand Bakshi wrote most of his songs.
And none of this was interrupted by advertising jungles. That was the best part of it. Vividh Bharathi understood that a tribute should be paid uninterrupted by any commercial activity which would have been jarring and also in poor taste. No other station did the same. 
Then this morning as I was travelling down Linking Road I saw banners put up by the Maharashtra Navnirman Sena mourning the death of Rajesh Khanna. Nice to know they thought him a Mumbaikar.
I listened to Vividh Bharathi again on my way to work. And I cried as I listened to 'Zindagi ko bahut pyaar humne kiya, maut say bhi mohabbat nibhayenge hum,' courtesy our national radio station. 
National television and radio are ingrained in the psyche of many of us who grew up knowing nothing else.
I can never forget the music they played when Doordarshan started at 6 pm every evening, nor the tone of the announcer on AIR when he said, "This is All India Radio giving you the news." The tone suggested that this was THE NEWS and you better believe every word of it as I am announcing it. 
I have watched every TV channel except Doordarshan when the country suddenly had a choice. I listened to every radio station except AIR when that choice too became available.  
But when it mattered most, when it concerned the beloved Superstar of my childhood, it was Vividh Bharathi that did not let me down where all the rest failed.
I salute you Vividh Bharathi, you are a true Bharathi and you are truly vivid.