Home > India > Movies > Interviews


The Rediff Interview / David Dhawan

'This is the first time I've got a bound script'

March 27, 2009



We're so used to seeing David Dhawan direct his favourite stars: Govinda [Images], Salman Khan [Images] and even Sanjay Dutt [Images]. But his latest film, Hook Ya Crook, sees him with actors one wouldn't expect him to cast. The film has John Abraham [Images], Shreyas Talpade [Images] and Kay Kay Menon, along with Genelia [Images] D'Souza.

Patcy N caught up with the director on the sets of this film in Hyderabad, and asked him where he's been.

Are you happy with your new cast?

I have got a great cast. I have worked in this industry for 32 years but it was never this good. I have 20 people reporting at 7 am, and sitting in full makeup at 7:45 am. This has never happened before. And they don't leave the sets until I tell them, even if they don't have any work.

You always cast Govinda and Salman in your films earlier.

I never kept a 7am shift with Govinda and Salman. But Govinda always finishes his movies on time. Even Do Knot Disturb is complete but we can't release it because of the producers strike.

And they have given me hits so it's okay. But I've kept early morning shifts with Akshay Kumar [Images].

Just the other day Govinda told me that I always blame him for coming late; look at the new upcoming stars, who are worse. But I always say one thing: Chaar ghante ka ghoda behtar hai aath ghante ke ghade se (It's better to have a horse for four hours rather than a donkey for eight hours).

Tell us about your cast in Hook Ya Crook.

John is a lovely guy, a great actor. You should know how to play up his skills. Kay Kay is excellent. He understands cinema. You don't have to explain his role to him. Shreyas is outstanding. Uday Chopra [Images] was supposed to do this role but his film with Priyanka Chopra [Images] is starting. There is no comparison between Shreyas and him. Shreyas belongs to a different class, since he's a theatre actor. Krushna plays a gay character. Genelia D'Souza plays a lawyer and John's love interest. She is a very bubbly actress. John and Genelia make a good pair.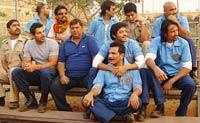 What is Hook Ya Crook about?
It is a story of a guy, whose father was unsuccessful. But he is still a hero in his son's eyes. It is his father's dream to become a cricketer. But he lands in jail because of his reckless behaviour. So he wants to fulfill his father's dream by hook ya crook.
We have superb [jail] sets for this film. It is built on four acres of land. There is an escape drama too, so we have made a trendy drainage system, opening up in a manhole.
Plus, I had to make a cricket pitch in the jail. Though the film is a comedy thriller, sports plays a very big part.
I could not have got better place then this. I have about 200-300 extras working on this film daily. That kind of manpower would have been difficult in Nitin Desai's studio (in Karjat, on the outskirts of Mumbai [Images]). I am comfortable working here, people are extraordinary here.
What made you take up this script to direct?
This film is very difficult to make. I have directed about 40 films so far. But when I thought about directing Hook Ya Crook, I asked myself why I was making this film. Do I have to do so much as this age, when I want to take up a film that will be comfortable to make? I was also losing interest in the film because it was getting postponed for so long. The discussion for the sets went on for six months. Then it took three and a half months to build it.
But my son forced me to do the film. And I'm happy now because my artistes are very good.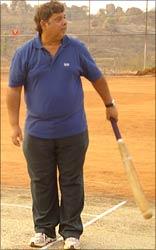 Why do you say Hook Ya Crook is a difficult film to make?
It's a realistic film and I'm a commercial guy. I change my script, dialogues and scenes on the sets. I am from the same school of filmmaking as Manmohan Desai.
It is Rensil D'Silva's script. I have added a few elements too. I wrote 10 versions of the script from the time I got it from Rensil. But the story's soul is his idea. This is the first time I've got a bound script. The first version was three and a half hours long, now it is two hours and 30 minutes.
When you're directing such films, you're on the razor's edge. I have to balance reality and commercialism in this film, and also keep up the audience's interest.
What are the shooting locations of this film?
We have shot some portions in Mehboob Studio, Mumbai, too. Also, Chikhalwadi, in Maharashtra, where John's flashback scenes with Genelia are shown. Some cricket scenes will be shot at D Y Patil Stadium, Nerul, Navi Mumbai.
What are your forthcoming films?
I am going to make Partner 2. Do Knot Disturb is ready for release.