Home > India > Movies > Interviews


The Rediff Interview / Ravi K Chandran

'We almost thought of shelving Firaaq'

March 20, 2009



Trust Nandita Das [Images] to pick the best.

The actress, who turns director with this Friday's release, Firaaq [Images], roped in ace cinematographer Ravi K Chandran to bring her story to life.

Chandran has worked with ace directors like Mani Ratnam (Yuva [Images]), Aditya Chopra [Images] (Rab Ne Bana Di Jodi), Sanjay Leela Bhansali [Images] (Black, Saawariya [Images]) and Farhan Akhtar [Images] (Dil Chahta Hai [Images]) before. Nithya Ramani spoke to the award-winning cinematographer on his Firaaq experience and Nandita.

What made you sign Firaaq?

Nandita is an old friend. I didn't even read the script. It lay with me for weeks before I got around to reading it. I loved the script.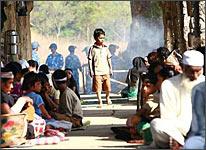 How was the experience of shooting the film?
We used five different stocks for the five different lives -- a slum kid, a middle-class husband and wife, an upper-class couple and a business man -- that we portrayed. Fuji films have different stocks and we used different stocks for each character.
Primarily, I stuck to one kind of lensing. I used different angles depending on the location and situation. We used wide angle for the slum kid's role to get a clearer view of the scene.
Paresh Rawal [Images] and Deepti Naval [Images] play the middle-class husband and wife while Sanjay Suri and Tisca Chipra play the upper-class couple. Shahana Goswami plays a slum dweller while Naseeruddin Shah [Images] plays a teacher. All their lives are inter-linked.
Nandita has directed the film in such a way that there are no riot scenes even though you can sense the fear and tension. The film is not preachy or pretentious. It is a very tightly written script and nicely enacted by the cast.
How was it working with Nandita?
I have worked with new directors many times. Nandita has a great vision. She is a very tough lady. She knows what she wants and how she wants it. She will not take anything less than perfection. She is fun on the sets too though she means business. She doesn't like anybody interfering or modifying the storyline.
She managed the crowds very well. She would go and explain to them what we were shooting and why we don't need people in the background.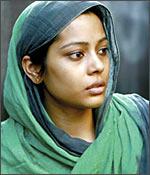 We had a minimal crew, who lived together in service apartments.
We shot with very minimal light or no lighting at times. The script was such that it didn't require that much of lighting. Lighting is used only to make actors glamourous. This film didn't require actors to be glamourous. It is very real and raw. The whole film was shot with a handheld camera. The film has a very understated cinematography.
There were a lot of financial issues. We lacked funds so much that the first day of the shoot almost got cancelled. We almost thought of shelving the film for about six months. The entire shooting was done in Hyderabad.
What are your favourite scenes in the film?
There is a chase sequence shot in the night. It was very difficult to shoot because our cameraman injured himself and we didn't have anybody else. Since we were low on funds, we had to shoot as soon as possible. We used only natural light despite shooting at night. We had no money but still, we were all every excited about shooting the scene.
All the scenes with Naseeruddin were great because he is an awesome actor with a great face. It is fun to shoot someone like him. We shot the scene in a typical middle-class house. I like shooting in such locations.
I also like a scene with Paresh Rawal and Sanjay Suri, especially because of the way it was edited. It is an accident scene where Paresh is hit by Sanjay's car. The way it is edited makes you feel like you are in the accident yourself.