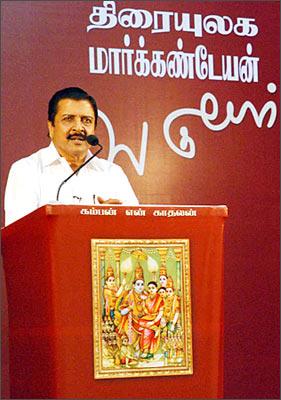 Kamba Ramayanam is the masterpiece of poet Kambar, written more than a thousand years ago. Its mellifluous verses and remarkable creativity have ensured a place in every Tamil textbook in school while ensuring newer interpretations every time it's discussed, a ala Shakespeare.
One such interpretation came recently, when veteran actor Sivakumar (actor Suriya's father) delivered a speech, 2 hours and 20 minutes long without pausing to refer to a note.
"Earlier, people used to refer to me as 'that actor guy -- Sivakumar' or 'there's the hero Sivakumar'. Now they call me, 'Suriya and Karthi's father'," he said jovially after a CD presentation of his speech was formally released.
The lecture on Kamba Ramayana [Images] has already been released as a book under the title Kamban En Kadhalan (Kamban, My Love) to, reportedly record sales.
"Youngsters these days have such a short attention span," he said. "Everything has to be given in small doses."
Delivered in a typically Coimbatore dialect with panache (Sita frequently became Ammani, a term used to fondly address ladies, while Rama was lovingly referred to as Enga Aiyyan) every major character was painstakingly painted. His passion for the work shone through. There were several tear-jerker moments and the actor's talent for projecting his emotions came through perfectly.
When Sivakumar finally bent down to touch the stage during his speech, everyone present had to admire the perseverance and dedication that had transformed just another Ramayana lecture into a work of art.
One thing is sure, he will no longer be referred to as "that actor -- Sivakumar or actor Suriya's father", he will be looked upon as the man who did a path breaking interpretation of the Kamba Ramayana.
Text: Pavithra Srinivasan