No relationships in the film industry are permanent, Madhur Bhandarkar's Page 3 stated. And here's proof. Karan Johar [Images]'s long association with Yash Raj Films -- which distributed his movies -- came to an end after Dostana [Images]. Johar's Dharma Productions has now tied up with Ronnie Screwvala's UTV.
UTV will now distribute Johar's upcoming films, Wake Up Sid and an untitled film starring Saif Ali Khan [Images] and Kareena Kapoor [Images].
According to insiders, this move came after Yash Raj lost out a lot of money on Dostana because it was bought at a very high price from Dharma Productions. It is also believed that Karan was not happy to get lesser price for his films when UTV was willing to pay more.
Karan Johar gives the facts to Syed Firdaus Ashraf:
Why this tie-up with UTV?
Ronnie and I have been discussing for some years now that we must come together and collaborate on films. We have the same kind of sensibilities too. UTV has made different kinds of films and we are trying to do the same at Dharma productions. So we thought it was a good idea to come together and make films. We have signed up for two films -- Wake Up Sid, starring Ranbir Kapoor [Images] and Konkana Sen Sharma [Images] and an untitled film starring Saif, Kareena and Vivek Oberoi [Images].
Does it mean that your relationship with Yash Raj as far as making films is concerned is over?
Not at all. Yash Raj is family. They always will be. I am in this film industry because of Aditya Chopra [Images]. He thought I was capable of making films; Yashji is like my father. Adi knows the scripts of my films that UTV is distributing. He's in the loop on a day to-day basis. He is my brother and best friend.
Moreover, they have their own productions and will distribute that -- they will focus on that.
How far is it true that Yash Raj lost a lot of money after they bought Dostana at a heavy price and could not make profit on it? And that was the reason you parted ways?
Dostana is a successful film for both Yash Raj and Dharma Productions. We never went on record to say anything about the film. But some people seem to know more about it than us. As far as we are concerned, Dostana is big hit for both of us.
But your tie-up with UTV came right after Dostana.
As I told you earlier, Aditya Chopra and Yashji are my family. They have decided not to distribute films now and they are concentrating on their own production company.
Yash Raj seems to be making only love stories, not different kinds of films. Is that why they're going wrong lately?
No, I don't agree with that statement. They are making different kinds of films. They have made the Dhoom series that had action, and were big hits. The same is the case with Chak De! India. In fact, Yash Chopra [Images] has made all kinds of movies. See Yashji's first two films Dhool Ka Phool and Dharamputra, and his love stories. This has always been the case of Yash Raj films. Unfortunately, some people get tagged in our industry. Many people tell me that I make bubblegum films. Which bubblegum film did I make? It was my first film, Kuch Kuch Hota Hai [Images]. Then they said that I make only family films. But I made only one (family) film, Kabhi Khushi Kabhie Gham. If it's Yash Raj, it's love stories; if it's Dharma Productions, then it's opulent parivarik films. But it's not like that. We make different kinds of films but no one gives us credit. Sometimes, you feel bad.
What then is the problem with Yash Raj and its recent string of flops?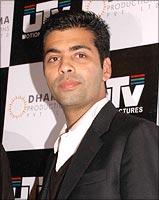 Some films work and some don't. Last year, they gave one of the biggest hits of 2008, Rab Ne Bana Di Jodi. If they have the capability to give blockbusters, then if they try to do something different, then something may not click. It's happened with me also. We are not God that every film we make will work.
They have passion and dedication. Ups and downs are there in life. In fact, this year marks 50 years of Yashji in the industry. Look at the history of Indian cinema and you will not find any producer-director who is so successful commercially for so long. I think due credit must be given to him.
He gave a string of flops for eight years in the 1980s. Do you fear that, for yourself?
That's a fear for everyone. There are many directors who give two big hits and one big dud and feel that they have lost their creativity. This fear always rules one's mind. There is insecurity all the time. The biggest challenge is to come out of that phase. If you can, that's what makes you a great filmmaker. Yashji faced that problem and then he made Chandni in 1989, which was a big hit. He followed it up with Lamhe but that flopped. Even then, audiences feel it was Yashji's best film.
Then, when he was touching his 60s, he made the youngest film Dil To Pagal Hai in 1997. Whenever I feel low or in a bad phase, I look at him and pray that I have resilience like him.
You stopped using 'K' in your movies.
I felt I was working too hard in my films and 'K' was taking all the credit! So I thought I have to change that. I used to feel (superstitious) when I was young. Then I thought that we should move ahead in cinema and so our thought must be ahead as well. We should not restrict ourselves to superstition and such beliefs.
Earlier, I heard superstitions like don't keep a work after 'Agni' or the film would flop or don't shoot in South Africa [Images]. But later, a film became a hit after being shot in South Africa, and the Agni also started working. So one day I decided to give up these things. Of course, I am very spiritual and religious though.
But having said that, I don't mind if the title of my next film suits 'K.' I will not say a complete no to the 'K' title.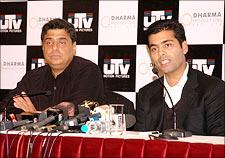 Tell us Wake Up Sid.
It's about an alarm clock (laughs)!
Actually, the film is about Ranbir and Konkana. It is directed by Kajol's [Images] cousin Ayaan Mukherjee, and will release this year. It is a film about boys finding themselves, and this boy's journey through life.
What about the untitled Saif-Kareena-Vivek film?
That film also stars Om Puri [Images]. It's the first romantic thriller produced by us. I feel (director) Rensil D'Souza will do a good job.
So you will explore different kinds of genres?
I told you I have changed. Love has gone out of Dharma Productions (laughs). We are doing different kinds of films.
My Name is Khan is an emotional journey and also has a love story. It has no action or dance. I will give Shah Rukh another month of rest (before we shoot). I will shoot with Kajol this month.
You did a small role in Dilwale Dulhaniya Le Jayenge. Why don't you do a full-length film like Farhan Akhtar [Images]?
If I act in a film, its title will be Rock Off (laughs) because I am not an actor. I cannot act.
DDLJ was my past. I want to forget that. In Kabhi Alvida Na Kehna too, I was sitting in the train. I don't deserve to be in front of the camera. I am a terrible actor. Ask Shah Rukh Khan [Images]!
Will you cast Imran Khan [Images] and Ranbir in Dostana 2, as you said at the Filmfare awards [Images]?
That was just a gag. I think both were fantastic. They should do a film together. They had great tuning and chemistry.
Photographs: Pradeep Bandekar