Home > India > Movies > Interviews


Discuss |
Email |
Print | Get latest news on your desktop

The Rediff Interview / Jaideep Varma

Much Hulla about making a film

September 17, 2008


| | |
| --- | --- |
| Jaideep Varma | |
| | |
| | |
| | |
| | |
| | |
| | |
Jaideep Varma is one angry man. You would be too if your film took a long, long time to get made.
The director of Hulla has been waiting for his film to see completion since 2001, when he wrote the script. Three years later, with no director to take on his script, Jaideep took up the task himself. Now, finally, his film starring Rajat Kapoor [Images] and Sushant Singh, is ready to hit the marquee on Friday.
Jaideep took time out to speak to Patcy N about what he had to go through to make Hulla.
From a novelist to film director. How did it happen?
Between 1988 and 2000, I was into advertising. Then I gave it all up to write a novel, Local. It got published in 2005. In 2001, I wrote a film script for a friend, who was a film student in New York and had come to India to make a film. It got shelved due to lack of finance. The script was passed on to another director. He kept it for a year and a half, but he had financial troubles too.
In 2004, I met Rajat Kapoor, who had just released [his directorial debut] Raghu Romeo. I asked him whether he was interested in directing this script. But he felt I would the perfect person to direct it, as I knew the script inside out. When I wrote it, I never knew I would direct it one day.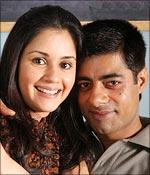 So how did you manage to finance the film?
I got to finance the film in 2004 itself. An ad film company called Red Ice wanted to produce the film. I raised the project and got the pre-production work done. I got the cast as well. But the deal fell though when we couldn't raise the money. I failed once again just 10 days before the shoot was about to start.
Didn't this depress you?
Yes, it did. But one strange thing happened. After my novel was ready, I did not get anyone to publish it. But after my film fell through twice I got a publisher to publish the novel! So all my energy went into drafting and editing the final copy of the novel.
At the same time, I kept trying to get funds for the film which I finally got in 2006. That is when I met Sunil Doshi, who had produced Mixed Doubles and Bheja Fry. His condition was that if I can make the film on small budget of Rs 90 lakh then he would finance it. So we pulled down the budget further. Some of the actors we had finalised on earlier could not do the film.
Who were part of the initial cast?
Pankaj Kapur and Konkana Sen Sharma [Images], who had a small role. Rajat did the movie for two reasons -- because he is my friend and secondly, this is the first time he got a chance to play a middle-class loser. Sushant did it because it was a fantastic role. In fact, I remember Konkana telling me that if she got to do Sushant's role she will do the film free of cost.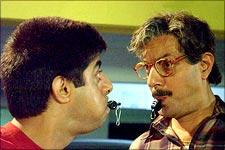 When your novel got published why didn't you think of writing another one?
It is very difficult to survive as a writer in India. To make a living by writing fiction and getting them published abroad, you need contacts. So I took the plunge into filmmaking and gave up writing.
Has the script changed since you first wrote it?
With two directors on board and by the time I got a producer, there were many changes in the script. There must be atleast 30 drafts of the script. So when I came on board I kept the changes that I felt were fine and removed the things that I did not want. Even though the script went through several changes the basic idea remained the same. One thing I can say is that I will never be able to write a script so tight ever in my life.
What is Hulla about?
It is about a man who wants peace at home. He gets disturbed by the slightest noise. The funny thing is that he doesn't mind the noise at work [he is a stockbroker]. But at home, he needs silence. But this becomes impossible because of the ruckus created by the night watchman. Appeals to the secretary fall on deaf ears and this generates a lot of humour in the film reminiscent of movies made by Sai Parajpe and Hrishikesh Mukherjee.
What is so special about this film? There are only two main characters --  the secretary of the building and the stockbroker...
They are important characters, no doubt. But there are many more minor characters that are very colourful. By the end of the film you will remember every character in the film.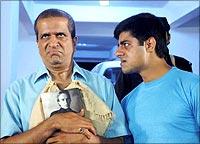 How long did you take to shoot? Where was it shot?
We had 45 days of pre-production and 28 days of shoot. The most bizarre thing about the film was that the entire team involved in it were all first timers.
Even though the film is Mumbai-based we shot it in Pune, as we needed an entire society which was difficult to get here. A few outdoor scenes were shot in Mumbai. So it was 21 days in Pune and 7 in Mumbai.
Is it difficult to get into this industry?
It is very difficult because of the producers. They are the ones investing their money, so they want the movie to be made according to their liking. The entire work ethic in this industry comes from their culture. People are treated like dirt in this business especially if you are weak and small. People talk about lack of writers in this country. But I would say there are writers but nobody survives. Most of them leave and join other professions.
Producers feel safe only when they do the tried and tested method every time. And I blame the them for this and my greatest anger is against them. They are the ones responsible for the miserable work we do.
Is it difficult to make film on a tight budget?
I have a problem with low budget films. The only person who gains in all of this is the producer. He makes money even before the movie is released through DVD rights and other things. For others even a Rs one crore doesn't amount to much despite the work they have put in. I worked on this project for 18 months on a budget of Rs 70,000, that is about Rs 4,500 a month. How can you survive on such a small amount?
If you tell this to the producers, they say, 'you are getting the opportunity. If the film does well you will get more films'. The directors are always at risk. If the film doesn't turn out well then he is jobless. But for the producer, it is a win-win situation.The only good thing about low budget movies is that you at least get to make films.
How did you survive then?
I belong to the company Cartwheel, which has been taking care of everyone associated with it.
Are you planning to turn producer?
Yes. I am planning to make three films a year. I will direct one and the other two to other directors. I will give them a share in the profits as well.
What next?
I was doing this film on Indian Oceans when Hulla was not happening. I thought it would be my first film. It is a two-hour long documentary, which we are thinking of making it into a big screen release after the success of Rock On!!
Email |
Print | Get latest news on your desktop