Home > India > Movies > Interviews


Discuss |
Email |
Print | Get latest news on your desktop

The Rediff Interview / Goldie Behl

'Drona is not like Spider-Man or Superman'

September 16, 2008


| | |
| --- | --- |
| Goldie Behl | |
| | |
| | |
| | |
| | |
| | |
| | |
Drona came in the eye of the storm recently when Jaya Bachchan passed some comments at its music launch that Raj Thackeray did not appreciate. But while director Goldie Behl passed off the controversy with a 'no comments,' his wife Sonali Bendre [Images] had more to say about it.
But Drona [Images] has more to it than this controversy. A fantasy film that Behl compares to the Indiana Jones and Harry Potter [Images] movies, Drona stars Abhishek Bachchan [Images], Priyanka Chopra [Images], Kay Kay Menon and Jaya Bachchan.
Behl returns to direction after seven years -- his previous film was Bas Itna Sa Khwaab Hai, his debut and a dud. Behl talks Drona with Nithya Ramani.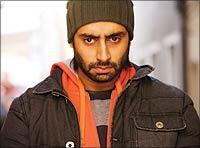 Where have you been all these years?
After Bas Itna Sa Khwaab Hai, I got into televison productions, we were specialising in TV softwares. I think I needed that change and the time to get back into films. I needed to grow and mature, to know the industry, as I was too young when Bas Itna Sa... happened.
Is it only that? Or did you have a problem getting a producer for your next film?
That was never the problem. I produce my own films. There is no reason why I couldn't get funds together for my films. It was just that I needed time to learn the trade.
How did Drona happen?
Abhishek and I were thinking about doing a crime thriller in 2006. But that got shelved, and then I started thinking about Drona. I narrated the story to Abhishek while he was shooting for Guru in Chennai. He liked it. Once he finished Guru, he said he was genuinely interested in doing the film. We started filming in 2007.
What is the film about?
It is story about how this man Aditya realises himself. It is about legacy and blood line; about this magic ratna that he needs to save. I would put this film under the coming-of-age genre of Indian mainstream cinema.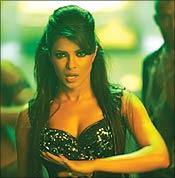 Drona is a fantasy film. What was your inspiration?
My son. I thought it might be fantasy but it is something that people will identify themselves with. Everybody carries a bit of their parents in them. I do. I feel like I am carrying forward the traits of my father many times, and when I see my child, I find him exactly like me -- his expressions, the way he sits, walks, talks...
What kind of homework did you do for this film?
I read a lot of books and watched a lot of mainstream movies. Drona is not like Spider-Man or Superman. It is on the darker side. So I read dark comics like Sin City.
Did you always have Abhishek in mind for the role?
Yes. When you think of legacy and bloodline, I couldn't think of anybody but Abhishek. He suited the role perfectly. I wanted someone, who was very earthy-looking but still, with the majestic look and grandeur.
Why did you choose Kay Kay Menon and Priyanka Chopra?
When I suggested Priyanka to Abhishek, he was all praises for her. He said she was a director's actor. That's why I approached her. Again, I wanted someone, who looked earthy. Her character is very different. She is very hard working. I like it when my actors surrender themselves to the film. I like it when they participate and consider the film their own. She has given a very restrained performance.
As far as Kay Kay is concerned, he hasn't done such dark or negative roles earlier. He likes to experiment. I wanted to bring out that side of him. His role is very abstract.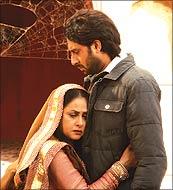 What do you have to say about the chemistry Abhishek and Priyanka share?
It's phenomenal. I think when like-minded people work on a like-minded project, chemistry automatically happens.
After a break of seven years, how tough was it to come back and shoot again? How was your first day?
The experience was great. A lot has changed and everything is very different from seven years ago. On the first day, we shot in a studio, and I was completely unaware of how things worked. It was very fascinating. My sister helped me out. We took 110 days to shoot. If not for the technology and the studio system, it would have easily gone up to 200 days.
The action looks very different from the modern day action movies. Why did you choose sword fighting?
Sword fighting always fascinated me -- right from the olden days when actors took to sword fighting and used to do the Zorro kind of act, flying down a rope with a sword and fighting. I wanted to give it a larger than life effect.
What was the toughest scene to shoot?
There is a train stunt scene, which was very difficult to shoot. It is a scene when Drona and Sonia have to rob a magical horse that is being transported in a magical train by Kay Kay's character. Drona and Sonia get the horse but Sonia is left behind and the train explodes. And Drona goes back to fight and save her. You can expect such kind of action from the film.
What is your favourite scene from the film?
The scene when Jaya aunty and Abhishek meet for the first time. They are mother and son and don't know that until they meet. There are no dialogues; the expressions say it all.
You have compared Drona to the Indiana Jones and Harry Potter movies. Why is that?
Because they are hyper real films and so is mine. In Harry Potter, you will the London [Images] bridge but with people flying on broomsticks. So it has a blend of real and fantasy mixed.
Email |
Print | Get latest news on your desktop