Home > India > Movies > Interviews


Discuss |
Email |
Print | Get latest news on your desktop

The Rediff Interview

Chase-ing Bollywood dreams

September 11, 2008


| | |
| --- | --- |
| Samir Kochhar | |
| | |
| | |
| | |
| | |
| | |
| | |
After his cop act in the Emraan Hashmi-starrer Jannat, Samir Kochhar is all set to plunge into his acting career. Jannat [Images], a big hit, paved the way for more work -- it gave Kochhar 15-20 scripts to choose from.
Now, the actor is getting ready to shoot for Jag Mohan Mundra's next, a thriller called Chase. He gives Patcy N the details.
Do you think Jannat's success opened the floodgates for you?
Certainly. Though I knew people would like Jannat, I never expected such an overwhelming response. I was offered nearly 15-20 scripts.
Is that how you landed Jag Mohan Mundra's Chase?
Maverick Films wanted to sign a three-film contract with me but I was not open to that. I am doing two; one of them is Chase. The other is Ravi Rai's Merry Christmas.
My characters in the two films are quite different from each other. In one, I play a cop and in other, a suave gentleman. I am also doing a Telugu film with Venkatesh.
What is Chase about?
I can't divulge the details. But in a nutshell, it is a thriller with a lot of ups and downs. The movie will keep everyone guessing.
I have met Jag Mohan Mundra four times now. Having worked in Hollywood, he believes that the whole cast and crew should know each other. There are times when we shoot an entire film without knowing the whole cast. So we had a small workshop with everyone.
You have worked with directors from Bollywood, and now Jag Mohan Mundra, who has worked in Hollywood. Did you see any difference?
Jag Mohan is very humble and well educated. He has travelled the world so his approach to cinema is different. The best thing that I liked about him was that there were no seniors or juniors in our group. We were all equals. He told us that the script was like a bible. But as per circumstances, we could make changes. He also encouraged us to share our opinions. He told us to feel free.
When will the shoot begin? Where will it be shot?
The shooting for Chase will start on September 16. We will shoot the action scenes in Mumbai. The other locations are not finalised yet.
What will your look in the film be like?
Though I play a cop, I will not wear a uniform most of the time. I have this flamboyant style of dressing in the film.
You played a cop in Jannat as well. How different are the two roles?
I played a nice cop in Jannat, who tried to free Emraan's character because of his sheer respect for Emraan's father. Here, I play a ruthless character, who takes on the system for his benefit.
Have you seen any of Jag Mohan Mundra's earlier films?
I have seen Provoked. I liked the way he had shot the brutality and the torture scenes. He treated a senseitive issue so well.
You are a host and anchor too. Which do you find better?
Acting, any day. I was a radio broadcaster in Delhi [Images] and a master of ceremonies too. I have also dabbled in theatre. I came to Mumbai for an English film and stayed back.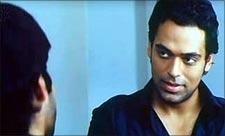 I come from a family of academicians -- my mom has a docterate degree, my father is a Chartered Accountant. My sister an interior designer.

I took up acting. My family always encouraged my hobbies, which include singing. My uncle is a musician and knows how to play many instruments. I know how to play a guitar.

Have you ever thought of becoming a singer?

My mother wants me to cut an album. In fact, I have recorded few songs. Lets see how it goes. But right now, I am concentrating on acting.

What are the other projects in hand?

I am doing a film on extra-marital affairs with Arbaaz Khan [Images]. 

I have worked in Mumbai Cutting too [Mumbai Cutting is a collection of stories on Mumbai, directed by different directors]. My story has been directed by Manish Shah. Our 10-minute story is a musical, based on a song. It is about human relationships, about two people, who are separated and how their past haunts them. It is about love and heartache.

What about 24x7?

That project was stopped because of financial problems. Lets hope it starts soon.

Are you open to reality shows?

They are quite entertaining but time consuming. Right now, I want to concentrate on acting.



Email |
Print | Get latest news on your desktop