Home > India > Movies > Interviews


Discuss |
Email |
Print | Get latest news on your desktop

The Rediff Interview

Meet the director of Thirakkadha

September 09, 2008


| | |
| --- | --- |
| Ranjith in a still from Gulmohar. | |
| | |
| | |
| | |
| | |
| | |
| | |
Ranjith stormed into the industry with some highly imaginative and well written scripts like Georgekutty c/o Georgekutty, Peruvannapurathe Visheshangal, Devasuram and Aram Thampuran. Later he took on the mantle of director and came out with hits like Nandanam and Ravanaprabhu.
Quite recently he ventured into a different arena and faced the camera in Jayaraj's Gulmohar, playing a school teacher who was once a firebrand student leader. The Malayalam film will be released in the theatres soon after the Onam rush. Going by the reports of those who have been to the preview of Gulmohar, Ranjith has come up with an impressive performance in the film.
Now he is all set to welcome this Onam with Thirakkadha, which he has scripted and directed. The film will have Prithviraj and Priyamani in lead roles.
In this exclusive interview to Meghna George, Ranjith talks about Thirakkadha and his experiences on and off the camera. Excerpts: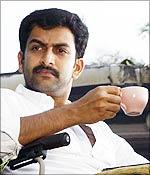 You have turned actor with Gulmohar. How serious are you about your career as an actor?
My stint at the school of drama has perhaps helped me in handling various roles. I was taught to about every aspect of art there, including acting, direction, costumes or music. Gulmohar came to me all on a sudden and frankly, I was not sure about taking up the role. But Jayaraj gave me the courage to face the camera.  I share an excellent rapport with him.
Will you accept more roles from now on, if you get the offer?
I have received some nice appreciation for my portrayal of Induchoodan in Gulmohar. I will be confident of myself as an actor only if I can play a character which is in complete contrast to that of Induchoodan. I don't know when it will happen or if it will happen at all again.
What is Thirakkadha about?
It's a rather unconventional love story involving three main characters. Prithviraj plays a film director named Akbar Ahmed, who has directed just one film which was a big hit. He has producers queuing up behind him but he is in the search for a challenging theme. He and his group of friends run a cafe.
Finally, he finds an intriguing story, involving the life of a yesteryear heroine called Malavika. She was once married to a top hero named Ajayachandran, but after their marriage fell apart, she vanished from the scene forever.
Akbar wants to know what happened to her. Priyamani does the role of Malavika while Anoop Menon is Ajayachandran in the film.
What attracted you to this story?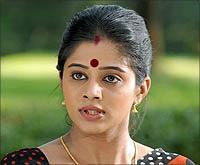 In our industry, unlike the male actors, the heroines get aged very soon. They tend to disappear from the scene after a brief period. You can even say they wither away after some period of success. It is absolutely understandable if you don't cast them after a while when they may not be suitable for romantic roles. But where do they vanish all of a sudden?
This aspect was attractive enough to be made into a script. Thirakkadha is being narrated as three monologues which meet at the climax.
You have also acted in the film?
Yeah, but again it just happened by chance. The role was to be done by Siddique but when he failed to turn up, I decided to do the role myself. It has been reworked then and made shorter.
Prithviraj will have another release besides Thirakkadha, which is Madhupal's Thalappavu. Will such competition affect both the films?
Both the films are fortunately not based on Prithviraj as a star. Of course, he is doing major roles in both the films but the stories and the contexts reign supreme in both the films.
In Thirakkadha, he is doing one of the three main characters. I feel both the films have to be considered by their own merit separately.
Email |
Print | Get latest news on your desktop