Home > India > Movies > Interviews


Discuss |
Email |
Print | Get latest news on your desktop

The Rediff Interview / Wasim Akram

'I said yes to Ek Khiladi Ek Haseena because of Sushmita'

October 08, 2008


| | |
| --- | --- |
| Wasim Akram | |
| | |
| | |
| | |
| | |
| | |
| | |
Former Pakistan cricket captain Wasim Akram is now dabbling in something he has never tried before -- judging a television dance show. Not to forget, even dancing on the show!
He talks to Rajul Hegde about Ek Khiladi Ek Haseena, who his favourite dancer is on the show, and why he chose to be a part of this show.
Why judge a dance show?
When I was told that this was a dance reality show, I asked them what I was going to do on it. Then they told me that there would be six cricketers dancing and I would be judging them. So I thought why not have fun with it! But the real reason why I said yes was Sushmita Sen [Images]. She is my all-time favourite and I was lucky enough be her co-judge.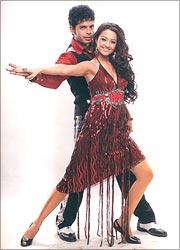 How has the experience been?
It was fun and a very different experience. Working with cricketers and beautiful ladies of the industry was exceptional. Sushmita is a professional and down-to-earth person, and I enjoyed her company. To see the cricketers practice dance for 12 hours and perform was amazing.
Do you watch reality shows?
I did earlier, but only the dance shows. I also like Bigg Boss 2.
Who is your favourite couple on Ek Khiladi Ek Haseena?
All are good and have worked really hard. Sreesanth [Images] is a very good dancer.
Honestly, now wouldn't you like to flirt with Sushmita?
Why not? [laughs]
Sushmita said cricketers are very intelligent.
Oh really? When did she say this? But I don't consider myself stupid, that's for sure [laughs].
You danced on the show as well.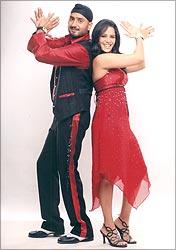 Yes, I did. I was quite nervous when I performed to the title track of Don. I had rehearsed for nearly three hours, but as soon as I started, I almost forgot my steps.
Are we going to see more of you on television?
If something interesting comes my way I will definitely take it up. 
What about acting in Bollywood?
It's not my cup of tea. I love watching films. It's hard work for me to act. I can only watch. [smiles]
What do you think about cricketers getting into showbiz?
I don't think it is wrong. If cricketers have enough time on their hands, why not have some fun? But at the end of the day, cricket should not be compromised.
Email |
Print | Get latest news on your desktop