Home > India > Movies > Reviews


Discuss |
Email |
Print | Get latest news on your desktop

Gangster Games, London-style

Elvis D'Silva | November 28, 2008 10:35 IST


| | |
| --- | --- |
| A scene from Rock n Rolla | |
| | |
| | |
| | |
| | |
| | |
| | |
Guy Ritchie is back! Some people might not believe that he ever went away and others might ask, "Guy who?" but for the man who was known as Mr Madonna [Images] for nearly all of this century, there must be some relief to be derived from knowing that he hasn't 'lost it' yet.
RocknRolla, his return to guns, gangsters and gung-ho posturing is a return to his roots, in a manner of speaking. It is true that his last film, Revolver, also featured a labyrinthine plot and less-than-upstanding characters messing around with each other. Even with Jason Statham (a Ritchie regular) in the lead, that movie was a mess. So two bad movies (the ill-advised Swept Away  remake and the aforementioned gun-monikered yarn), eight years and one divorce later, Ritchie is back at the helm of a movie that seems to continue on from the world he entertainingly explored in Lock, Stock and Two Smoking Barrels and Snatch.
Like those movies, RocknRolla, features a fast-talking, rarely-listening, motley lot of businessmen, gangsters, ex-Communist henchmen and hoodlums thrown into the mix with a femme fatale accountant (Thandie Newton [Images]) and a seriously unhinged musician (Toby Kebbell). When these disparate creatures from different parts of modern day London [Images] end up in each other's worlds, friction, violence and smart-aleck dialogue are quick to follow.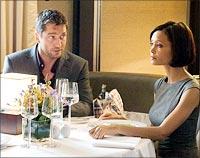 For the purpose of defining a plot, it is enough to say that a crew of small-time crooks who call themselves the Wild Bunch as a group, and are individually named One Two (Gerard Butler), Mumbles (Idris Elba) and Handsome Bob (Tom Hardy) get mixed up with some very nasty business when they try and make a name (and money) for themselves as players in a property enterprise. They should have known better than to get into a deal with Lenny Cole (Tom Wilkinson), an old-school gangster who only thinks of the profit he can make for himself, in every deal. The events that occur during the length of RocknRolla are narrated by Archy (Mark Strong), Lenny's right hand man and an observer privy to most of the pieces in this intricate puzzle.
So on the one hand One Two and Mumbles owe Lenny a couple of millions for a deal that went sour. On another hand, Lenny finds himself in trouble with Russian billionaire Uri Obomavich (Karel Roden) when he is unable to deliver on certain promises he made to the immigrant with grand designs on London's skyline. In a different part of the same world, Johnny Quid (Kebbell) the junkie rock star, and Lenny's stepson, has gone missing but is far from dead, while Stella (Newton) has enlisted One Two's help to steal money from her boss, the Russian billionaire.
As must be apparent from the above account, this is a world of connections and coincidences, not unlike Ritchie's previously successful films. There is little that is new in the storytelling except that drugs have been replaced by real estate as the new power play among shady characters trying to make a quick buck.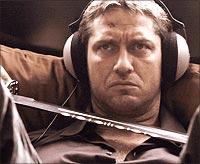 The true pleasure to be derived from RocknRolla comes from watching a bunch of grown men behaving very, very badly and looking pretty stylish while doing so. There are nuggets of cool dialogue strewn across the length of the film and they are delivered with varying levels of gusto or gravity by the cast members. No matter how scruffy they look or how some of them are old enough to play genteel grandfathers, everybody with a speaking part in this movie manages to shine as a character one might be afraid of, if encountered in a dark alley, but is definitely worth hanging out with for a couple hours as long as they remain on screen and we are allowed to stay in our seats.
There isn't nearly as much, or as extreme, violence as there was in Lock, Stock... and Snatch but that really doesn't matter too much. The film would probably have positively sizzled with gangster cool if it was about ten minutes shorter but that is merely a minor quibble for a film that fits neatly into the Ritchie filmography if one ignores his two misfires.
The performances are varying degrees of cool with Wilkinson taking to the role of elder gangster statesman with a relish that needs to be seen to be believed. It is probably too much to expect Butler to exclaim that 'this is Sparta' in every role that he enacts but he manages to do enough to help us forget that he was also in P.S. I Love You. Mark Strong puts in another compactly efficient performance while Kebbell brings quite a lot of range to his role of a strung out junkie with clean, flat musculature and an erudite worldview that does little to mask the fact that he is completely insane. The support performances are just as effective and no single performer makes us wonder what Ritchie was thinking when he indulged in that particular casting misstep.
All in all, this is a movie for the guys (and girls who like their men to make behaving badly look effortlessly good). Go check it out and figure out how much of a rocknrolla you could stand to be.
Rediff Rating :

Want to see this movie? Check out Rediff Movie Tickets!

Email |
Print | Get latest news on your desktop