Home > India > Movies > Television


Discuss |
Email |
Print | Get latest news on your desktop

'Rahul kept his ego in check for 90 days'

Rajul Hegde | November 18, 2008 14:06 IST


| | |
| --- | --- |
| Monica Bedi | |
| | |
| | |
| | |
| | |
| | |
| | |
Rahul Mahajan's eviction from Bigg Boss has come as a surprise to many, especially his close friends. Monica Bedi [Images] claimed that she learnt of the eviction from the media, and 'has no clue' why he was evicted.
"If he is evicted, it is bad news," she says. "He was one of the strongest contenders to win Bigg Boss. I am really disappointed. I wish it is not true." Monica was evicted from the house only last week, and was Rahul's closest friend while they were in the house. There were even rumours of a romance between them.
Sources say that Rahul was evicted because he did not apologise for his behaviour last week when the remaining four housemates -- including Raja Chaudhury, Zulfi Sayed and Ashutosh Kaushik -- tried to escape from the house. While the three apologised, Rahul refused.
"It is a big surprise because Rahul is a very tolerant guy," Monica says. "For the last 90 days, he has been very co-operative and tolerant, and kept his ego in check. He has never done anything against Bigg Boss. Even if he has, he has been the first one to apologise.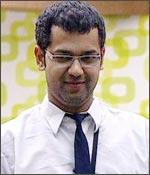 "Even on Saturday night, when they took the extreme step and broke the rules of the house, it was only for food. They were hungry. I think they were frustrated because of the pressure they have to face, and didn't want to cook and eat something different," Monica continues.
"Rahul has lost eight kilos in the Bigg Boss house. If he did not apologise for Saturday's incident, it could be because he feels that whatever he has done is right and he doesn't need to apologise for that. I hope Bigg Boss will sort out the issue and send Rahul back to the house," Monica says.
Did she speak to Rahul after his eviction? "No, I am busy with my work. I came to know about this from the media," Monica answers.
So who does she think will win Bigg Boss? "I think Zulfi Sayed has got the best chances of winning," she says. "He has not got into any kind of controversy and has played safe."
Email |
Print | Get latest news on your desktop