Home > India > Movies > Interviews


Discuss |
Email |
Print | Get latest news on your desktop

The Rediff Interview

'I have always wanted to play a negative role'

November 17, 2008


| | |
| --- | --- |
| Darshan in a scene from the Kannada movie, Navagraha. | |
| | |
| | |
| | |
| | |
| | |
| | |
Kannada film industry's popular hero Darshan's turn as a villain in Navagraha (produced under his banner and directed by his brother Dinakar Darshan) was a well-kept secret till the film was released last week.
Darshan, called 'Challenging Star' by his fans, has received lot of accolades as well as brickbats for his decision to play a negative role under his own banner. 
In this interview to R G Vijayasarathy, Darshan defends his decision. Excerpts:
There was a sense of shock and disbelief among many of your fans and well wishers in the industry after watching Navagraha. Were you expecting such a negative reaction for your decision to play a villain?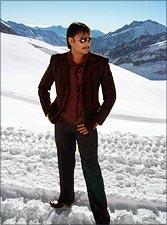 I agree, many of my fans were shocked that I play a villain in the film. But there are many people who tell me that I have shown courage by portraying a negative role. I had a special screening for some of my artist friends and technicians and all of them appreciated me. I knew that initially my fans would react with shock, but later on, when the film gets appreciated, I knew they would come around.
What has been the response so far?
It is good. Trade analysts are already bracketing it as a commercial hit. Now I hear even ladies are coming to the theatres to watch the film.
Many of your producers are not too happy with you taking such a risk at this juncture...
I have not heard any producer coming to me and complaining about my decision to act in a negative role. One thing I want to make clear: if at all some producers feel that I have taken a big risk, they should also feel that I have taken the risk by investing my own money. I have not played a risky game by using the investment of any other producer. I have always been doing films that have a story which is mutually accepted by me and the producers. And I will continue to do the same in future.
I cannot understand the criticism from the media. It has always criticised me for acting in action-roles, saying that the actor in me is lost. But when I take a risk and portray a negative character, the same people accuse me of taking a big risk!
No other actor in the Kannada film industry has so far done a complete negative role. Some of the artists have played double roles in the film, where they perform both positive and negative roles...
I have always wanted to play a negative role. I have been trained in Neenasam, a theatre training group where the first thing that is told is that an actor should portray a variety of emotions. If an actor can perform different types of characters on stage or on screen, his range as an actor will enhance.
However in the case of Navagraha, I have to reiterate that it was my brother's (Dinakar) script that made me take up the role. Dinakar had written the script before he wrote the script for his debut film Jothe Jotheyalli. But I advised him to make Jothe Jotheyalli first. After Jothe Jotheyalli became a big hit, both of us decided that it is time to launch Navagraha. I knew fully well that my role in Navagraha would be hotly discussed after the film's release.
You are playing a double role in your next film Boss. What are the special features of this film?
It is a commercial film with lots of thrills, songs and entertainment. You can safely write that Darshan returns to please his fans in Boss. But even in this film there are a few surprises which I would not like to disclose now. The film's producer Ramesh Yadav game me my first big hit in Daasa. I hope Boss will also turn out to be a big hit.
What are your other projects on hand?
I will be working with director Mahesh Babu [Images] for a film to be produced by Bala Reddy. Then there is another film which will be the remake of Telugu hit Pokiri. This film will be produced by Datta and directed by M D Sridhar. There's another film with Rockline Venkatesh. I have also committed to work with my Kalasipalya producer Ramu.
Email |
Print | Get latest news on your desktop