Home > India > Movies > Interviews


Discuss |
Email |
Print | Get latest news on your desktop

The Rediff Interview / Gracy Singh

'Deshdrohi is not about people from Uttar Pradesh'

November 17, 2008


| | |
| --- | --- |
| Gracy Singh | |
| | |
| | |
| | |
| | |
| | |
| | |
We don't see much of Gracy Singh [Images] in theatres these days, even though she has given us some of the biggest hits in Lagaan [Images] and Munnabhai [Images] MBBS. And the people in Maharashtra may have to wait even longer to catch her on the marquee. The actress' new film Deshdrohi has been banned in the state, due to its content.
Patcy N spoke to Gracy, and asked her where she's been all this time.
So what is Deshdrohi about?
Deshdrohi is a story of a common man. It is about being Indian, freedom and unity. I play Sonia, a tapori girl, who meets a man dealing with problems North Indians migrating to Mumbai face.
The film is not about people from Uttar Pradesh [Images]. It is about migrating to any part of our country. We should have the freedom to travel and live wherever we want.
How was it working with director Jagdish Sharma?
Jagdish is a very creative director. This is my first film with a lot of stunts and action. He helped me with my stunts and showed me different techniques to try them. I got injured once but it was not major.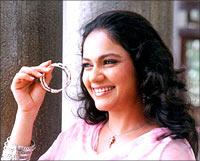 After big movies like Lagaan, Munnabhai MBBS and Gangajaal, you are doing films like Deshdrohi. Why is that?
I got a lot of offers after Munnabhai, and I signed many films. But some of them were shelved, and others did not get released. Some of my films were women-oriented films but there are no buyers for such movies.
So it's not like I am not getting films or that I'm choosy. I got a lot of work.
You have been doing regional films off late.
I want to do at least one film in every language. I have done Telugu, Bengali, Kannada and Punjabi films.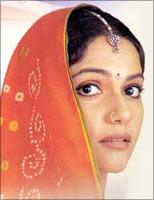 What do you do in your free time?
I play with my soft toys. I like that.
You seem to have put on a lot of weight. Won't that hamper your career in Bollywood?
Yes, I am looking overweight in some scenes [in Deshdrohi], as I was shooting for my Bengali film Asheema. I play a middle-class woman, and had to put on weight for that. Since both movies were shot simultaneously, I did not get time to lose weight. Plus, when I don't do my dance rehearsal, I tend to put on weight.
I would like to be part of a dance-based film like Vyjayantimala's Amrapali.
Do you miss working in Bollywood's mainstream films?
No. I am doing mainstream movies. My next film is Midnight, an animated film, and then, there's Siddharth Koirala's Dekh Bhai Dekh. I'm also doing Shankuntala, directed by Indrajit Singh, who also directed me in Chanchal. That will satisfy my dream of doing a film like Amrapali.
Email |
Print | Get latest news on your desktop