Home > India > Movies > Interviews


Discuss |
Email |
Print | Get latest news on your desktop

The Rediff Interview / Anil Kapoor

Anil Kapoor's special challenge

Arthur J Pais | November 17, 2008


| | |
| --- | --- |
| Anil Kapoor | |
| | |
| | |
| | |
| | |
| | |
| | |
I think it boils down to destiny that in just about a year I got to play two very distinct roles in two films that could not be more dissimilar," says
Anil Kapoor [Images]
. "As an artiste, could one ask for more?"
The actor is talking about his role as an autistic man in Subhash Ghai's [
Images
]
Yuvvraaj,
and a quiz show host in Danny Boyle's critically acclaimed English film,
Slumdog Millionaire
.
"In one film, I am struggling with an emotional disability, and in the other, I command the show," he says. The actor was in Los Angeles last week to promote
Slumdog
, which is getting
rave reviews
. The film, which opened to a strong $420,000 five-day gross in 10 theatres in North America, could become his most successful film ever. Some industry insiders expect the film, made for $15 million, to gross over $50 million worldwide.
Working for the two films -- Yuvvraaj and Slumdog -- was quite an experience, he says, adding that he had never before had such a thrill in his career, spanning three and half decades. The last year has also been a very busy time for him as a producer -- he has greenlit a comedy Shortkut -- The Con Is On, and is about to launch a film starring his daughter Sonam.
So how was it working under two high-octane directors? "Here was Ghai, an Indian filmmaker, making a film with a very Western flavour, and shooting it [partly] in Austria," Kapoor says, "and on the other hand, there was Boyle, a British director making a film in India and with a distinct Indian flavour."
Slumdog is set in Mumbai and was shot entirely in India. It tells the story of three children from the slums whose destinies take them to unimagined places. One of the three (Dev Patel) vies for the millions on the quiz show and is disliked and envied by the host.
"Slumdog has a very grungy look," Kapoor says. "But Yuvvraaj has a grand setting. I enjoyed working in these films. Slumdog was a special challenge because not only was I working for a British film which is being distributed by Fox Searchlight [in North America and India] and Warner Brothers but I was also doing an English film for the first time in my career."
Though Slumdog is expected to be a big art-house hit in North America and the United Kingdom thanks to the great reviews and extraordinary buzz and the People's Choice awards at the international film festivals in Toronto and Chicago, Kapoor feels that it may not become a hit in India outside the multiplexes. Indian audiences may want more melodrama, more songs and dances, and less of the reality dose.
"I am negotiating to make a Hindi version of the film," says Kapoor. "The film then can reach millions across India."
Boyle sees a point there. "I have said I would love to be an assistant director on that project," the director says, laughing.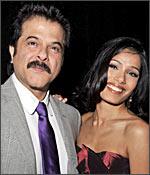 "He is a wonderful director," Kapoor adds. "He was determined to coax strong and believable performances not only from the seasoned artistes in the film [
Irrfan Khan [Images] has a small but solid role as a police inspector
] but also from the new artistes [
Dev Patel and Freida Pinto, among others
].
"I have worked in many films and [have been] directed by many excellent directors ranging from Mani Ratnam to Ghai," he continues. "I have taken up many complex roles but the part of the quiz show host is something very new to me. Besides, this character has many layers, and you slowly get to see him for what he is. He is not really a pleasant character but the world does not see him that way. So on one hand, I had to be this charming character and on the other hand, I had to slowly reveal my real self." 
Kapoor's earlier production
Gandhi, My Father
had a limited run in multiplexes despite critical acclaim. He hopes for a mainstream hit with
Shortkut
, directed by Neeraj Vora (
Phir Hera Pheri),
and starring Akshaye Khanna [
Images
], Amrita Rao [
Images
] and Arshad Warsi [
Images
].
The film featuring his daughter will be directed by a first-timer Rajshree (Raji) Ojha. A New York University graduate, her short film Badger was nominated for an Oscar six years ago. She has also made the crossover film Chaurahen with Victor Banerjee and Kiera Chaplin.
His son Harshvardhan will be making his directorial debut soon. He is presently taking a film direction course in Los Angeles.
"I am waiting to see where destiny takes my family and me," Kapoor says. "It would be nice to do a few English films in America and Britain. And then there are always interesting films to be made in India."
Email |
Print | Get latest news on your desktop