Home > India > Movies > Interviews


Discuss |
Email |
Print | Get latest news on your desktop

The Rediff Interview

'Rang Rasiya is more personal than Mangal Pandey'

Arthur J Pais | November 11, 2008


| | |
| --- | --- |
| Ketan Mehta (Photograph: Paresh Gandhi) | |
| | |
| | |
| | |
| | |
| | |
| | |
Ketan Mehta's Rang Rasiya (Colours of Passion) tells the tumultuous life story of the celebrated painter Raja Ravi Varma [Images] whose work in the 19th century liberated Indian art from the confines of the temples and palaces, and made available to the common man. The film features Randeep Hooda as the painter and Nandana Sen as Sugandha, his muse.
Mehta's films include The Rising: Mangal Pandey, Sardar, Mirch Masala and Bhavni Bhavai. 
What would you tell someone who says that Rang Rasiya is a period film?
I offer here a very dramatic story with wonderful performances and wonderful visuals. On one hand, it is the life story of an artist called Raja Ravi Varma who has enormous influence on our popular art and films. But he was also prosecuted at the end of the 19th century for painting nudes of Indian mythological characters. Even today, over a billion people bow every day at the images inspired by his art which are widely imitated by calendar artists across India. On the other hand, it is a classic story of an artist and his muse.
What gives you the confidence in today's audiences?
The Indian audience has undergone a transformation. More than 50 percent of the audiences are under 25. They are open to images and ideas from all over the world. They have grown up on satellite television and international films. They are expecting changes. Actually, filmmakers are growing slower than the audiences. I am very hopeful about this transformation. The audiences are becoming more discerning, more cinematically educated and expecting more quality fare from the filmmakers.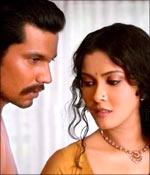 You have also said this film is a metaphor for creative freedom.
Long ago I realized how colourful, how controversial, and how amazing Varma was. The fact that he faced an obscenity trial is not widely known. Even after 100 years the same issues are coming up again and again, as we see the attacks on M F Husain [Images], the Baroda School of Arts, on Salman Rushdie [Images] and Taslima Nasreen [Images]. This wave of intolerance, this culture of intolerance, has returned.
Are you surprised at the level of intolerance?
I am very disturbed, and it is happening not only in India but also throughout the world. There is a minority fringe that is driven by extreme intolerance. We have seen the attacks on the newspapers that ran the Prophet Mohammad cartoons, first in Denmark. The culture of intolerance is bothering a lot of people in India and I am certainly one of them.
India has had a composite culture ever since we know. And there have been layers and layers of people who have come and got absorbed in the culture of India. Therefore, it has been one of the most tolerant and liberal cultures in the world. I also believe that it is one of the most liberated cultures in the world. Now it has become rigid. I believe creative freedom and freedom of expression are an essential part of any functioning democracy.
Some people may argue that certain things an artist does -- the Prophet Mohammed cartoons for example -- could lead to forces of fundamentalism rising.
I think freedom of expression is a fundamental right. People have a right to express themselves, whether it is official or unofficial, because a culture develops by interaction of ideas and images. I don't think an artist can afford to be afraid.
But artists can also be afraid for their lives.
If you believe in the freedom of expression, you also should be free of fear. If you believe in what you are doing, believe why you are doing it, and believe that you are part of a process of evolving in the culture as a society, then as an artist it your right and your duty to express [yourself] freely. So, it is a fundamental right and a fundamental duty of an artist to express oneself freely.
How were you drawn into the life and times of Raja Ravi Varma?
I had seen his paintings while studying at the Film [and Television] Institute [of India, Pune]. I had even then known that the earlier Indian films were entirely inspired by his images. For instance, Dadasaheb Phalke, a pioneer of Indian cinema, started his career as an apprentice at Varma's printing press and all the images of his earlier films have been derived from Varma's paintings.
Was there anything in particular that inspired you to make this film?
I was fascinated and amazed by the works of Raja Ravi Varma for years. Cinema is for the contemporary audiences. And even history is the raw material to tell a contemporary story of relevance. Then I read a novel by Ranjit Desai five or six years ago and felt the urge to make a film on Varma and his times. But during that time I was making Mangal Pandey. After I completed that film I worked on this script.
Compared to Mangal Pandey, which was a huge film, this is a smaller one.
I have made all kinds of films; some had very small budgets and some very big; with total newcomers as well as big stars. Mangal Pandey had Aamir Khan [Images]. Each subject matter comes with its own scale and its own intensity.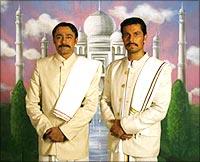 What does this film mean to you as an artist?
This was much more personal and internal film than Mangal Pandey was, since it was about an artist and his muse. So I decided to do it in a very compact manner.
You have also a cast of comparatively new artists, very new artists and a few veterans.
There was a lot of travelling to do on this film. So I decided to make do with comparatively new artists and shoot it in one concentrated schedule. Part of it was shot in Kerala [Images], the rest in Pune and Rajasthan. Varma was the first artist to travel across India. He did that in search of the soul of India.
Tell us about the casting for this film.
Hooda had done some gangster films but a lot of people had recommended his name. I found him a skilled actor. When I met him I found in him some intensity; he is also a very committed actor. Nandana has also been around for quite some time but she has no image as such. She too has done wonderful work.
How did Paresh Rawal [Images] come into the project?
He is one of the best actors we have. I had cast him in the male lead role in Sardar. And that is one of the greatest performances in the Indian cinema, according to me. I just told him the story of Rang Rasiya and he wanted to be a part of it.
Many mainstream artists, even young ones, are now taking up smaller films for artistic reasons.
If you have an exciting project, there are very good artists in India to work in them. Never mind how busy they are, they want to be a part of that project. Paresh Rawal is a pivotal character in the film; he plays a partner of Varma in the printing press. Vikram Gokhale, a seasoned Marathi actor, plays the prosecutor. There are many new artists who have [given] commendable performances.
Why did you look for cinematographers from outside of India?
The film is derived from the paintings of Varma. It is like a journey to the starting point of Indian cinematic idiom. We had two Bulgarian cameramen. I had seen their work at film festivals. All of us in India, knowingly or unknowingly, are affected by Varma's paintings. I thought a totally fresh eye was necessary, hence the Bulgarians.
Some people are not convinced that Mangal Pandey was a success. It is one of the most expensive films made in India, costing over $5 million and it wasn't around after the fourth week.
Mangal Pandey actually started a trend. It was released at over 600 locations. It recovered the entire cost of production in the first week itself. The entire propaganda -- that it is not a viable film -- is not true at all. To make a film of its kind at that time in India was a major step forward. The culture of cinema has undergone a dramatic change in India. Those days of silver jubilees and golden jubilees, when a film ran for 25 weeks and 50 weeks, are over.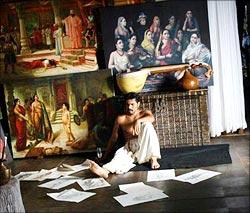 What are some recent films that convince you that audience tastes have improved?
Just before coming here [to New York to attend the Mahindra Indo-American Arts Council Film Festival] I met Shyam Benegal [Images]. He said that his new film Welcome To Sajjanpur is the most successful film of his career. And, he has been [around] for more than 30 years! He started with Ankur and has made more than 40 feature films. He made all kinds of films: Big-budget films like Junoon and The Forgotten Hero to small-budget films like Welcome To Sajjanpur. This was a pretty small film and it becoming a huge hit is an amazing feat. Again, it did not run for a silver jubilee [chuckles]. It had a good run for about four weeks.
It is also easy to release smaller films in big cities because of multiplexes.
In the old days, theatres used to have over 1,000 seats. Now, a smaller film can be released in a multiplex, and, if the audiences love it, if the word of mouth is good, it adds more multiplexes. Bombay Meri Jaan, Wednesday, Khosla Ka Ghosla [Images], and even a big-budget Chak De! India have been very successful in recent years thanks to the multiplexes and the word-of-mouth factor. And, that is a very hopeful sign. I am quite optimistic about the kind of films that will emerge out of India.
What is next for you?
Once this movie is released, I will have to consider a few ideas I have been playing in my mind for many years. There is a science fiction film, a wonderful comedy and yet another historical film. So one is playing with a few ideas. Mangal Pandey was supposed to be a trilogy; part two is being worked upon.
Is there a movie you thought about 10-15 years ago but were not ready to make?
I have been thinking of the sci-fi film for over 15 years. But the technology in India is only ready now to do this kind of film. I will not discuss the subject but is going to be yet another challenge to me.
Email |
Print | Get latest news on your desktop