Home > India > Movies > Reviews


Discuss |
Email |
Print | Get latest news on your desktop

No Solace Here

Elvis D'Silva | November 07, 2008 10:43 IST


| | |
| --- | --- |
| A scene from Quantum of Solace. | |
| | |
| | |
| | |
| | |
| | |
| | |
His name is Bond. James Bond [Images]. And he no longer knows who he is. And neither do we. This much is for sure, the 'suave' superspy is no more. He morphed into the camp adventurer before becoming a cocky posturer and in his current avatar he is a brutish bruiser who couldn't crack a smile if his life depended upon it.
Casino Royale, this film's predecessor and the one in which blonde-haired, blue-eyed and muscle-bound Daniel Craig [Images] took on the mantle of James Bond was buoyed by some impressive stunt and action work. That much remains in Quantum of Solace but little else is added to the cocktail to make it palatable this time around.
For the purpose of plot it appears that Bond is seeking to find out the truth about the woman he loved and lost. At the same time he and MI6 come up against Dominic Greene (Mathieu Amalric), a man who seems to be fronting a corporation dedicated to preserving the Earth's remaining resources while being involved with a secret organisation -- the Quantum from this movie's title -- a secret organisation that really doesn't care about our planet as much as it does about power and profitability. Also on Greene's tail is the lovely Camille (Olga Kurylenko) a mysterious young woman with murderous intentions towards one of Greene's clients.
The title of this movie is a (not very clever) summation of Bond's quest in the aftermath of Vesper Lynd's death. It is difficult to imagine whether the movie title came first or whether the mystery organisation, unnamed in Casino Royale, got its title so that the pun could be solidified somehow.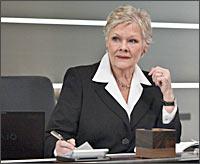 On the surface this dual quest, for answers about Vesper and the push to bring down a shadowy organisation, could have delivered spectacular possibilities, which is not an unreasonable expectation in a year where movies like Iron Man and Dark Knight [Images] have raised the bar for what audiences can expect from their commercial entertainment. Alas, Quantum is not a leap in that direction.
Clearly still inspired by the trilogy of Bourne films, Quantum also features a significant amount of stunts and fights, and each and every one of them looks like it was designed by the team from the far superior Matt Damon-starrers. Which is a good thing and a bad thing -- good because they contain a certain energy missing from a lot of other formulaic Hollywood cinema; bad because it appears on too many occasions that the camera team simply didn't get the shot and so it was up to the editors to make sense of the footage in post production. 
Of the performances, Dame Judi Dench is as good as she has ever been as M and Daniel Craig brings the same stony-faced, steely-eyed disengagement to his second outing as the legendary agent. Olga Kurylenko had more to work with in Hitman and while she seems capable enough in the action scenes, her dialogue delivery could use a lot of work. As the villainous Dominic Greene, the diminutive Mathieu Amalric is simply no match for the brutality of twenty-first century Bond.
For a man who has directed a diverse class of movies, helmer Marc Forster's contribution to the creation of Quantum of Solace is questionable at best. He is clearly no Paul Greengrass and in the way the sequences are structured and the way Quantum flows, there is such a disconnection that it feels like one extended montage sequence that is part travelogue and partly a showreel for the effects and action capabilities of the second unit teams working on this movie, rather than the escapist adventure a movie like this is supposed to be.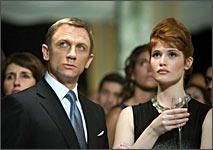 Though it is a much shorter film than Casino it is impossible to shake the feeling that nothing really happened in Quantum of Solace. Perhaps it is because the story seems to be playing second fiddle to the stunts and action sequences in this one (if you want to see how quickly this movie has dated itself, watch out for the conversation about dollars versus euros).
Perhaps because it is never really clear what anyone wants in this film. Does Bond get answers to whatever questions have plagued him since Vesper died? Maybe, but we are supposed to guess what he might have learnt from a vague action towards the end of the movie.
However you see it, it doesn't do much justice to the character of Vesper Lynd, who sacrificed her life for him in the previous movie. Does Camille get the revenge she was seeking? Again, yes and no. Does M understand Bond a little better than she did at the beginning of this movie? Unclear again. And all of it is nothing compared to the fact that the confrontation between Bond and the main villain will leave you wondering whether the projectionist dropped a reel somehow.
To truly get what is going on in Quantum it might be necessary to watch Casino Royale again because there is a definite link between the two. So Quantum of Solace will probably make a lot of money at the box office but I'm not sure the people will be getting their money's worth. And isn't that the biggest tragedy of all?
Rediff Rating:

Want to see this movie? Check out Rediff Movie Tickets!

Email |
Print | Get latest news on your desktop