Home > India > Movies > Interviews


Discuss |
Email |
Print | Get latest news on your desktop

The Rediff Interview

'You can make a film out of my struggling years'

Syed Firdaus Ashraf | November 05, 2008


| | |
| --- | --- |
| Vinay Pathak in a scene from Dasvidaniya. | |
| | |
| | |
| | |
| | |
| | |
| | |
Vinay Pathak can be one funny man on screen. We loved him in Bheja Fry and Khosla Ka Ghosla [Images], and there's plenty more of Vinay to come.
When I met him to interview him on his new film Dasvidaniya, Vinay was in one of his naughty moods. I introduced myself, and said that I was from rediff.com.
"Oh, relief.com," he laughs. Then he rubs his stomach and says, "What a relief!"
Hailing from Bhojpur in Bihar, Vinay landed in Mumbai in 1995 to start his acting career. He landed a small role in Deepa Mehta's Fire (1996). He then moved on to television serials.
"You can make a film out of my struggling years," Vinay smiles. "I am struggling even now."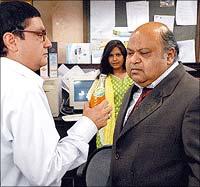 But surely Bheja Fry's success has rubbed off on him? "You see, I am a successful actor. But now, I am a struggling film producer," he jokes again. "I am struggling to produce the films that I want to make. The latest is Dasvidaniya.
"Struggling keeps you on edge," he continues. "I like to struggle to do something new as it throws new challenges. One day I would like to become a director after my struggling days of a producer are over."
A phone call interrupts our conversation. "This is an unknown number. I am sure this caller is a struggling actor, who wants to talk to producer Vinay Pathak and not the actor Vinay Pathak," he winks before taking the call.
After hanging up, Vinay talks about his film Dasvidaniya. "My character Amar Kaul is the most ordinary person you would meet."
Then, he adds quickly, "Your next question would be why would anyone want to see the life of an ordinary person on screens. My answer would be that all of us have commonness and simplicity. We want to feel special but the fact of life is that many of us go to office at 9 am and leave by 6 pm. We go home, watch television, enjoy our weekends with our friends and family."
The film tells the story of Kaul, who has only three months to live. He then tries to finish all that he wanted to in that span of time, including saying his final goodbyes.
"Dasvidaniya means goodbye in Russian," he explains. "It is a very apt title. I cannot say anything more."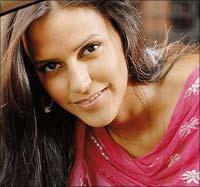 The film has been directed by first-timer Shashant Shah and also stars Ranvir Shorey, Neha Dhupia [Images] and Rajat Kapoor [Images].
So, will the audience be tempted to catch his latest flick? "Don't underestimate our audiences," he answers. "They have proved many people wrong post Khosla Ka Ghosla and Bheja Fry. People want to see a film where there is no formula. They don't want stereotypes. They want unexpected stuff."
He further adds, "I feel if a film is made with happiness and passion, people will surely appreciate it." 
So has the public's attitude changed post his success as an actor? "I don't know the answer to that question," Vinay says. "Some people feel that I am a hero, some people not. Everybody has a right to his opinion. Fortunately, people trust me more with different characters. I have been very fortunate and lucky."
He continues, "Now, I am acting with Shah Rukh Khan [Images] in Rab Ne Bana Di Jodi, which I am very excited about. He is such a dedicated actor." 
Incidentally, he is also doing films like, Straight, Raat Gayi Baat Gayi, Mumbai Chaka Chak, SRK [Images] (Shivaji Rao Khote) and Antardwhan.
Coming to the allegations that he has increased his price post Bheja Fry, Vinay rubbishes the claims as rumours. "They say I charge Rs five crore and such. I wish that was true. Ultimately, I feel producers will only pay according to my abilities and market standing. All the figures mentioned in media are wrong."
Asked him if he feels a common man with no connections can become hero in our films and he says, "Yes. Every hero was a common man before he became a hero. After all, every actor needs five things -- time, space, chance, opportunity and platform. If all five come together, he has got himself a terrific job."
Email |
Print | Get latest news on your desktop