Home > India > Movies > Report

Ramchand Pakistani, another Indo-Pak venture

Aseem Chhabra | May 05, 2008 13:41 IST


| | |
| --- | --- |
| Director Mehreen Jabbar | |
| | |
| | |
| | |
| | |
| | |
| | |
A few years ago Mehreen Jabbar took a trip back home to Pakistan -- a visit required for her green card application process.  Jabbar had worked for nearly 13 years producing and directing soap operas for Pakistani television, often while living in New York. During the visit, her father handed her an outline of a film script based on a true incident.
The script goes like this. The Indian parliament is attacked by Islamic militants in December 2001 and the armed forces of India and Pakistan are on a high alert for a war. In a small pocket of the Thar Desert in Pakistan, a seven-year old Hindu boy and his father -- from the Dalit community, accidentally cross over to the Indian side of the border. They are captured by the Indian forces and then spend the next few years languishing in a jail in India, while the boy's mother waits for any news from across the border.
Jabbar's father -- Javed, a filmmaker and a former Information and Communications minister in Benazir Bhutto's [Images] cabinet, runs an NGO in the Thar Desert. And he met and talked to the father and son after they were released by the Indian authorities.
Earlier this week Jabbar's first feature length film, Ramchand Pakistani -- based on her father's story opened at the Tribeca Film Festival. Later this summer it will open in theaters in Pakistan and also play at the Asian Film Festival in New Delhi.
Ramchand Pakistani stars Nandita Das who plays Champa, the mother awaiting news about her son and husband. Jabbar's film is a sincere and a moving document about the human condition. It beautifully portrays the lives of innocent victims caught in the political vortex created by two neighboring enemy states.
And what makes the film more remarkable is that the Karachi-born Jabbar stays clear of the politics of the times.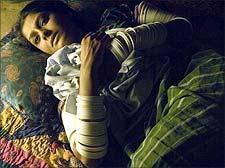 "That was a very conscious effort, not to make it propagandists, polemic, and ranting against India," Jabbar says before the world premiere of the film. The film gives a human face to the Indian police force and also points to the fact that hundreds of innocent civilians are languishing in jails in both the countries.
"The issue this film deals with, is an accidental border crossing, which happens for the most inane reasons," she adds.  "People cross over because they are drunk and they spend 10 to 15 years in jails. They get lost in the red tape of both the countries. They get lost in the system and the political reality of the two countries. Both the countries have to be blamed for this."
In the process Jabbar also wanted this film to be an India-Pakistan collaboration. In addition to Das, the film features songs by Shubha Mudgal and the soundtrack composed by Debajyoti Mishra (Chokher Bali, Raincoat, and Dharam). And while Jabbar originally edited the film, she had Aseem Sinha (Shyam Benegal's [Images] regular editor) to re-cut it to improve its pace.
"I wanted the collaboration to be in a productive way, instead of an overwhelming way," Jabbar says.  "Pakistan is considered a small country and we have a big neighbor -- India, and sometimes we think it is a bully. Our film industry is in the pits rights now and India has the biggest film industry in the world."
Until a few decades ago, Pakistan had nearly 1,500 movie theatres. That number is down to 150. Piracy killed the film-going habit of people and talent veered towards the country's thriving television channels. Bollywood and Hollywood films appear in pirated format even before the release date. Sabiha Sumar's remarkable Khamosh Pani (2003) -- another India-Pakistan collaboration -- never had a theatrical release in Pakistan.
All of this may be changing, with the success of Khuda Ke Liye, which brought people back to the theaters. Jabbar is hoping that her film will be the next project to draw the audience into the theaters.
Ramchand Pakistani was made with a small budget of $650,000, with funds raised from family, friends and other donors.  Jabbar, points out that Pakistan does not have an infrastructure for financing films. And so her father stepped in and produced the film.
Javed Jabbar was also instrumental in bringing the Indian collaborators into the film's fold. His activist status in the peace process between India and Pakistani facilitated the collaboration.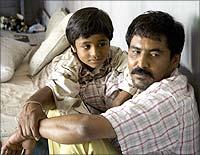 The film was shot in January 2007 under harsh conditions in the Pakistan part of the Thar Desert area -- just five kilometres from the country's border with India. Das was the only Indian in the crew, along with four Americans from New York, and ISI agents watching over all of them.
"We had to shoot on HDCAM, because Pakistan does not have a 35 mm sync sound film camera," Jabbar says. "And we have one HDCAM in the whole country. I wanted to see what I had shot, because we do not have good film processing equipment. Otherwise the film would have to be sent to Dubai or India to be processed. That would take a week. And I was 15 hours from a city."
Only Das and two of the crew members from New York had previously worked on a feature film. The rest of the crew had no film experience. "It was labour of love," Jabbar says.
"Our first main concern was to get bathrooms," she adds, laughing. "There was no road, no electricity, no running water and I do need my bathroom. You can go to the bushes for a week but not for 45 days. We had this truck converted into one Indian-style and one English-style toilet. There were 80 people using those two toilets. Forty people per toilet is pretty gruesome, but it worked fine."