Home > India > Movies > Interviews

The Rediff Interview

'Chiranjeevi appreciated Gamyam'

Radhika Rajamani | March 14, 2008


| | |
| --- | --- |
| Radhakrishna Jagarlamudi | |
| | |
| | |
| | |
| | |
| | |
| | |
Radhakrishna (Krish, as he calls himself) Jagarlamudi's directorial Telugu debut Gamyam released recently is making waves in Andhra Pradesh.
What makes the success of the film surprising is the fact that it's maker did not have a background in films. After graduating in Pharmacy and a Masters in computers in the U S, Krish ran a company -- First Counsel -- before trying his hand at making films. Ever since he was a child, Krish has been captivated by cinema. He worked with director Rasool Ellore for a while before coming out with Gamyam, which his family produced as Krish could not find any producer.
Radhika Rajamani caught up with the filmmaker for more. Excerpts:
Gamyam seems to have a certain freshness about it. How did you achieve this?
Though I have number of mentors in the industry, I wanted to approach it in my own way. My gut feeling told me that it would work.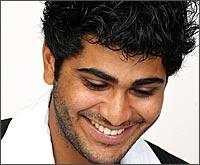 The movie does not seem to fall into the formulaic pattern of Telugu cinema...
The 'formula' normally includes songs, fights and some comedy. I have used all this in my own way with stress on emotions. In that sense, Gamyam is a commercial film. I was scared that somebody would call it offbeat. I wanted the story to connect with the audience.
Are you happy that the film has been well received by the critics and is picking up on the commercial front?
I am very happy that the film has got critical acclaim. The film is being received well by people too. I am happy to see that some of the autowallahs have Gaali Seenu (Naresh's character) written on the back of their autorickshaws.
What made me happy was overhearing a comment at a theatre. The comment was, "The director spoke about human beings in the film."
The audience seems contented with the film. Since I did not find a producer, my dad produced the film and we hope to make profits. So both purposes are served.
What triggered the idea for Gamyam?
When I saw Easy Rider (1969 road movie) and The Motorcycle Diaries (dramatisation of a motorcycle road trip by Marxist revolutionary Che Guevara) I thought of making a film on male bonding. When I was researching for a film But India Divided (which I thought of making) I happen to travel in a car in Maharashtra. The driver and I chatted through the course of journey. Our perspectives were different.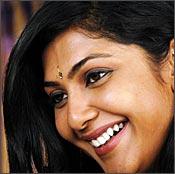 When I halted at Sholapur, I wrote the story Aaj Jeeyenge (in Hindi) about the different perspectives, which was the basis of Gamyam. I had given a working title in Telugu called Siddhartha which talked of the journey, five virtues and redemption. Nobody was willing to produce it. Then with subsequent modification I was able to make the film, which my dad produced. In fact the character of Gaali Seenu was inspired by the driver.
There seems to be a similarity between Gamyam and The Motorcycle Diaries especially in the road part. Were you inspired by The Motorcycle Diaries to do this?
I would say I was more inspired by Easy Rider. When I was a student I was inspired by Che Guevara's life. I had read his books. I had a socialistic bent of mind. The element of factionism is not there in Motorcycle Diaries. I play the role of a naxalite in Gamyam and styled myself like Che.
In fact I used to travel and read a lot. I am inspired by Tilak's stories like Voori Chivara Illu and Nalajarla Roddu. Tilak is a great writer but it's a pity his works are not read. I was also inspired by the book Zen and the Art of Motorcycle Maintenance.
In Gamyam, I spoke about cynical people and others like Purnachandra Rao who runs an organisation called NICE (Needy Illiterate Children Education). I pay a tribute to him in the movie. In fact, Giribabu plays the character who is called Purnachandra Rao in the movie.
What made you cast Allari Naresh, Sharwanand and Kamalinee Mukherjee? Allari Naresh has received kudos for his acting. Sharwanand and Kamalinee also have done well...
We are all friends. I cast Naresh and Sharwanand because of their body language. I thought Naresh is a bit naughty and he would behave like a bike thief. Sharwanand is always well dressed and speaks in a sophisticated manner, and I felt he would suit the rich man's role. Both Naresh and Sharwanand acted well.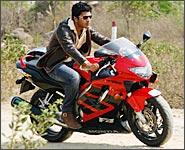 I saw Kamalinee in Mumbai airport once (though I did not know who she was) and found her cool and casual. She had this look of serenity in her face, and I thought she would make a perfect Janaki.
Do you have anything to say about your team?
I had great support from the team -- Nagaraju Gandham (writer), Sirivennela Sitarama Sastry (lyricist), Hari Anumolu (director of photography), Rajiv Nair (art director) and  Shravan (editor).
Chiranjeevi [Images] is said to have watched Gamyam. What was his response?
He appreciated the film and called some of the press personally (though we had not invited them) and made Allu Arjun (his nephew) and Charan (his son) speak about the film. Bunny (Allu Arjun) loved the film and hugged me. Charan said he felt he had undertaken the journey and experienced the simple joy and travel.
Have stars and producers approached you for future projects?
Yes, some have shown interest though I don't want to name anyone. Some producers have even told me they will make my kind of film (though I don't know what my kind of film is). In fact my dad and brother-in-law, who produced the film want my dates as they want to produce the next film to be directed by me seeing the success of Gamyam!
If you make a film with a star, would you fall into the commercial trap to suit their image?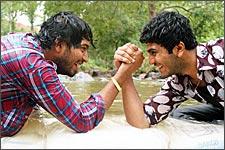 I am a commercial filmmaker. I will tell what I want to be told. I will not compromise. But I should have a story to tell and work it round the star.
Would you like to remake Gamyam in Hindi?
Yes, of course. I wrote the story Aaj Jeeyenge in Hindi. I am looking for a solid company who can produce the film and can get me good actors. I will have to re-write it a bit. The dialogues also would have to be in Hindi. Of course I would have to shoot the journey bit in different parts of India.
What next?
I have not decided yet. Right now I am enjoying the success of Gamyam and trying to promote the film.
What happened to the film But India Divided?
I researched and shot 7 minutes of it as a documentary. But because of various problems it was shelved.