Home > India > Movies > Interviews

The Rediff Interview

Now, a biography on Rajnikanth

Shobha Warrier | March 05, 2008


| | |
| --- | --- |
| The cover of The Name is Rajnikanth. | |
| | |
| | |
| | |
| | |
| | |
| | |
An ophthalmologist writing the biography of a film star is something unique. That is what Dr Gayathri Srikanth has done. When she chose Rajnikanth [Images] as the subject for her first book, she never expected any hype. To her horror, the book, The Name is Rajnikanth has caught the fancy of people not only in Tamil Nadu but all over India.
The book will be released on March 6 by Cho Ramaswamy, Editor, Thuglaq (a Tamil weekly) and the first copy received by the super star's younger daughter Soundarya Rajnikanth.
In this interview, Dr Gayathri talks about how it all began.
Your phone's ringtone is Rajnikath's dialogue from Sivaji. Did you choose it after you started the book?
Yes. After I finished the book, I decided that I must have a Sivaji ringtone. I also programmed it in my husband's phone though he protested saying he was a doctor!
Have you been a Rajnikanth fan for a very long time?
I am not a die-hard fan of Rajnikanth. I had the opportunity to interact with the fanatic fans of Rajni while writing the book. I like his acting, and I cannot relate to people who do not like Rajnikanth. When many north Indian friends of mine tell me not nice so things about him, I grow horns, fangs and claws to support him. So, I have been his fan from Dalapathi onwards. When I was in college itself, I had attempted to write a book on him; a very immature effort.
So, have you been carrying that desire all these years? What triggered off this biography?
Not at all. It all happened quite accidentally. Last year, I felt I have had enough of ophthalmology.
Enough of ophthalmology? But why?
That was because I became over-ambitious and overworked. In 2006, I had attended to 25,000 school children single-handedly. I was the camp in charge of the Duraiswami Eye Hospital which was started by my father in law's father.
Last year I also got selected to participate in KBC but couldn't get on the hot seat. All the participants got a book on Shah Rukh Khan [Images]. When I read the book, I came to know of so many new things about him. For example, I didn't know he was a hockey player.
Most of us participants were from South India, and we felt there were a number of interviews and books on Hindi film stars while we do not know much about our own stars. Then I thought, why not write books on Kamal (Haasan) and Rajni?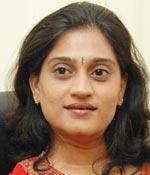 Why did you zero in on Rajnikanth and not Kamal Haasan [Images] for your first book?
I felt he was the obvious choice because he was the superstar, and the hype surrounding Sivaji was so immense. When I searched for him on the Internet, I found out that he grew up motherless as a child, and had a very bad childhood. Later on, he had to work as a coolie, then a bus conductor and lastly became the superstar. I found the stories had so many gaps. But I thought the rags-to-riches story of Rajni was very fascinating. So, I decided to write a biography on Rajnikanth and started my work in March 2007.
How did your family members react when you said you were going to write a book on Rajnikanth?
My father, who is a doctor, asked me, 'Why don't you write on Vivekananda or APJ Abdul Kalam [Images]? Why Rajnikanth?' Many of my doctor friends also asked the same question. Someone asked me, 'Why don't you write a book on ophthalmology?' I told all of them, I only want to write about this man. How many people have the guts to come out and say that they have had a nervous break down, had many vices, etc? Not many own up their mistakes, but this man does.
How did you begin your work? Did you contact Rajniknath first?
No, I couldn't contact him. He was shooting for Sultan in Holland. So, I met his wife through a common friend. I told her, 'Ma'am I want to write a book on your husband'. She said there are a million books on him. She first thought I was yet another fan. When she came to know that I was an ophthalmologist, she was amused and gave me permission to go ahead.
I went to Bangalore and the first person I met was Bahadur. He then helped me meet all of Rajni's school friends. I also met his brother, a very simple man. I think simplicity runs in the family. Then I went to Mumbai to meet the friends he had befriended as a teenager but they wanted to remain anonymous.
Anything new you found out about Rajnikanth?
Many things. I also found out a lot about his father. He was from a lower income family and had a very tough life. His father would beat him a lot. I would say he had a traumatic childhood. It is admirable to have come out of all that and become who he is now.
Can you share one interesting aspect of his life which we do not know?
I am not supposed to reveal but I will tell you one incident. When he was working as a conductor, his brother wanted him to marry a distant relative. He liked the girl but the girl rejected him saying he was dark, plump and not good looking. I also found out that the mirror fascinated him.
Is he a narcissist?
No, a narcissist loves himself. Here, the mirror is his friend which helped him overcome his complexes. He loved to emote himself in front of the mirror. He was quite conscious of the fact that he was dark. So, he was not very outspoken. The mirror was his companion when he was in the film institute.
Did you become an admirer of the man after digging deep into his life?
Yes, I was stunned by the way he has come up in life. I tried to find out the real factor that made him what he is today. It is not just luck, hard work or destiny; something more. It was tough to find out what makes him Rajnikanth.
Did you interview Rajnikanth?
I met him only in November 2007. I had almost finished the book  by then. He was so sweet, simple and courteous.  After talking to him for some time, I said, 'Sir, I want an interview'. But he was very non-committal.
After ten days, I got a beautiful letter from him saying I had presented the book stylishly, and that he was overwhelmed.
But he didn't want to give an interview as the book was written from my point of view as a biographer.
Did you present him as a superstar or as a human being? Is it a balanced point of view?
I think I have presented his life in a very balanced way. I presented him as a human being while he was a human being with problems. I presented him as a superstar when he became one. The book is not from a fan's point of view. The book is written by a biographer.
Was he a difficult subject?
Yes. His life is like a jigsaw puzzle; to sort his story out was difficult. One day, he would be drinking, another, he would be smoking, and then he would be in the Himalayas. In the midst, he acted in films too. That was the biggest problem.
He is famous for his style and speed. So, the book also has to be fast from the beginning to end. I did the story in a screenplay format.
Could you solve the jigsaw puzzle?
I think I have solved it. It is for the readers to say whether I am successful in solving the puzzle called Rajnikanth.
Is it going to be Kamal Haasan next?
One film personality is enough. My next book will definitely be on someone who is not connected with films.
Photograph:  Sreeram Selvaraj