Home > India > Movies > Interviews

The Rediff Interview

'I am proud of the way Cycle has shaped up'

March 04, 2008



No tall claims, no scintillating quotes or attitudes. That's Johny Antony for you.

The frank and dedicated director, who has gone through his share of highs and lows, now has a reason to be excited as his latest Malayalam offering, Cycle is raking in the moolah big time.

With films like CID Moosa, Thuruppugulan, Kochi Rajavu and Inspector Garud to his credit, Johny had moved away from the sure-bet superstar movies to a fresh theme with a young cast which includes singer-turn actor Vineeth Sreenivasan, in the lead.

Vijay caught up with the filmmaker for this exclusive interview. Excerpts:

Did you expect Cycle to garner such a good response?

Of course. I always had faith in the subject. There was enough to extract from the relatively fresh cast, and it was my dream to come out with a well made film. I am proud of the way Cycle has shaped up.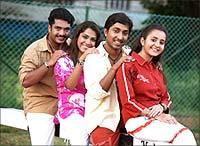 You had to live up to huge expectations with Vineeth Sreenivasan as the hero and James Albert (of Classmates fame) as the script writer?
I took it more as a challenge or rather as a responsibility. It was natural that people will look forward to Vineeth Sreenivasan's credentials as an actor, as he is Sreenivasan's son and also a successful playback singer. It's the second script of James Albert after the whopping hit Classmates and the expectation levels were sure to soar. Now I think all those factors worked to our advantage.
What are the pluses and minuses of Vineeth Sreenivasan, as an actor?
(Smiles) On a lighter note, I would say, he is an extremely interesting person and somewhat unpredictable. He can digest the toughest things quite easily. But there are times he finds it all very tough. The best thing about him as an actor was that he was relatively raw on the acting front, so his performance could be moulded.
Looking back, it was a great experience working with him. He has grown up watching the industry from close quarters and that helps.
You are generally seen associating with projects featuring superstars. Do you feel that the efforts and the risk taken with Cycle, as it had a young cast with no big past record of success, was worth it?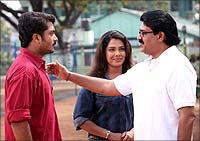 Let me make it clear that I am not comfortable being branded as a director of superstar films alone. I have the confidence that I can work with any cast if I have a good script with me. It's true that I haven't faced many setbacks in my career but the satisfaction that a film like Cycle gives is enormous. May be I will do films with superstars in the future, but I will ensure that I do films like Cycle in between. I believe it has made a huge difference in my career.
Don't you think that heroines' role in Cycle could have been stronger?
In fact, I think that both the heroines have great importance in the story. More than the number of scenes in which they appear, the impact of the characters in the story is tremendous.
Bhama's character was from a modest background and she has to shoulder a lot of responsibilities at a young age. Sandhya is from an affluent family but she has been a loner throughout her life. The two characters have been developed very well to match the heroes, Vineeth Sreenivasan and Vinu Mohan.
Your heroes are generally of the superhuman variety but in Cycle, they are not. Why the change?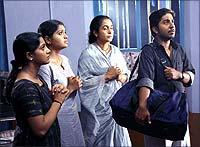 (Laughs) I am a big fan of Rajnikanth [Images] and I love films with macho heroes. But Cycle demanded a different approach and it was a new and exciting experience for me. In fact this was one of the reasons that we decided to go for new faces.
You seem to be really careful about the music of your films...
My first film, CID Moosa, had music by Vidyasagar and the song picturisation was well appreciated. Since then, I am keen to come out with good visuals and music. Music finds an instant appeal with the audience especially with the young crowd and I have been concentrating on this aspect more with every new film.
Cycle has given you another hit. What next?
Right now, we are working on the script for a project with Mammootty in the lead called Pattanathil Bhootham. Siby K Thomas and Udayakrishnan are the scenarists for the film.