Home > India > Movies > Interviews

The Rediff Interview / Anees Bazme

'Akshay charges a ransom'

June 23, 2008


| | |
| --- | --- |
| Anees Bazmee | |
| | |
| | |
| | |
| | |
| | |
| | |
After giving hits like No Entry [Images] and Welcome, Anees Bazme is all set to rock the world with his upcoming film, Singh Is Kinng, starring Akshay Kumar [Images], Katrina Kaif [Images], Sonu Sood, Om Puri [Images] and Neha Dhupia [Images].
As the film readies for release on August 8, Nithya Ramani asks Bazmee to give us the details.
What is Singh is Kinng about?
It is a fun film, full of entertainment. The film is about Happy Singh (Akshay), who lives in a village in Punjab and wants to help people. But he becomes a pain in their neck. They get fed up with him, fool him and send him to Australia on a mission. How he goes there and becomes the king forms the rest of the story.
Why have repeated your Welcome lead cast, Akshay and Katrina?
I feel comfortable with them. I narrated the script to Akshay over the phone and he agreed instantly. When I was looking for the actress, I wondered why experiment with someone I have not worked with when I can sign someone whom I'm comfortable with.
Why did you shortlist Neha Dhupia?
I think Neha is one of those actresses, who has the ability to perform but she didn't get the right opportunities. She is heroine material. She may have made some wrong choices but there is nothing wrong with her acting skills. She has the same talent that any other actress in the industry has. I knew she would fit the bold and beautiful character, Julie. She is a part of a gang of goons, headed by Sonu Sood. It is always pleasing to the eye to have a girl among men in a gang.
How did you conceive the film's concept?
I have many Punjabi and Sardar friends. I like the community. I wanted to glorify the Sikhs and that's why I did the film. We shot Pyaar Tho Hona Hi Tha in Punjab for 20 days. I fell in love with the place and the people then.
When I was an assistant director during Waaris, all the crew members were Sardars. They live life king size, are bindaas. They are wonderful human being and very generous. Even when people joke about them, they take it in their stride. It takes a lot to make fun of yourself.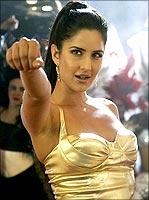 There has been some controversy about the film, since Akshay wears a turban.
I am a Muslim. I do not know the nitty-gritties of the Sikh community so it is obvious that I will make mistakes. The way the turban is worn, the way you cut your beard and other such trivia are things that I do not know.
At the same time, I am making this film to glorify a particular community and I do not want to upset them by making mistakes. So it is my duty to rectify the mistakes by taking suggestions from the authorities of the community. Once they are satisfied, we do not have any more problems. Earlier, they had a problem with the way Akshay cut his beard. But we promised them that at the end of the film, you will see him with a long beard like any other Sardar. We consulted them and got their approval.
What are your favourite scenes in Singh is Kinng?
All the action scenes were difficult. There is a scene where Sonu Sood jumps off a 50-floor building. There's another scene where Akshay jumps from one elevator to another. There is also a scene where Akshay jumps into plane with jet-skies. We got stunt directors from Australia.
The scene when the villagers fool Akshay is very touching.
Why did you add the Snoop Dogg music video?
I wanted to end the film on a happy note. Vipul suggested that we bring an international group to do a song. I asked my daughter for her reaction and she went bonkers. So everyone like the concept and we decided to sign them.
What do you have to say about the chemistry between Akshay and Katrina -- onscreen as well as off-screen?
They have a wonderful onscreen chemistry. As stars, they have done wonderful work and people like them together. Off-screen, I know them as good friends. When Katrina worked in Humko Deewane Kar Gaye with Akshay, the film was a hit. So she thinks that Akshay has a hand in her success. Since then, whatever film she has worked with him has become a hit. They have mutual understanding and respect. And Akshay thinks Katrina is very lively.
Is it true that Akshay charges a huge amount for a film? Is he worth the amount invested in him?
Yes, it is true that he charges a ransom. If he was not worth the amount, people would not be fools to invest so much in him. He is worth the amount he charges, as all the films he has done have been huge hits.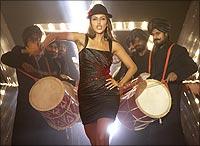 Do you have the pressure of delivering a hit again, after giving No Entry and Welcome?
I am an easy going guy. I do not have any tension about this film. I believe that I will get corrupt if I succumb to pressure. I will start thinking what made my earlier film a hit and try to put in the same elements in this film too. This will stop me form growing as a director-writer. If I fear, I will stop experimenting.
What genres of film do you like to direct or write?
I do not want to stereotype myself with any particular genre. I have done a love story (Pyaar Tho Hona Hi Tha), a thriller (Deewangee) and comedies (No Entry and Welcome). Now, I get bored to do another comedy. So my next will be a love story -- It's My Life with Harman Baweja and Genelia D'Souza. The title is tentative.
You have been more of a writer than a director. How did that transition take place?
I always wanted to be a director; I never wanted to be a writer. I started writing to begin my career, so that people recognise me. I assisted Raj Kapoor and many others to gain experience. Then, I got so involved in writing that people asked me to continue with writing. So direction took a backseat. Then I decided to direct and there was no looking back.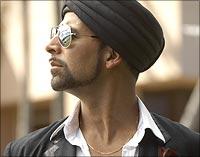 You have signed Harman even though his first film, Love Story 2050, is not out. On what basis did you sign him?
I know Harman from his childhood. His father, [director] Harry Baweja and I are friends. I could see that Harman had an interest and flair for films. He once showed me a portfolio of pictures he had taken and I knew he was actor material. I told Harry that I would direct his first film. But Love Story 2050 came up and my film with him was postponed.
How about Genelia?
When I saw her in Masti, I didn't like her and decided not to do movies with her. But I saw her work in Southern cinema. That's when I realised that she had the potential but not the right platform. So I cast her in It's My Life.
Do you have a fetish for English titles?
No. I came up with the title, No Entry, but everyone was against it. And because everybody disliked the name, I stuck by it. The film was a hit and I loved the way people welcomed me and my film. So I decided to name the next film, Welcome.
As far as Singh is Kinng is concerned, Akshay has seen this name behind a Sardar's truck. He suggested it, and I liked it.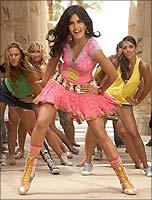 What's with the spelling? Are you superstitious?
I'm not. Vipul Shah [producer] and Akshay are. They added the extra 'N' for numerological reasons.
Since you have been a writer, who do you think are good writers now?
I can only think of two names -- Gulzar [Images]saab and Salim-Javed. No one else can compete with them.
What about directors?
K Asif, Raj Kapoor, Mehboob, Bimal Roy, Ashutosh Gowarikar and Raj Kumar Hirani...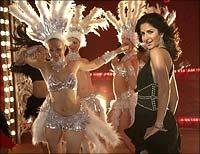 Your film, Benaam, starring Ajay Devgan [Images], has not released yet.
There are some problems with the producers. The film's shooting is over and we will release it in four or five months.
Is Ajay okay with it?
Ajay is a professional. He has been a producer too. He knows about the difficulties in producing a film.
What next?
Apart from It's My Life, I have signed one film with Studio 18, and another with T-Series. The titles are not decided yet.