Home > India > Movies > Interviews

The Rediff Interview / Anil Devgan

'It would look stupid if we showed Ajay Devgan in college'

June 18, 2008


| | |
| --- | --- |
| Anil Devgan | |
| | |
| | |
| | |
| | |
| | |
| | |
Unlike Ajay Devgan [Images], who grew up in a filmi background, his cousin Anil Devgan came to Mumbai after finishing his graduation in Delhi. And unlike Ajay, Anil always wanted to become a director.
Anil started his career by assisting director Kuku Kohli in 1990, three months before Ajay started his career. Anil has also directed Ajay -- who is six months older than him -- in Raju Chacha.
This Friday, Anil returns to the marquee with Haal-E-Dil, starring newcomers Nakuul Mehta, Amita Pathak and Adhyayan Suman.
The filmmaker spoke to Patcy N about his forthcoming film, his career mistakes and much more.
What is Haal-E-Dil about?
It is a love story. I would not like to divulge the story.
How true is it that the story is similar to Dilwale Dulhaniya le Jayenge?
All love stories are similar. Just because I have shot one song in yellow fields doesn't mean that my film is a copy. Haal-E-Dil has nothing in common with DDLJ.
DDLJ is a classic and if anyone compares my film to that, I am honoured.
How did you choose your actors?
We had decided that we needed new faces for this film. So we thought of taking Amita Pathak, who is [producer] Kumar Mangat's daughter. We held auditions, and saw about 2,000 boys from all over India, Pakistan and Bangladesh. But we could find only Nakuul. All these boys looked good -- they gave importance to their physique and dance -- but none of them could act.
Getting someone for Adhyayan's role was difficult because we wanted an actor with the right attitude. When we signed him, we didn't know he was Shekar Suman's son.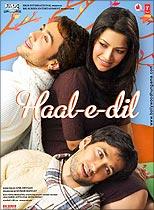 Did you conduct any workshop for the newcomers?
Before the film started, my actors went to theatre director Om Katare for help on their performances. He would give them roles from his plays, and that's how they learnt. Plus, I gave them specific instructions not to be mechanical.
The music of Haal-E-Dil is very good.
The music of all my films is good. I take special interest in my film's songs. That's why we have four music directors on board -- Vishal Bhardwaj has composed Jaan Ve, Anand Raj Anand has scored music for Oye Hoye and Jeeta Hoon, Raghav Sachar has done Rang and Khwaish and Pritam has done the Punjabi disco number, Aag Lage Aaj Kal De Fashion Nu.
How much time did Haal-E-Dil take?
The scripting took a year and a half and the casting took six months. The shooting did not take much time, as everything was organised and according to schedule.
Haal-E-Dil is your third film after Raju Chacha (2000) and Blackmail (2005). Why is there such long gaps between your films?
I like to make one film at a time. I cannot concentrate on two things at a time.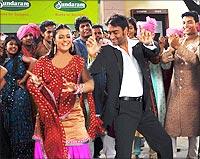 Your last two films did not do well at the box office.
Raju Chacha was made on a big scale. It did well but it could not recover the costs. People liked the film a lot. Had it released now, it would have been a hit.
Blackmail was in the making for three and a half years, and it lost track. It's better if I don't talk about it. But everybody is entitled to make that one mistake.
Your first two films starred Ajay Devgan. But Haal-E-Dil doesn't.
Ajay was not suited for the role. It would look stupid if we showed him in college. [Ajay Devgan and Kajol [Images] will, however, appear in a song in the film].
How was Ajay Devgan attached with the project?
He was helping since the beginning, along with Rajkumar Santoshi, Kumar Mangat and Vishal Bhardwaj. They helped us decide the star cast.