Home > India > Movies > Interviews

The Rediff Interview / K Sathyanarayana

'I was 100 percent sure I would win an award'

Radhika Rajamani | June 16, 2008



Less than two years ago, K Sathyanarayana [Satish] made his debut film Hope, a Telugu film, based on a student's suicide, which was brought to attention by his daughter, who was studying in the same college. He got veteran producer-actor D Rama Naidu to play a lead role in it.

Hope fetched Satish his first National Award for the Best Film on Social Issues. Satish, who is looking forward to a film career, spoke about his feeling on receiving the prestigious award. Excerpts:

What was your reaction on hearing that Hope received the National Award?

Wow! I am elated. It is the dream of every filmmaker to get an award, and to get a National Award is a great feeling.

The award is very special to me because only two Telugu movies have won National Awards [The Nargis [Images] Dutt Award for Integration] till now. They are K Vishwanath's Saptapadi (1982) and K Balachander's Rudraveena (1989).

It is a huge honour to receive the award from the President of India. I do feel responsible. Whenever I get a chance, I will do a meaningful film.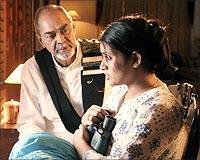 When you made the film, were you confident that it would win awards?
Yes, I was 100 percent sure that I would win an award. The subject was such and I thought I had done a decent enough job of translating it on celluloid.
You had said that you got the idea of making Hope when your daughter mentioned a girl committing suicide in her college when she was shifted from Section A to B.
It is really a catch 22 situation for any new filmmaker to choose between a meaningful film like Hope or the so-called Telugu 'commercial' film. Believe me, it is not easy to make a meaningful movie. You don't get producers and the budgets are very low.
At first, the subject looked very sensational. But when I researched for almost one and half years, I started feeling for the children. I promised to do the film come what may. I didn't get a penny for making the film but the satisfaction it gave me can't be described in words. And now, this award is an icing on the cake.
Such films, unfortunately, do not get proper releases. Even Hope did not make it to many theatres.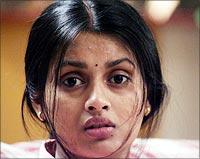 Cinema is a reflection of society. I believe in it. If you look around, there is escapism all around us -- nothing is real. Everyone is trying to escape from something or the other, be it poverty, unemployment, increasing traffic, global warming... They don't want to face reality. Cinema reflects this. Today, movies starring big heroes collect crores of rupees for the same reason. This is not the same with Mumbai, Kerala [Images], Chennai, and Kolkata. These kinds of movies are encouraged by the people and the governments there.
The idea of making such a film is to reach out to people. Were you disheartened when Hope didn't?
Yes, I was. I wish the producer makes an effort to release it again. I am sure that with the right publicity, it will run.
Most people do not want to see realistic life on screen. They prefer to be entertained. So is realistic cinema meant only for the awards and festival circuit?
To me, cinema is about suspension of belief. When the story unfolds on screen and the viewer's belief is with you, you can do anything with him or her. You can tell whatever story you want to tell, whether real or imagined.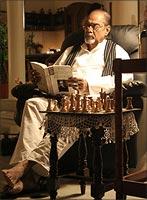 Now that you have won an award, do you want to make more meaningful films or films in all genres?
Yes, I want to make films in all genres.
What is your next project?
A musical. I am a disciple of K Vishwanath so I am hugely influenced by his films. I will dedicate this film to him, and Ilayaraja.
After that, I may do a meaningful film with a message. I am a dreamer and would also like to make a big budget movie with a big star. I want all my dreams to come true.