Home > India > Movies > Interviews

The Rediff Interview

'Kamal Haasan is one of the greatest actors we have'

Vijay | June 06, 2008



Jayasurya can still recall the thrilling feeling the day he got a chance to act with his idol, Kamal Haasan [Images] in Vasoolraja MBBS. The young hero of Malayalam cinema had just started his career in films when he got the offer. He grabbed the chance, and in the process got the great opportunity to face the camera along with the legendary actor, who is ready with his latest Tamil film, Dasavathaaram [Images].

Also Read: Showcasing Dasavathaaram

Jayasurya says he was stunned by the way Kamal Haasan greeted him during the initial meeting itself. "He was very friendly to me during the shooting and the warmth was intact even when we talked over the phone quite recently," gushes the youngster.

He reminisces those moments in this exclusive chat. Excerpts:

How did Vasoolraja MBBS happen?

It all started with a phone call from the associate director of the film. I had not seen the original, Munnabhai [Images] MBBS then, but a chance to share the screen with Kamal Haasan was even beyond my wildest dreams, and that too so early in my career. It all seemed too good to be true. The meeting happened soon and as the rest, as they say, is history. It was a wonderful experience.

On meeting Kamal Haasan:

He is, without a doubt one of the greatest actors we have in Indian cinema as well as the world. I had seen him at a function once before the shooting of Vasoolraja MBBS. He was very cordial. I have seen his transformation when the camera starts rolling and it was amazing.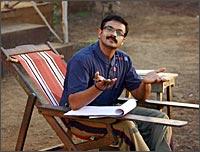 Lessons from his acting style:
He has born to be an actor, no doubt about that. He takes only seconds to become the character. He improvises the mannerisms and dialogues as the shots are being canned. In fact, I did ask him about this and was surprised when he said that it was one trait he learnt from Malayalam cinema. He told me that yesteryear actors like Adoor Bhasi would break away from the written scripts.
What makes Kamal Haasan unique:
His dedication to whatever he does is simply brilliant. He puts in a lot of efforts into the craft. He is really involved and not the kind who mugs up the dialogues, enact before the camera and goes off the sets the moment his part is over. Movies are important to him like the air we breathe. His passion for the medium is truly commendable, and perhaps that gives him the strength to try out new experiments. He has set a different standard for himself and is a league apart from almost every other actor in the business.
Are you looking forward to Dasavathaaram?
I have grown up watching his movies and I am sure he will be brilliant in Dasavathaaram as well. I am looking forward to another gem from Kamal Haasan.