Home > India > Movies > Interviews


Discuss |
Email |
Print | Get latest news on your desktop

The Rediff Interview

Mamta Mohandas directs Rajni in Kuselan

Radhika Rajamani | July 31, 2008


| | |
| --- | --- |
| Mamta Mohandas | |
| | |
| | |
| | |
| | |
| | |
| | |
Mamta Mohandas does a cameo, rather a friendly appearance as it is called, in Kuselan [Images] and Kathanayakudu. Here, she dons the associate director's mantle and gets to direct the superstar, Rajnikanth [Images] in a song. Mamta is also present in a few scenes.
Mamta relives the moments from the time she got the call to do the role to the shoot, her experience with Rajnikanth and watching Kadha Parayumbol.
The preliminaries
The call came when I was shooting a Malayalam movie in Dubai. We were shooting under a tight schedule and they couldn't do a single day without me. That is when I got this call for making an appearance in Kuselan. My part seemed interesting because they told me that it was Rajni Sir's idea that we come up with a character like that. I did not have any second thoughts other than asking my directors whether they would let me go or not. They obliged and I was off for five days.
I was happy I would be associating with P Vasu once again after Krishna Arjuna, my Telugu film with him. Besides, I was sharing the screen with Rajni Sir -- something I shouldn't say no to.
Different role
I play the character of an associate director. The role I play was not there in the Malayalam original, Kadha Parayumbol. It was added to the Tamil and Telugu versions. It's a special role and I enjoyed doing it. I think he just wanted to focus on the fact that a lot of Hindi movies have a lot of women directors.
Rajni Sir and me
I had a good time shooting with Rajni Sir. He seemed to be a humble person. It was very easy to pick up a conversation with him. He is just like any other person. I had a couple of shots with him when I had the opportunity to direct him as well. I enjoyed my part.
I had my bit of interaction with Rajni Sir before I went in for my first shot. I was to say, "Well done Mr Ashok" and shake hands with him. He is such a simple person that he does not make his co-actors feel nervous. I did not feel nervous.
When I was directing, I got the opportunity to shout at people like how many associate directors do. I enjoyed it. It was the first time in my career I had to do my close-up shots in two languages. I had one or two close-up shots where I had to say twice in Tamil, and once in Telugu. When I asked Vasu Sir about the long shots he said that they would be taken care of during the dubbing.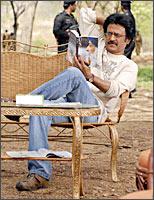 The sets of Kuselan were so loud. Everybody was trying to get the attention of Rajni Sir. We ended up laughing at some small gestures made by people when they saw Rajni Sir. It was interesting.
Big film, large audience
It's such a magnanimous film and I am very happy that a lot of people are going to see me. It's not the regular set of audiences who are going to watch this film; this would also be watched by an international audience. So being viewed by such an audience is definitely a great privilege and I am very happy.
I will be in Hyderabad shooting for Chintakayala Ravi when the movie releases. I hope my director lets me leave early so that I can catch the show in the theatre.
Kadha Parayumbol
I did watch Kadha Parayumbol. What I liked about the film is its simplicity and nativity. The audience can relate to every character in the film. That is the biggest plus point of Sreenivasan's stories. Even the dialogues don't seem like dialogues -- they seem like a person speaking right from the heart -- it sounds real. Sreenivasan takes care of the entire film when he is playing the lead in the film and I loved that part.
Another important thing is the emphasis on friendship. I think the essence of the film is the friendship.
I don't know how far the script has been changed or altered in the Tamil and Telugu versions. Let's all hope that Kuselan and Kathanayakudu doesn't take away from the essence of the subject.
Email |
Print | Get latest news on your desktop