Home > India > Movies > Interviews


Discuss |
Email |
Print | Get latest news on your desktop

The Rediff Interview / Labh Janjua

'I wasn't aware of the politics in IIFA'

July 29, 2008


| | |
| --- | --- |
| Katrina Kaif in a still from Singh is Kinng. | |
| | |
| | |
| | |
| | |
| | |
| | |
The name Labh Janjua may not ring a bell but he is the voice behind a host of foot-tapping Punjabi numbers like Mundiya tu bachke (Boom), Pyaar karke (Pyaar Ke Side Effects) and Soni de nakhre (Partner).
And Labh is determined to make it big one day. "Ab tak mein parde ke peeche tha, ab parda phaad ke aaonga! [I was behind the curtain until now. But now, I will tear the curtain and come out]" he exclaims.
Swati R Chaudhary gets him to tell us about his songs.
Labh Janjua is an unusual name.
My grandfather, Bakhtaur Singh, gave me this name. He says he was hugely benefited when I was born. Hence, the name Labh, meaning profit. I am a jat from Punjab.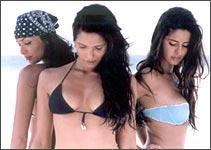 Take us through your professional background.
I started singing at a very young age. I would participate in my school and college singing competitions. I learnt a lot under the tutelage of my grandfather. Later, I started singing on a professional level and released about 15-20 cassettes in Punjab. I also worked as a playback singer in many Punjabi films.
I began my Bollywood journey with Mundiya tu bachke (Boom). Boom is my claim to fame. It worked globally and gave me recognition as an artiste. Jackie Shroff [Images] heard it and wanted it to be a part of Boom.  He was completely floored.
Kesariyo Rang (American Desi) also worked for me. But Mundiya tu bachke gave me a break in Bollywood. I struggled a lot when I came to Mumbai. I introduced myself to a lot of directors and producers. The response was overwhelming and disheartening as well. Some said, 'Arre yeh gana aap ne gaya hai? Kamaal hai. Aa jao baat kare.' Or else they said, 'Yeh aapne gaya hai, khair abhi to mein busy hu, I will call you later.' But the call never came.
Then came Chori Chori (Garam Masala [Images]), You and I (Naksha), Pyaar Karke (Pyaar Ke Side Effects), Dhol Bajake (Dhol), Soni de Nakhre (Partner), Rabba Khair Kare (Hattrick), Agg Lage Aaj Kal De Fashion Nu (Haal-e-Dil) and the latest, Jee Karda (Singh is Kinng [Images]).
Soni de Nakhre from Partner was a big hit.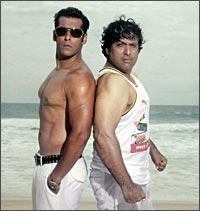 All my songs have been appreciated by audiences. Yeh gana bachche bachche ki zubaan par hai [Even children know this song]. But I was hugely disappointed when I didn't receive the IIFA award for it. I was called because I was nominated but I wasn't aware of the politics and 'settings' rampant here.
Everything is rigged in advance. Yahi se sab setting kar ke jaate hai. Ussi ko award milta hai jiske saath setting hai [Only those people get award, who have an agreement with the organisers]. I was aghast when the award was given to the superflop film Saawariya [Images] for Jab se tere naina, which half the world hasn't even heard of. A lot of senior artistes have boycotted the IIFA, and I am with them. I don't wish to be a part of such politics. I am very disillusioned with IIFA. Isn't a deserving person worthy of an award? It was unfair.
How tough is survival in this industry?
It is very difficult to survive and make a name for yourself in an industry governed by politics. I have struggled my way through and I have a long way to go. But my hard work and talent will pay off one day. With God's blessings, the struggle will become easier. The industry is flooded with talented singers and composers but they are not getting enough work. This is the way it is.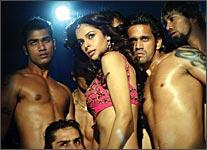 Take us through Jee Karda, from Singh Is Kinng.
I must thank Pritam for this amazing composition. He is a great friend. He is Bengali but he as an amazing command over Punjabi numbers. His sense of music is commendable. He made my work easier. I like Shimit Tandon and Sajid-Wajid also.
Jee Karda is a racy, foot-tapping Punjabi number. I wanted to meet Akshay Kumar [Images] but I did not get a chance. But Akshay is a wonderful human being.
Tell us about your upcoming songs.
I am releasing my private album Thoda Thoda Pyar very soon. It has eight songs. Then there is Shah Rukh Khan's [Images] Rab Ne Bana De Jodi, Toss, Kaash... Mere Hote and many more.
Email |
Print | Get latest news on your desktop