Home > India > Movies > Interviews


Discuss |
Email |
Print | Get latest news on your desktop

The Rediff Interview / Iqbal Khan

Sarkar inspires television show?

July 28, 2008


| | |
| --- | --- |
| Iqbal Khan | |
| | |
| | |
| | |
| | |
| | |
| | |
Waaris, a family drama set against the background of the underworld, tells the story of the true waaris for the position created by a senior don. The makers doesn't deny that the television show is inspired from the film Sarkar.
It is the story of Rudra Pratap Singh (played by Ashish Vidyarthi), an aging mafia don. He is married to Yashodhara (Indira Krishnan) and has two sons, Shankar (Iqbal Khan) and Shaurya (Yuvraj Malhotra). Gayatri (Shilpa Shinde) is Shankar's wife and Shaurya's girlfriend is played by Rucha Gujrathi.
Rajul Hegde caught up with Iqbal Khan for more on the serial. Excerpts:
The promos look similar to Sarkar.
I disagree. Waaris is the story of a family that does not deal with drugs or contract killings. We fight for the right cause.
Tell us about your character.
Shankar is the eldest son. He is obedient and loyal to his father. But he is also headstrong with an uncontrollable temper. He will react 500 times more strongly than I would. He would probably kill a person in a fit of anger.
Did you do any research to play Shankar?
I am a competent actor and the character too is not that complex. I know that I am not a very good actor but I know my job. We do not get sufficient time to do any research since it's a daily soap.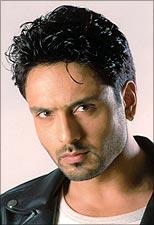 How was it working with producer Smriti Irani [Images] and Ashish Vidyarthi?
It is a very nice experience working with the production house, Ugraya. Smriti is a person, who gets creatively involved in her projects.
As for Ashish, he is a fantastic actor and before each scene, we discuss it and give our best shot.
Why did you leave Choona Hai Aasmaan?
The show was not promoted right. It changed track and did not stick to the Air Force background. I had told everyone when I joined the show that I would quit if the track lost focus.
What do you think of reality shows?
They are good to watch. I keep getting offers but I am not comfortable doing them. Someday, I would love to host a show.
Catch Waaris every Monday to Thursday at 11pm on Zee TV.
Email |
Print | Get latest news on your desktop