Home > India > Movies > Interviews


Discuss |
Email |
Print | Get latest news on your desktop

The Rediff Interview

'I was afraid to act with Mohanlal'

Meghna George | July 18, 2008



Ajmal Amir does the balancing act to perfection. He is a doctor by profession and one of the most promising young actors in Malayalam and Tamil films. After making his debut in Pranayakalam, Ajmal has found success in Tamil with Anjathe. His latest release in Malayalam is Madambi, with Mohanlal.

In an exclusive interview, Ajmal Amir talks about his career, films and his dreams. Excerpts:

Did the success of Anjathe give you more confidence as an actor?

Of course. Pranayakalam, my debut movie has given me a good platform. I had a great director, producer and technicians to back me up in Pranayakalam.

Anjathe too has been a learning experience and of course helped me to reach out to a newer set of audience. I have received so many good offers thanks to these films. Among those new projects, Madambi, is special as it gave me a chance to share the screen with such a legend as Mohanlal.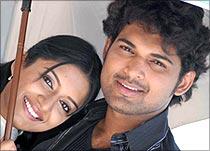 You had the chance to work in Malayalam and Tamil. How do you compare the experience?
I was quite comfortable in both the languages. The appreciation from my own folks in Kerala [Images] is very important to me. But Tamil films offers a wide canvas and take us to a huge number of viewers.
Pranayakalam gave me the confidence to remain in the industry. I had great regard for director Mysskin after his maiden film Chithiram Pesuthadi. While acting in Anjathe, my primary concern was to live up to the standards of more experienced actors like Narain and Prasanna. I had a powerful role and was confident of making an impact.
How was acting with Mohanlal in Madambi?
He was really sweet and friendly. Honestly I was indeed afraid to act with him but he made me feel comfortable. My character in Madambi is that of a dreamy boy who becomes more responsible after certain incidents happen in his life. Many twists in the film happen through my character.
From a qualified doctor to films...
Films were part of my dreams right from my childhood days. But quite naturally, my parents were not convinced about my passion to become an actor. I have done my degree in medicine from Russia [Images] and got into modelling in between.
When I was offered Pranayakalam, my parents did not think that I was serious about acting. But now they have started taking my acting career more seriously. I have plans to open a hospital but that will take some time to happen. For now I am enjoying my stint as an actor and want to be known as a good one at that.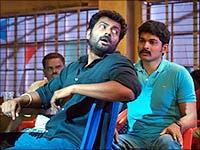 What do you think about the current situation in Malayalam where youngsters find it difficult to survive?
The producers are playing it safe now. What we need is a really good story or a different concept with young actors in the lead. These days only Mammootty and Mohanlal can ensure packed houses. It is tough for fresh faces to find success. Most of those who have made it big here had some strong backing from powerful people in the industry. Fortunately for me, I never had to struggle like that.
Did your tag as a doctor help in the film career?
(Smiles) Not really. Most of those who worked with me are unaware about that I am a doctor.
Which are your forthcoming projects?
The next two films are in Tamil. The first one is called TN-07 AL4777 which is based on the Hindi film Taxi No.9211. I am taking on John Abraham's [Images] role while Pasupathi is doing Nana Patekar's [Images]. My next is being produced by Pyramid Saimira. There are also some offers in Malayalam.
Email |
Print | Get latest news on your desktop