Home > India > Movies > Interviews


Discuss |
Email |
Print | Get latest news on your desktop

The Rediff Interview

Going where no actress has gone before!

July 17, 2008



Jayamala made headlines when she confessed that she had touched the Lord Ayyappa idol of Shabarimala. The actress who has acted in a number of Kannada films again made headlines when she became the first woman to be elected President of the Karnataka Film Chamber of Commerce.

Adding to the many feathers on her cap, Jayamala was awarded a doctorate for her thesis on the impact of rural employment programs on woman in villages.

R G Vijayasarathy caught up with the actress for more on her victory. Excerpts:

Did you expect to win by such a big margin?

The margin has not surprised me because many media friends were predicting such a victory. I am not new to the Film Chamber. I have already worked as a treasurer and was involved in it's different activities. I also won the post of treasurer and was a member of the executive committee. I have also represented the Karnataka Film chamber of Commerce many times at various film festivals and other related meetings.

You have created history by becoming the president of a premier film trade body. But do you really expect co-operation from the male-dominated executive? There has been practically no representation from any lady other than you in the film chamber...

I don't see any reason why I should not get co-operation from the 2000-odd members of the film chamber and achieve the goals that I have promised. For one thing, I am not new to the film chamber. I know each and every member of the executive committee personally. As an actress too, I enjoy a good relationship with many actors in the industry. I am sure to seek their co-operation.

We have wonderful talents in the industry and the film trade can really boom with these veterans and youngsters. Now we just have to make and market our films in a professional manner. Our international market is very low compared to industries like those of Tamil, Telugu and Malayalam.

Therefore an association between film artists and technicians has to co-exist within the trade body. And the membership of film-based associations and the trade bodies are not different from our society. They are also male-dominated.

The fall in the quality of Kannada films must be a matter of concern. What steps would you take to tackle the same?

The film chamber cannot do anything other than talk to the government to get encouragement for good quality Kannada films. Even the media has a role to play in improving the quality standards of Kannada films.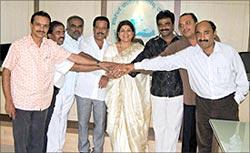 The Karnataka Film Chamber is plagued by the continuous dissidence of three segments namely production, distribution and exhibition. Is it possible to take all the three segments together?
I am confident that I will be able to tackle the problems of all the three segments with equal passion. I may have been elected from the production sector, but I know the problems the industry face after having interacted with exhibitors and distributors during my tenure as treasurer.
I want to ensure that there is unity in the film chamber. The present Chief Minister Yediyurappa sir said that he would try to solve all the problems of the industry if it is presented by the entire film industry.
You have won the National Award for best actress and as well as numerous state awards for films produced by you. Don't you think your tenure as a President of KFCC would affect your production plans?
I am still involved in making a perfect script for my next historical film Rani Abbakka, which is based on the heroic deeds of a dynamic queen who ruled the coastal belt of Karnataka and fought the Portuguese invaders. I am constantly involved in discussions with many top directors and artists. I really want to make some good films.
There is a magic in cinema. Whether you are an artist or a producer, you are constantly veering towards this powerful medium. I may face some limitations in the next two years to accept films as an actress, but I don't see any reason why I should not produce films and win awards.
Email |
Print | Get latest news on your desktop