Home > Movies > Interviews

The Rediff Interview / Arshad Warsi

'I am being penalised for doing good work'

January 16, 2008



Arshad Warsi has now reached a stage in his career where he can easily be tagged as a versatile actor. After scoring a Goal with John Abraham [Images], the actor is going back to what he does best -- comedy -- in his forthcoming release Sunday.

Out on January 25, Sunday sees him in the garb of a tourist-cum-taxi driver. The film also stars Ajay Devgan [Images], Irrfan Khan [Images] and Ayesha Takia [Images]. Arshad talks to Girish Rao about the film and why he is being penalised for doing good work.

Between Irrfan Khan and you, who do you think has better comic timing?

In order to have a good comic timing, an individual cannot do anything on his own. If you were to make me stand alone in the frame, what timing will I be able to show? So, the answer would be without me, Irrfan wouldn't have a perfect timing and vice versa.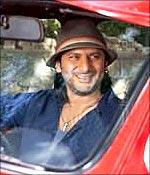 Sunday looks kind of similar to Golmaal. Your comments...
No, Sunday is a different film altogether. It is a thriller, with elements of comedy and romance.
Sunday was initially made in Telugu. Did you watch that film?
I came to know about this just a week ago.
In the promo, Irrfan is shown as Ravana...
Actually, we were looking for more actors in the film but unfortunately, we could not get them. So we just added nine more heads to Irrfan's head.
But the best person to ask this question would be Irrfan himself. He plays a struggling actor, who goes to different places for auditions and wherever he goes, he is there in full gear.
Some of your scenes were shot in extreme temperatures (45 degrees) in Delhi. How did you manage?
If our heroines can dance draped in a sari amidst snow, why can't I act in 45 degrees temperature with just a shirt on? I guess one has to do what one has to do. But to be honest, I had never encountered so much heat in my life and would never like to be in such a situation again.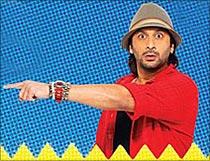 Tell us a bit about your role.
I play a simple cabbie from Delhi. He is more of a tourist guide-cum-taxi driver.
Most cabbies hail from Punjab and Haryana, and have a typical accent. Will we get to see something similar in Sunday too?
Yes, I have made an effort. There is bit of both.
Judging from the star cast, I guess the shooting experience must have been a picnic for you.
It was like that only because you have secure actors. Ajay and Irrfan are very good at what they do. So yes, the atmosphere on the sets was fantastic. Plus, you also have a very confident director (Rohit Shetty), so that helps too.
Why so much stress on comedy these days?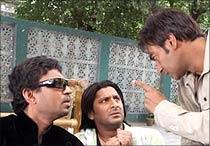 I am not stressing on comedy. Blame it on circumstances, but I am actually being penalised for doing good work. I did good comedy so everyone is making me do comedy in their films.
But apart from this, the reality is that out of 10 films being made, seven or eight have a comic flavour. The stars these days, be it Shah Rukh Khan [Images] or Salman Khan [Images] or Akshay Kumar [Images], are all doing comic roles. If such films are being made, we have no choice but to do them.
Sehar was one film, which will always find mention in your list of good work.
Yes, I think so too. It is fun to be able to perform different roles. Otherwise, it gets boring.