Jolie takes fitness regime too far!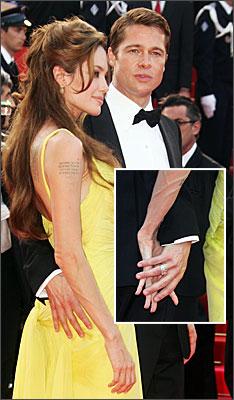 While she no doubt has one of the most alluring figures in Hollywood, it seems actress Angelina Jolie [Images] is off late exercising a bit too rigorously to keep her body svelte.
Experts believe the puffy-lipped star is working out -- sans proper Diet -- to keep her figure in shape, because her punishing exercise regime has left her with bulging veins in her arms, hands and even fingers.
Steve Mongey, head trainer at the Virgin Active gym in Kensington, West London [Images], said: "These veins can be caused by weight-bearing exercises. The body needs to pump oxygen into the veins for these exercises and this causes the veins to expand".
"If you don't keep your eating up and do a lot of exercise the fat gets stripped away and the veins become exposed," The Daily Mail quoted him, as adding.
Mother-of-three Jolie is a self-confessed fitness fanatic. Reports suggest she went through an intensive training regime for her role as Lara Croft in the Tomb Raider movies to ensure she could perform her own stunts.
However, the 31-year-old is not the only woman in the limelight to attract attention for visible veins. Last summer, Madonna [Images], 47, whose exercise regime has made her look remarkably young, was seen to have hands that more than gave her age away.
In the picture: Angelina Jolie and Brad Pitt [Images] hold hands upon arriving at the Festival Palace in Cannes [Images] last year.
Text: ANI | Photograph: Pascal Le Segretain and Valery Hache(inset) /Getty Images