First Look: Kajol pulls off a movie stunt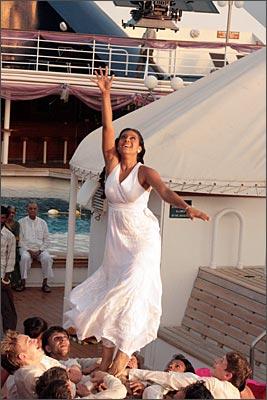 Kajol has proved that movie stunts are not restricted to men alone.
In her husband Ajay Devgan's [Images] directorial debut, U, Me Aur Hum, the actress has performed a stunt all by herself.
"We shot the song Jee le on a cruise liner," says a source from the film's unit. "Ashley Lobo has done the choreography. While performing the number in the evening, Kajol [Images] had to leap down from the upper deck. During the leap, she sprained her ankle and fell, thanks to her five-inch heels. But despite that, she took some painkillers and shot the very next day for the same shot."
Ajay Devgan tells us more. "I wanted a salsa for the song," he says. "It was an expensive shoot -- we had more than 100 dancers and a crowd of about 600 people on the cruise. Vishal Bhardwaj composed the salsa number according to the script requirements. It was very brave of Kajol to finish the shoot despite her leg injury."
U, Me Aur Hum will release in April.