Home > India > Movies > Interviews


Discuss |
Email |
Print | Get latest news on your desktop

The Rediff Interview / Sai-Shakti

From Saara Aakash to Ghar-Aunda

December 30, 2008


| | |
| --- | --- |
| Sai Deodhar | |
| | |
| | |
| | |
| | |
| | |
| | |
Real life couple Sai Deodhar and Shakti Anand, who became popular for their television soap Saara Aakash, will make their big screen debut with Ghar Aunda.
The film seems to be a family affair as Sai's mother Shrabani takes over as writer-director and Sai's father Debu takes over as cinematographer. The music has been scored by Monty Sharma. The shooting and post production work is over, and it is expected to release early next year.
Sai and Shakti spoke to Rajul Hegde about the film.
You have not been in the limelight for some time. Is it because you were not getting any offers?
Sai: We were doing television extensively when my mother was writing a movie script. When the show got over, I asked her whether she had cast anyone. That's how we come on board for her film. My mother is a director and writer, father is a cameraman and we are actors. It was a dream for all of us to work together in a film. It is not that we didn't get any television offers; we spent a lot of time on pre and post-production. We just took a break from television for a while.
Shakti: It was a welcome break. We used the time to learn something new like the technical aspects, which of course, you don't get to know when you are working on television.
What is Ghar-Aunda?
Sai: Ghar-Aunda is a lighthearted comedy that carries a message that good things happen to good people. It is about how a family fights back after going through a crisis. Ghar-Aunda is like the Hrishikesh Mukherjee movies. It is a visual treat with an amazingly new approach.
Tell us about your roles.
Sai: We cannot talk much about the characters. Our characters are real which the audience can relate to. We are not paired together but we have some undercurrents in the film.
Shakti: There is no hero, heroine or any protagonist in the film but you will fall in love with the characters. I have never done comedy on television so people will get to see me in a different role. People are used to seeing me in serious roles.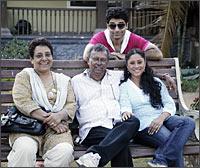 Do you find any difference in the medium?
Sai: I think television and films are different in terms of canvas. Every minute detail is taken into consideration in films which is not so in television. We were taught to do a lot homework for the film.
Shakti: We require more time for a film. More concentration, research and feedback is needed for movies. Small and big canvas doesn't make any difference. Of course, the audience reach is more in television.  When you're doing a TV show, the script comes to you half an hour before the shooting begins. But when we were shooting for the film, we would sit with the unit and plan the next day's shoot.
Tell us your experience while shooting the film.
Sai: Working together was fun. Apart from acting, I had other responsibilities too because it is a home production. All of us were assigned with different work. My parents knew our strengths and weaknesses and every department came forward to help us. We are obliged to them and especially to my mother because she worked on our weaknesses without even us knowing about it.
Shakti: Being the first film -- that too, since the family was involved -- I was very nervous. I was working with a good team of people whom I already knew and wanted to prove myself.
Any particular show or director you wish to work with?
Sai: I would definitely want to do a show like Sara Aakash, with no make-up and uniforms.
Shakti: Beggars are not choosers (smiles). Right now, we are hoping that our film works and we get noticed and get good offers.  I would love to do Nagesh Kukunoor and Madhur Bhandarkar kind of films. I don't want to wear the same costumes and say the same dialogue on television. I don't want to work in a production house where one day I learnt that my character has gone abroad. I want to do something like Alpaviram and Saara Aakash. 
The television scenario is changing with shows like BalikaVadhu, Uttaran and Ramayana [Images].
Sai: Pretty faces cannot hold the show for long any more. Talent is important. We are happy that new shows and concepts are working.
Did you feel bad that the longest running show Kyunki Saas Bhi Kabhi Bahu Thi ended abruptly? You were part of the show when it started.
Shakti: I was part of the show only for some time. I was attached to some of the cast like Smirti Irani, Rohit Roy and Sudha Shivpuri. Whether it ended or ran for another eight years, it would make no difference to me.
Do you think television actors have not got their dues despite being talented?
Sai: There are some examples who have made it big in films. If you are talented, you will definitely get picked. It takes time because there is right time for everything. Destiny and luck counts. 
What next?
Sai: We just want to go with the flow. There is nothing planned as yet. But we would be happy to be associated with good projects.
Shakti: Right now, our priority is our film promotion. If something good comes up, we will do it. The medium doesn't matter. We are open to reality shows also. But I feel films are more creatively satisfying.
Email |
Print | Get latest news on your desktop