Home > India > Movies > Interviews


Discuss |
Email |
Print | Get latest news on your desktop

The Rediff Interview / Salim Merchant

'I didn't expect Aditya Chopra to be so friendly'

December 16, 2008


| | |
| --- | --- |
| Salim-Sulaiman | |
| | |
| | |
| | |
| | |
| | |
| | |
People are still talking about Aditya Chopra's [Images] Rab Ne Bana Di Jodi a week after it hit the theatres. The reviews have been positive as well as negative but the Chopras are laughing all the way to the bank.
And music composers Salim-Sulaiman seem to join them, though in a different sense. The brothers, who have given us, Chak De! India and Aajaa Nachle among others, still cannot get over their experience of working with the Chopras. They're especially all praise for director Aditya Chopra.
Salim Merchant tells Patcy N why.
You have been working with Yash Raj Films for a long time but this is the first time you have composed music for Aditya Chopra's directorial venture.
I expected it to be a satisfying experience but everything was way above my expectations. I was quite taken aback by the extent of his involvement in the film, and its the music.
I had thought that Adi -- being such a successful director -- would do whatever he thinks best. But he is very understanding. I did not expect him to work in such a friendly way. A director may not always be around when you're working on the music. But Adi made it a point to be around for everything -- whether it was during the making of a song or background score. When you work hand-in-hand with a director, the experience is very satisfying.
He has certain fixed ideas of how he wants certain things. But at the same time, he is open to suggestions. His behaviour brings out the respect he feels for technicians. He himself said that filmmaking was teamwork, a perfect combination of technicians and actors.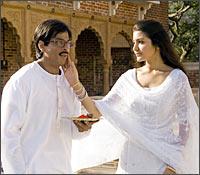 How much free hand did you get in deciding the tunes?
Adi did not interfere at all. But he gave a lot of suggestions. For instance, the line Haule haule ho jayega pyar was written by him. It was a part of the screenplay, so he wanted it to be added to the song as well. Tujh mein rab dikhta hai yaara main kya karoon was also his line.
So that gave us -- including (lyricist) Jaideep Sahni -- a kickstart to compose the song. Adi is very well-planned. He has complete faith in the people working for him.
Is it easy to please him?
 
He gave us the first line of Haule haule, and we started composing right then. He liked it immediately. We did not have to give him any alternate tune. The same goes for Dance pe chance. His briefs are very appropriate.
What was his brief?
Haule haule speaks about Shah Rukh's [Images] character. We're not making music videos, so the song had to be very connected to the film. The songs were already part of the script. Like, in Dance Pe Chance, a Punjabi modern girl teaches a guy how to dance.
What comes first: the song or the lyrics?
We usually compose the song first, then write the lyrics.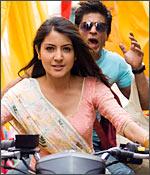 Which was the toughest song and why?
Hum Hain Rahi Pyaar Ke Phir Milenge Chalte Chalte was the toughest song. This song was a tribute to cinema and the romantic heroes of the yesteryears like Raj Kapoor [Images], Dev Anand [Images], Shammi Kapoor, Rajesh Khanna [Images] and Rishi Kapoor [Images]. So it was a tricky song. 
We used five different music styles of different ages. The lyrics alone took five days. In all, the six-minute song took us nine days.
Which is your favourite song?
Tujh Mein Rab Dikhta Hai. That's a unique love song. It has a lot of spirituality because of the lyrics.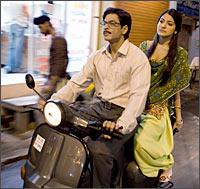 How is Yash Raj different from other production houses?
Yash Raj is a very well-planned company. They decide everything in advance. There is a bound script even before the actors and technicians come on board. We are very organised so we like to work with companies that plan well. They also give you a lot of respect. The way they approach technicians is very different from other companies.
Jatin-Lalit would compose music for Aditya Chopra's films. How did you find their music?
I liked their work. Their Sarfarosh album was the best.
Which film, according to you, had the best music this year?
Jaane Tu [Images]... Ya Jaane Na was the best.
Email |
Print | Get latest news on your desktop