Home > India > Movies > Interviews


Discuss |
Email |
Print | Get latest news on your desktop

The Rediff Interview

'I don't know if there is a formula for signing a film'

December 09, 2008


| | |
| --- | --- |
| Sonia | |
| | |
| | |
| | |
| | |
| | |
| | |
She made quite an impact as Shravs in Sekhar Kammula's Telugu film, Happy Days. Sonia -- Sekhar's find -- took a break from showbiz, and took up a job in the U S. She made a return in Vinayakudu, which went on to become a big success as well.
Telugu-speaking Sonia gets the expressions and body language right in Vinayakudu, and seemed to be at ease playing a modern girl Kalpana an ad agency. Sonia tells Radhika Rajamani her Vinayakudu experience.
Was it the theme of the film, A Big Fat Love Story, that made you sign Vinayakudu?
Yes, and no. I liked the exploration of a fat guy's non-slapstick side. I liked the fact that the love element in his life got the same importance and sensitivity, as you see with any other regular guy.
You play a modern girl working in an ad agency. Could you relate to this character?
Yes, both the corporate setting and her life as a working girl.
How different was this character from your student role in Happy Days?
In Vinayakudu, I have more dialogues and emotions. Besides, Kalpana's character is very mean at times, as compared to Shravs'.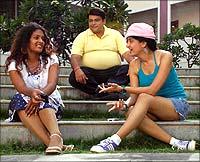 How did you work on your role in Vinayakudu?
I just pestered (director) Sai with questions before each scene so that I was clear about my mood, and the mood of the scene. 
Did you anticipate the success?
I was a little anxious after the premiere about the audience's reception of the slightly slow pace of the movie.
What do you think worked in Vinayakudu's favour?
It's a feel-good, cute love story. The publicity was good. Plus, the fact that it was one of the Happy Days' characters' second movie aroused curiosity among people. It brought people to the theatres initially, and later of course, the fact that they liked the movie made it a success.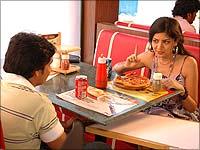 Since director Saikiran was an assistant director on Happy Days, you must have been familiar with him. But were you apprehensive about working with a debutant director?
Funnily, I was not (apprehensive). I really liked the script and I was confident as it was a good story. The experience on the sets was cool. There were not too many hassles.
How was the experience of working with your co-star Krishnudu?
Nice. He is a quiet guy, who is more than willing to help if one needs any information about the industry, its ways, or anything else. Also, he always has this smile on his face that says, I know what's going on but I'll just stay quiet and watch!
On what basis do you sign films?
Honestly, I don't know if there is a formula for signing a film. I signed Vinayakudu based on its script and the confidence I felt when I heard Sai's narration.
Scripts are the most important but I have learnt that the director is also very, very important. Then, comes the production house, I guess.
How easy is it to judge a film from the script or its narration?
Every story is interesting and every storyteller narrates it passionately. That's why the script alone is not enough to judge the final result.
Have you taken up acting full time now?
Yes. As long as I have good offers.
Email |
Print | Get latest news on your desktop