Home > India > Movies > Interviews


Discuss |
Email |
Print | Get latest news on your desktop

The Rediff Interview

Trishna is back!

August 13, 2008


| | |
| --- | --- |
| Mita Vashisht | |
| | |
| | |
| | |
| | |
| | |
| | |
Trishna is back in Ekta Kapoor's [Images] television soap, Kahaani Ghar Ghar Ki after a long gap to create havoc in the lives of the Agarwal family.
Rajul Hegde caught up with Mita Vashisht, the actress, who plays Trishna, for more. Excerpts:
What made you come back on this show?
A year ago, I was sent to jail in Kaahani Ghar Ghar Ki. I knew my character would be brought back after some time but I didn't know it would be after a year. Viewers from Pakistan and Saudi Arabia were telling me that they wanted to see me back in the show.
There was also talk that the makers wanted to replace me. Later, they learnt that it is not only the popularity of the character but also the actor who is playing the role. The character of Trishna is so popular that nobody wanted to replace her. When the channel called me, I thought this was the right time to come back.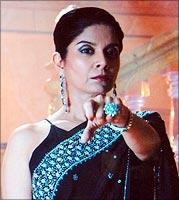 How is it like to be back on the show?
It is like a reunion. I am happy to be back as the over-the-top Trishna. The rains are back in Mumbai and so is Trishna like a toofan [storm]. I am really excited. I missed the whole unit and the fun we used to have on the sets. Balaji Telefilms [Get Quote] is a place you tend to miss after sometime. I like the idea of coming back till my track ends.
You're out of jail. Any changes in your look?
Even though I have spent time in jail, I will still look good. I will be seen wearing the same shade of red lipstick. But I have to say I am very different from my character in real life. I don't wear the kind of clothes she wears, and also don't roll my eyes like she does. (Laughs)
Are we going to see more of characters dying and resurfacing with plastic surgery?
It's all fantasy, something which happens only at Balaji. It's fun and people love it. (Laughs). Hats off to Balaji.
Did you have any bad experiences since you are playing a negative character?
No. People have never attacked me. They know that I am playing a character. I do it well and they love it.
Do you like to portray negative roles?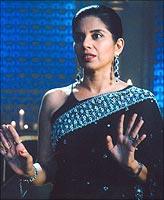 I have always tried to play different characters in films and television. Of all the characters I have played so far on television, nothing can beat Trishna. She is negative in terms of what she does. In playing her, the attitude and the fun I create is comic but not vulgar. There are certain parameters, which I keep in mind when I play a particular character. And thanks to Ekta Kapoor for giving me freedom to do my role.
When you are offered a role what do you look at -- is it the character, production house or duration?
I see whether a corporate/production house is credible or not, whether they can actually pull it off. Today's television is not an easy game. I will make sure that they have their act together. Once feels safe to work with Balaji Telefilms.
What is the difference in television now and then?
Everyone tries to be different. It would be an embarrassment if we all make similar shows. Now if one thing is successful everybody wants to do the same thing. Corportisation doesn't talk about creativity or individuality, they talk about money and numbers. Earlier, producers had a direct a relationship with the channels and so creatively, they were satisfied. Now the relationship is big but creativity is small.
What next?
I am doing only this show on television. I am also shooting for two films.
Catch Kahaani Ghar Ghar Ki every Monday to Thursday, at 10 pm on Star Plus
Email |
Print | Get latest news on your desktop